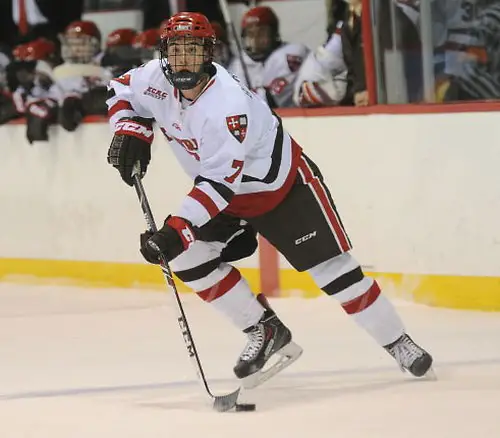 When it came to scoring goals, there were few teams better than St. Lawrence last season. Unfortunately for the Saints, the same went for giving them up.
That led to an eight-game winless stretch in the middle of the season where St. Lawrence allowed at least four goals every game. It was the second year in a row the Saints faded near the midway point; St. Lawrence went through a 1-6 stretch two seasons ago.
With four of their five top scorers gone from last season, including Hobey Hat Trick finalist Greg Carey and his younger brother, Matt, the Saints can't afford to spot their opponents early leads as they did for stretches last season.
Still, that might be easier said than done, as coach Greg Carvel knows he'll have a young team this season.
"I'm not concerned so much with wins but playing the right way to deserve to win," Carvel said. "I'm real excited about the freshman class."
St. Lawrence brings in nine freshmen this season. Most of them should see time right away, especially on defense, where the Saints lost three starters and goalie Matt Weninger to graduation. Weninger was a mainstay in net during his time with the Saints but finished last year with a career-worst .878 save percentage.
Junior Kyle MacDonald, sophomore Tyler Parks and freshman Kyle Hayton are in line to replace Weninger, with MacDonald holding an early edge.
Freshman defensemen Nolan Gluchowski and Mitch Eden should play right away, with Carvel saying Gluchowski likely would start the season with Gavin Bayreuther, last year's ECAC Hockey co-rookie of the year and the Saints' top returning scorer with 36 points.
"It was a bit of a surprise no one took a chance on him in the NHL draft," Carvel said of Bayreuther. "He's got great ability and he's matched it with a work ethic and mindset."
Up front, Christian Horn and Ryan Lough will look to replace some of the offense St. Lawrence lost in the offseason. Horn is a transfer from Minnesota who played in the USHL last season after not seeing any game action with the Gophers in 2012-13. Carvel said Lough is a quick two-way player and should see time in every situation.
The Saints might be in for a rough go of this season, but they only need to look to Colgate to see what a large class of freshmen playing right away can lead to. Two years ago, the Raiders were forced to rely on their newcomers after losing much of their scoring from the previous year, and are now the preseason favorites to capture the league title.
About the Saints
2013-14 overall record: 15-19-4
2013-14 ECAC Hockey record: 7-11-4 (eighth)
2014-15 predicted finish: 11th in both the coaches and media polls
Key losses: F Greg Carey, F Matt Carey, F Jeremy Wick, D Justin Baker, G Matt Weninger
Players to watch: D Gavin Bayreuther, F Gunnar Hughes
Impact rookies: F Christian Horn, F Ryan Lough, D Mitch Eden, D Nolan Gluchowski
Why the Saints will finish higher than predicted: The Saints' defense and penalty killing improves, helping St. Lawrence avoid the midseason dry spells it has experienced the last two years.
Why the Saints will finish lower than predicted: St. Lawrence can't replace the scoring it lost this offseason, and the defense doesn't improve.