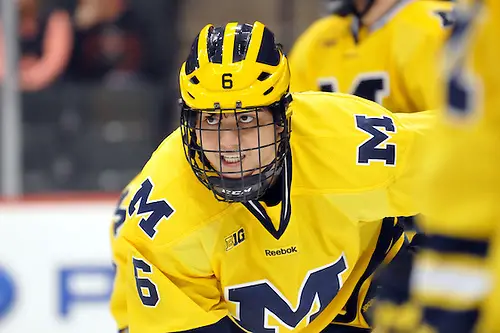 Few college hockey coaches can summarize their team's season prospects in one line better than Red Berenson can. But, then again, few coaches have been around as long as Berenson, entering his 31st season on the Michigan bench.
"We have to be better defensively, but I think we have some young players that will be more productive this year … and I hope that we're not a one-line team," Berenson said.
In 2013-14, the Wolverines scored 3.06 goals per game while allowing 2.54, statistics that hint at the team's consistent lack of consistency.
In spite of the steady improvement of Zach Nagelvoort in net during his first season, the Wolverines had difficulty putting together consecutive successful weekends, resulting in a second straight year of absence from the NCAA tournament.
Berenson said that he likes the improvement of both Nagelvoort and junior Steve Racine, but he sees that the entire team needs to improve defensively.
"We were below the middle of the pack on goals against, and that wasn't just our goalies," said Berenson. "That was our team, whether it's your penalty killing or your back-checking or your defensemen or whatever."
The Wolverines will look to the sophomore trio of Nolan De Jong, Michael Downing and Kevin Lohan to anchor the blue line, with the unassuming Brennan Serville the sole senior representation on defense. Zach Werenski is a highly anticipated freshman defender.
Up front, Berenson said that he hopes for balanced scoring "just like Minnesota." If the Wolverines are to create something offensively, it will come by committee. Three of Michigan's five double-digit goal scorers from a year ago are gone.
"But I think guys like JT Compher will be ready to be a bigger role on the team, and Andrew Copp led our team in scoring last year, and he's our captain going in along with Zach Hyman," Berenson said. "I think Zach is going to have his best year this year."
Hyman, a senior, netted seven of his career 13 goals last season.
"If you're as good as your last game," said Berenson, "we weren't very good last year, but we like the improvement in some of our young players."
About the Wolverines
2013-14 record: 18-13-4
2013-14 conference record: 10-8-2-1 (third)
2014-15 predicted finish: Second
Key losses: F Derek DeBlois, F Alex Guptill, F Phil Di Giuseppe, F Luke Moffatt, D Kevin Clare, D Mac Bennett
Key returnees: F JT Compher, F Andrew Copp, F Tyler Motte, D Michael Downing, G Zach Nagelvoort
Impact rookies: F Dylan Larkin, D Zach Werenski
Why the Wolverines will finish higher than predicted in the coaches poll: With steady goaltending, any Michigan team has a chance of topping the standings.
Why the Wolverines will finish lower than the coaches poll: This is a young squad, with 17 players on the roster coming from the freshmen and sophomore classes.