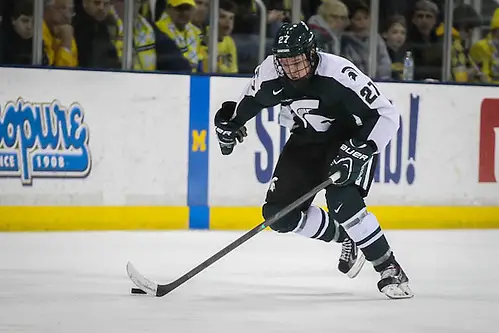 With six ties in Big Ten play and seven overall last season, Michigan State was the team that almost could.
No one who watched the Spartans play last season can doubt the team's chemistry, sincerity and work ethic, but everyone who follows the team wants to know how and when it will score.
"Well, that's going to be a real question mark for us," said coach Tom Anastos. "We have not been able to score much the last couple years."
No, not much. Last year, the Spartans' defense was respectable at No. 20 nationally, but Michigan State's offense mustered 2.19 goals per game, only six places above the bottom in all of Division I.
"We need guys to emerge," said Anastos, who looks to senior Matt Berry, who netted 15 goals in his sophomore season but saw last year curtailed by injury. Anastos is also counting on a seasoned sophomore class to contribute.
"Mackenzie MacEachern, Joe Cox, Villiam Haag — those three guys in particular I think have the potential to really help us offensively improve."
Those three players netted a collective 22 goals in 2013-14.
Anastos is excited about returning a fairly veteran group this season. With only four newcomers, the Spartans are experienced.
"Really, our sophomore and junior group were forced to play a lot the past two seasons," said Anastos, "and this year we can introduce a smaller group, which I think will be of benefit both to them and to our team."
Anastos said he thinks that two juniors, especially, will emerge this season.
"We have Michael Ferrantino here and we have Jake Hildebrand here," he said. "Both of those players will play leadership roles on our team and be key players for us, and I think their game continues to get better."
Ferrantino, a passionate forward, is this year's captain; he has 12 goals in his first two seasons. Hildebrand is the solid starting netminder with a two-season GAA of 2.40 and save percentage of .926.
"We're very anxious to get going," said Anastos, "and we think that we can kind of see the corner, and now it's a challenge for us to try to turn it."
About the Spartans
2013-14 record: 11-18-7
2013-14 conference record: 5-9-6-4
2014-15 predicted finish: Fifth
Key losses: F Greg Wolfe, F Lee Reimer, D Jake Chelios
Key returnees: F Matt Berry, F Michael Ferrantino, F Mackenzie MacEachern, F Villiam Haag, G Jake Hildebrand
Impact rookies: F Dylan Pavelek, D Josh Jacobs
Why the Spartans will finish higher than predicted in the coaches poll: This is a veteran, hard-working team that plays mostly as a unit. With the right chemistry and a little luck, the Spartans can play themselves up the standings.
Why the Spartans will finish lower than the coaches poll: This is also an offense that generated just 2.19 goals per game last season — and returns only one of its two goal scorers that netted 10 or more in 2013-14.