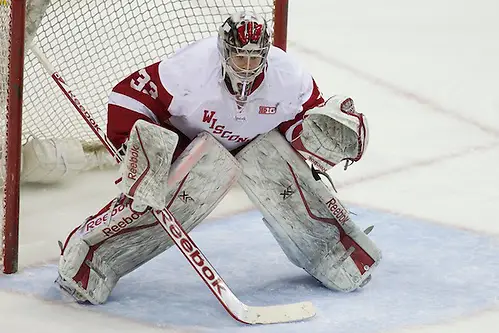 To say that Wisconsin lost some scorers from last year's team would be the same as saying that the weather in the Badger State tends to cool down a little in the winter months — both are vast understatements.
The Badgers' top five scorers from last season — Mark Zengerle, Nic Kerdiles, Michael Mersch, Tyler Barnes and Jake McCabe — are all gone, along with the 170 points they racked up last year.
Things get worse when you realize that after senior Joseph LaBate, who put up 22 points, Wisconsin's No. 6 and 7 scorers from last year are also missing from this year's roster.
That means this year's team will feature a lot of underclassmen, which is another understatement.
"This upcoming season, the big talk in Madison is the fact that we have 11 freshmen, so we're going to be a young group," coach Mike Eaves said at the Big Ten media day.
His wife likened the group to a pack of puppies because "they may lack in experience, but what they lack in experience they bring with enthusiasm."
Even with a young team, Wisconsin has experience where it counts — between the pipes. Both Joel Rumpel, a Hobey Baker Award finalist, and Landon Peterson will return for their senior season.
Eaves said that he hoped the experienced netminders could buy time for the young skaters to adapt to the college game.
"I think one of the things we have going for us is the fact that we have two senior goaltenders, and they'll buy time for our young people to grow," he said. "History tells us that usually after Christmas you find out really what your freshmen can do, and that'll probably be the case here."
The Badgers' schedule, however, is not kind to the young players. Wisconsin starts the season with road tests at both Alaska schools and also travels to Denver and Colorado College this season. Ferris State and Boston University highlight the team's home nonconference schedule.
"It is tough," Eaves said. "We decided as a staff that we wanted a more challenging schedule because the only way you get better is much like that chemistry term osmosis, you get drawn up to a higher level. You're playing better teams, you get drawn up to that level of play."
About the Badgers
2013-14 record: 24-11-2
2013-14 conference record: 14-6-1 (second)
Predicted finish: Third
Key Losses: F Mark Zengerle, F Nic Kerdiles, F Michael Mersch, F Tyler Barnes, D Jake McCabe
Key returnees: G Joel Rumpel, F Joseph LaBate, F Grant Besse
Impact rookies: D Jack Dougherty, F Jason Ford, F Cameron Hughes, F Cullen Hurley, D Jake Linhart, F Adam Rockwood, F Alex Shuchuk, F Matt Ustaski, F Ryan Wagner
Why the Badgers will finish higher than predicted in the coaches poll: Joel Rumpel will keep Wisconsin in most of its games and provide the chance for the young players to step up and win games.
Why the Badgers will finish lower than the coaches poll: Wisconsin's youth could lead to an early-season hole that it can't dig out of.