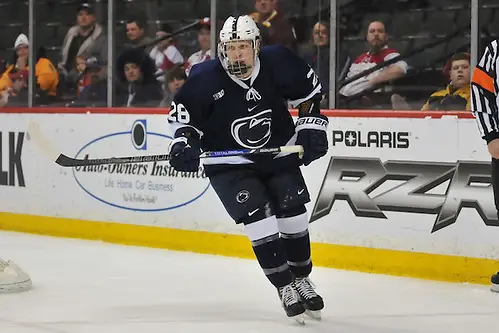 Penn State had its fair share of highs and lows during its first go-around in the Big Ten.
The Nittany Lions ended last season with a thrilling double-overtime victory over Michigan followed by a close loss to eventual champion Wisconsin in the conference tournament.
Coach Guy Gadowsky said he will look to use last year's experience to help advance this year's squad.
"I think the experiences that we had to grow I think was tremendous," Gadowsky said at the Big Ten media day. "We certainly improved greatly, and I think the biggest factor to that was we played such great hockey teams night in and night out in the Big Ten, and you can't help but improve and get better."
Though he saw improvement, Gadowsky didn't sugarcoat the fact that Penn State still had a plethora of areas where it needed to be better.
"We have to improve everywhere," he said. "This is a great conference. It's an honor to be a part of it, but with that comes the responsibility that you know you have to be at your best every night."
Though the hockey program is relatively new in Happy Valley, fan support has not been hard to come by for Gadowsky and the rest of his team. Student-section season tickets sold out about three minutes after they went on sale this year.
"The student body, they're very excited to support anything, and they love hockey, so that hasn't been a tough job," Gadowsky said. "The atmosphere is tremendous, and I think that's probably the biggest factor is how much fun everybody had when they were in the building."
Penn State's average home attendance was a little more than 6,000 during the 2013-14 campaign, which was the inaugural season for Pegula Ice Arena.
About the Nittany Lions
2013-14 record: 8-26-2
2013-14 conference record: 3-16-1 (sixth)
Predicted finish: Sixth
Key losses: F Michael McDonagh
Key returnees: F Eric Scheid, F David Goodwin, F Taylor Holstrom
Impact rookies: F Scott Conway, F James Robinson, D Erik Autio
Why the Nittany Lions will finish higher than predicted in the coaches poll: Penn State is an experienced team with 16 juniors and seniors on the squad. The experience that those players gained the last two seasons could lead to more victories.
Why the Nittany Lions will finish as expected in the coaches poll: Penn State has shaky goaltending in a league where it looks to be hard to win high-scoring games.