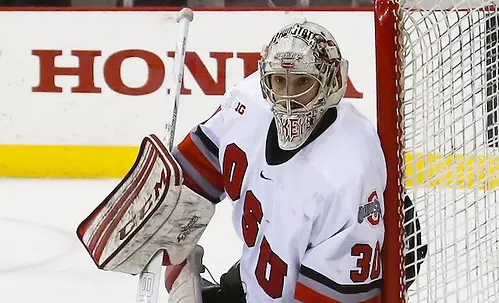 In 2013-14, his first season as Ohio State's head coach, Steve Rohlik faced some pretty unusual circumstances.
"We've got some older guys coming back," said Rohlik. "The nice thing is — knock on wood — hopefully we don't have to deal with six goalies this year. I feel pretty comfortable with our goaltenders."
An injury to freshman Matt Tomkins right after the departure of then-sophomore Collin Olson left the Buckeyes scrambling to find someone to fill the net, which led to the six-goalie roster.
At midseason, Ohio State picked up USHL player Christian Frey — who'd won two games before he'd taken a class — and the Buckeyes really solidified as a team, playing their way into the title game of the inaugural Big Ten tournament, losing to Wisconsin in overtime.
"Our biggest thing is we want to build on last year," said Rohlik. "Our focus is getting better. Our focus is trying to make the next step. I think we've got a great group. I think our biggest asset is our culture in the locker room. It's fun to see the guys; they love to come to the rink."
Like many other teams, the Buckeyes will be looking for offense this season. Their top two scorers from a year ago, Ryan Dzingel and Max McCormick, chose to forgo their senior season.
Rohlik said that while Ohio State is looking for goal scoring, the Buckeyes are more than two players deep.
"When you look at guys like Tanner Fritz, two years ago he led the CCHA in scoring," he said. "I think people forget about that, and guys like Nick Schilkey and Anthony Greco and David Gust and Nick Oddo."
Schilkey and Gust are sophomores, Fritz and Greco juniors, and Oddo a senior. Between them, the five had 41 goals; Dzingel and McCormick had 33.
The Buckeyes had the No. 14 offense in the nation last year, averaging 3.19 goals per game, but were tied for 28th nationally in defense, giving up 2.70 on average.
Ohio State's blue line returns a veteran corps with just one loss, and with Frey and Tomkins returning, the Buckeyes have the ability to improve from the net out.
About the Buckeyes
2013-14 record: 18-14-5
2013-14 conference record: 6-9-5-4 (fourth)
2014-15 predicted finish: Fourth
Key losses: F Ryan Dzingel, F Max McCormick, F Alex Szczechura, D Curtis Gedig
Key returnees: F Darik Angeli, F Tanner Fritz, F Nick Schilkey, G Christian Frey
Impact rookies: F Christian Lampasso, F Matthew Weis, D Victor Björkung
Why the Buckeyes will finish higher than predicted in the coaches poll: Perhaps this season there won't be a revolving door in net; last year, the Buckeyes had six total goaltenders on their roster for the season, the result of untimely injuries and departures.
Why the Buckeyes will finish lower than the coaches poll: Dzingel and McCormick take with them 33 goals, a number that will be difficult to replace — even for an overall offense that was No. 14 nationally last season.