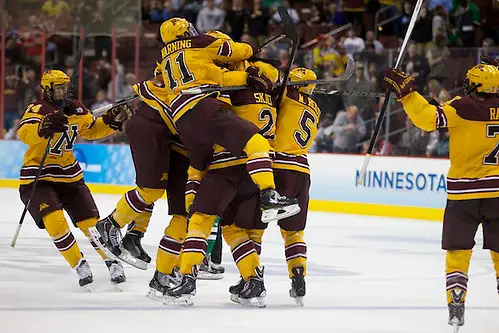 The Big Ten is officially one year old as a hockey conference and it seems that everyone has moved on from talking about the newness of the conference.
Nonconference matchups were one of the big talking points at this year's Big Ten media day in Detroit last month.
"The scheduling has been a little difficult here the last couple years because of the changes in the leagues and more teams searching for nonconference games," Ohio State coach Steve Rohlik said. "For us when you look at it, when we start off this year with Providence, Miami and [Omaha] in three of our first four weeks, you're going to find out in a hurry where you're at across the board in college hockey, so we really like it."
Rohlik is not alone in thinking that the early nonconference games will be important.
"Any time you can have those unique experiences and play other programs, I think it benefits you," Penn State coach Guy Gadowsky said. "I think it helps all of us. I think our alumni in those areas really enjoy to come see us, because it's a tough ticket to get at Pegula Ice Arena, so that's another benefit."
Minnesota coach Don Lucia said he saw the six Big Ten teams playing more diverse competition as a way for them to help out each other's causes come tournament time.
"I think that gives you a good gauge of where you're at heading into conference play, and if not only we as a team can do well but as a conference you can do well, it just drives your own indexes up for the RPI come the end of the year," Lucia said. "The better everybody does in the Big Ten, the better it is for the other members in nonconference play."
Minnesota is favored to win the conference in the preseason polls and started the season atop the USCHO.com Division I Men's Poll after making a run to the NCAA championship game last season.
That being said, the race for the regular season title looks like it could be a close one.
"I think it's just going to be even tighter this year," Wisconsin coach Mike Eaves said. "Between the coaching that the players get, the training the players get, the difference in the season in terms of wins and losses can come down to a bounce of a puck, a great save. So the parity is there, and I think this year in the Big Ten it's even going to be better."
The coaches picked Michigan, Wisconsin, Ohio State, Michigan State and Penn State to finish in order behind Minnesota in their preseason poll.
The Badgers won last year's conference tournament but lost a large portion of their scoring from last season. This season, Eaves and the Badgers will have to win while playing a lot of freshmen, a position that Lucia was in, albeit to a lesser extent, last season.
"I think we had a little fear, too, when the year began, we didn't know how good we were going to be," Lucia said of last season. "[The players that graduated or turned pro] left and a bunch of freshmen are playing and how are they going to do? How are the returning guys going to do?"
In the end, Lucia said that the main things that lead to success are out of the coach's control.
"You have to have talent. You're not going to win without talent," Lucia said. "I think usually the team at the end is going to have a pretty good goaltender. They make coaches a lot smarter. And you have to be pretty injury-free. I think that's always a factor. Injuries can play into it, especially a compressed 20-game league schedule, injuries at the wrong time can have a huge factor."
If good goaltenders make coaches look smarter, multiple Big Ten coaches should look like Ivy League graduates this season. The conference had four netminders ranked in the top eight nationally in save percentage last season, and all four players are returning this year.
Adam Wilcox was No. 2 in the nation with a .932 save percentage. He ended the season with a 26-6-6 record.
"I think our constant was Adam Wilcox. [He] gave us a chance to win," Lucia said, referring to last season.
Michigan netminder Zach Nagelvoort, Wisconsin's Joel Rumpel and Ohio State freshman Christian Frey all finished tied for sixth in the nation with a .929 save percentage.
"Goaltending is just off the charts, just in general, no matter what level," Eaves said, before going off into a side story about having a conversation with Michigan's Red Berenson about how the position has changed over the years in terms of the equipment that the players wear. "It's a matter that it just keeps getting better. I think there's less fear now in the goaltending position because the equipment is better. Certainly the goaltending masks that they use, they get hit hard, and they just shake their head and they're ready to go again.
"Back in the old days you'd be scraping them off the ice," he added. "The athleticism, the size, the coaching that they're getting makes goaltending at a premium."
The Big Ten may still be a baby, but after an inaugural year that saw a non-favorite take the regular season crown and a conference tournament with multiple overtime games, its growth in year two should provide some more entertainment.
"Certainly, Minnesota's team is very good," Michigan State's Tom Anastos said. "All of our teams have different dynamics, but I think even last year you look at the competition, on every given night it was very difficult to win games, whether you're at the top of the standings or the bottom of the standings. I don't expect that to change."
Here's a quick look at the teams in order of their predicted finish in the coaches poll. Click a team's name to see its preview.
With the same balanced scoring attack and Adam Wilcox in net, the Gophers will look to replicate last season's success, except with one more win.
The key to the Wolverines' season will be consistency in all aspects of the game, but especially in an improved team defense.
The Badgers hope that an experienced goaltender can buy enough time for their large group of freshmen to shine.
Now that their net has settled down, the Buckeyes need to find a way to keep scoring after key early departures.
The Spartans are a hard-working team looking to score more goals with a veteran group.
In year three of existence, Penn State hopes that its conference victories are less spread apart.
Drew Claussen's picks
1. Minnesota
2. Michigan
3. Ohio State
4. Wisconsin
5. Michigan State
6. Penn State
Paula C. Weston's picks
1. Minnesota
2. Wisconsin
3. Michigan
4. Ohio State
5. Michigan State
6. Penn State