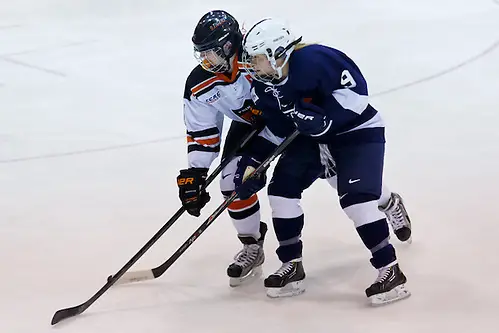 The journey to the top of the heap in the NCAA is a long, arduous climb, made more difficult when everyone else has a head start. Penn State is just a weekend of play into its third season of varsity competition, so until Merrimack joins the ranks next season, the Nittany Lions are the newcomers to Division-I.
If the first couple of years have brought frustration, one wouldn't know it from coach Josh Brandwene.
"It's been a great process and we've got just a great group of student athletes here," he said. "They've really set the foundation of the program, this group of juniors and sophomores. We've got a great group of freshmen who have joined us as well. Terrific students, great representatives of the university, outstanding athletes that continue to get better, and that's a great recipe for building the program."
The recipe hasn't produced a lot of wins as of yet, including just one CHA victory in each of the first two seasons, but at this point, the scoreboard is secondary.
"We're all about process here," Brandwene said.
Penn State's third season kicked off at a showcase event in Minneapolis that matched the Nittany Lions against Minnesota on Friday and St. Cloud State on Saturday, with Boston University playing those two opponents in reverse order. PSU's season got started with an 8-0 defeat, but that was hardly the most one-sided loss that the No. 1 Gophers have inflicted in recent years.
"We keep working at process, keep getting better, and this is just a great experiential weekend of hockey for us here," Brandwene said. "To be able to come to an event like this and play the caliber of competition and to get better as a team and to continue to grow is really a great thing for our young program."
Undaunted by the opening loss, Penn State came out Saturday and took an early lead when sophomore Amy Peterson jumped on a St. Cloud State turnover and zipped a backhand by the goaltender. The lead didn't last, and the Huskies went on top, 2-1, midway through the contest.
"I love the heart," Brandwene said. "I love the courage. I love the coach-ability; we made great adjustments between [Friday] and [Saturday] and some things we had to get better at as a hockey team. We did that, and they never wavered. They just kept with the process, and that's something that's really going to help us going forward."
Whether it was thanks to the process or junior Shannon Yoxheimer and her teammates, the Nittany Lions had the score knotted at 2-2 within a couple of minutes of falling behind.
"I think it took us a little while to get the engines going in the second period, and that's another lesson that we want to learn as a hockey team," Brandwene said. "Just maintain that intensity throughout each 20 minute segment."
Yoxheimer scored the equalizer unassisted on a power play, and then took a pass from junior transfer Hannah Bramm 6:27 into the final period and potted the deciding goal in a 3-2 win for Penn State.
"I think it was just great for our team, learning some stuff from last night's game and today, it was just a great feeling to get that winning feeling back again, so we're going to keep working," Yoxheimer said.
She is the career points leader for the fledgling program, somebody that has provided a scoring threat from year one.
"I've always kind of been like an offensive forward, so it was nice to come here and kind of keep that role of being an offensive forward, so it's nice that I get to keep my own game and my own style when I got to the team," Yoxheimer said.
As she's matured, Yoxheimer has done more than just score for her team.
"What a great leader, great player, takes care of business at both ends of the ice, and just has a real strength in her shot and a great finishing touch, and has gotten herself off to a great start this year," Brandwene said.
She and her classmates have grown up together at Penn State.
"We have a lot of veterans on the team," Yoxheimer said. "With 12 juniors, I think that there is enough leadership and there are enough older girls. It doesn't change the dynamic having no seniors; we have enough veteran players."
Brandwene has continued to add pieces to the Nittany Lions. Last season's class included Peterson and Laura Bowman, forwards who lifted their Minnetonka team to three consecutive Minnesota Class AA high school championships. In high school, the pair always seemed to come through with the game on the line, and while it hasn't resulted in the same success, the pair has brought a similar chemistry to their college team. Both finished in the team's top five in points, with Bowman leading PSU in goals.
"They have almost their own silent language in terms of finding each other," Brandwene said.
Peterson and Bowman are two of the nine Minnesotans on the roster.
"I got onto the campus and it was exactly like I pictured my college campus to be like," Bowman said. "I fell in love with the school spirit and the environment that is at Penn State. How everyone is one and how everyone supports each other. That's just kind of exactly what I looked for in a college."
She and Peterson continued as linemates, but now they also shared the experience of going away to college.
"Last year really brought us close," Bowman said. "We kind of held onto that little home with each other, but also, we were so excited to become part of a new team, to show everyone what we have to offer to Penn State. Now, Penn State is starting to feel like home as well."
Opening weekend was their first opportunity to return to their home state to play hockey as collegians.
"All of us started screaming and cheering when we got into Minneapolis airport because we were so excited to be home," Bowman said. "We were so excited to show our parents and friends what we've been working toward the last few months. We were just so pumped that we got to end on a good note this weekend."
The friends and families of the Nittany Lions returning home contributed to the crowd of 2,040 on opening night at Ridder Arena. Penn State ranked sixth nationally in home attendance last season, averaging 728 fans per game in the inaugural season for Pegula Ice Arena.
"The facility is great," Yoxheimer said. "It has like everything we could ever need, with top-notch weight room, ice surface, locker room, player lounge — it's just everything you could ever ask for if you're a hockey player."
Asked to pick her favorite part of the new arena, Bowman chose the locker room.
"It's such an amazing locker room," she said. "It's where we bond as a team, and where we get pumped up before games and practices. It's just such a great place to call my home basically at Penn State."
According to the coach, it has proven to be an asset for recruiting.
"It's a jaw-dropping facility," Brandwene said. "You add the amazing facility, world-class education, amazing student body to be a part of and play in front of as far as fans go, Penn State is the total package. We're real excited about where we are and where we're going."
Where they hope to go is up the College Hockey America standings. Like Penn State, the CHA is less established, but quickly becoming more competitive.
"You never know what is going to happen," Bowman said. "You always have to bring your A game for every team. I love that hockey is expanding. Hopefully, the West will get hockey, too, soon for college for girls. I'm just so excited to see how great this sport has expanded for women."
For now, however, they'll concentrate on the possibilities offered by the CHA. While a new program may have trouble competing with an established power like Mercyhurst over a 20-game league schedule, the league tournament gives hope to many, as RIT demonstrated last year.
"I think we're at our best right now, this team, and we have some great freshmen," Yoxheimer said. "I think this year is going to be completely different for us, to be honest."
With the addition of an automatic bid to the NCAA tournament, Penn State knows that it will enter the postseason at a maximum of four wins away from a historic national tournament berth.
"I think right now, everyone's mentality is nothing is going to stop us," Yoxheimer said. "We're reaching for pretty much the sky at this point. We have goals that are really high. We all believe that we can beat any team on any given night."
Of course, her coach will make sure that everybody stops looking to the sky and just focuses on that next game or practice.
"Every day we want to get better," Brandwene said. "This one is in the books, and now we're turning the page and looking forward here."