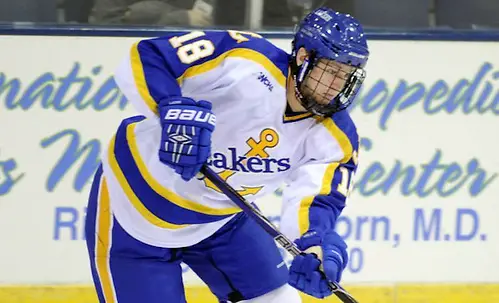 Lake Superior State's 2013-14 season — and, as it turned out, coach Jim Roque's job — came down to a tiebreaker.
The Lakers finished the season with 24 points — the same as Bemidji State. But the Beavers won the tiebreak by virtue of a 3-1 head-to-head record against the Lakers in the regular season. Thus, the Beavers finished eighth and made the playoffs. The Lakers were out.
In now comes Damon Whitten.
The former Michigan Tech assistant and Michigan State winger takes over in Sault Ste. Marie, Mich., with some work to do.
All-WCHA second-team defenseman Kevin Czuczman decided to forgo his senior season in the Soo to sign with the New York Islanders. Goaltenders Kevin Murdock and Kevin Kapalka graduated, as did the team's No. 2 and No. 3 scorers (Colin Campbell and Dan Radke, respectively).
"We have a lot of unknowns with losses after last year," Whitten said. "We want our guys to earn it. Anything they're given, the opportunities they get, we want them to earn it. That's our motto going forward. It's all wide open."
One known for the Lakers is sophomore Alex Globke, who was named WCHA rookie of the year in 2013-14 after a standout, team-leading 31-point (12 goals, 19 assists) freshman campaign.
"Everybody knows him around the league, he's getting a little bit of preseason hype and he'll be a bit of a targeted player this year," Whitten said. "Last year he had Radke and Campbell with him so guys maybe keyed on them a little more and he was the beneficiary. This year he'll get a little more attention as we'll have to help him handle with that."
Whitten said he hoped seniors Stephen Perfetto (20 points), Chris Ciotti (11 points) and Andrew Dommett (9 points) could take some of that load off Globke this year.
The Lakers will need their forwards to score to take some pressure off their netminders.
Before the season started the three goalies listed on the roster — Kevin Aldridge, Gordon Defiel and Peter Megariotis — had a combined zero minutes of playing time in college.
Aldridge and Gordon, both freshmen, both backstopped junior league teams to titles last season (Aldridge with Fairbanks of the NAHL and Defiel with Coquitlam of the BCHL). Megariotis transferred from Ohio State.
LSSU opened with a pair of losses to Upper Peninsula rivals Michigan Tech last week. The Huskies outscored the Lakers 10-4 with Defiel and Aldridge getting the nod in net.
It's not the best start, but it's the first step to the greater goal.
"There's a lot of history, lot of championships here," he said. "Our goal is to get back to that level, get this program going again."
About the Lakers
2013-14 record: 16-19-1
2013-14 conference record: 12-16 (tie, eighth)
2014-15 predicted finish (coaches poll): Ninth
Key losses: D Kevin Czuczman, F Dan Radke, F Colin Campbell, G Kevin Kapalka, G Kevin Murdock
Key returnees: F Alex Globke, F Stephen Perfetto, F Chris Ciotti, F Andrew Dommett, D Eric Drapluk
Impact rookie: The Lakers have 10 newcomers on the roster this season but none will make as much of an impact as goaltenders Kevin Aldridge, Gordon Defiel and Peter Megariotis. LSSU is starting fresh in net and the three had a combined zero starts in net in college before the season started. Aldridge and Defiel are freshmen and Megariotis is a transfer from Ohio State. The Lakers will need one to separate himself from the pack and play at a consistent level to have any success in the WCHA.
Why the Lakers will finish higher than predicted the coaches poll: As we learned last season, the new-look WCHA is almost uncomfortably competitive. Just six points separated the ninth-place Lakers from third-place Alaska. Here's how close the Lakers were to making the WCHA playoffs last season: One extra point against Bemidji State would have sent them to play Ferris State in the first round of the playoffs and sent the Beavers to the golf course early. Instead, BSU and LSSU tied with 24 points in the league standings but the Beavers gained entry to the playoffs due to their 3-1 record. If the Lakers can find consistent goaltending and have their top forwards score some goals, they can earn some points and sneak into the last playoff spot.
Why the Lakers will finish lower than the coaches poll: Losing an all-conference defender (Czuczman) early to the NHL, losing both goaltenders and two of your top three point-scorers to graduation is never going to be easy on a team the following year. Add to the fact that there's a new coach, nine freshmen on the roster and three goaltenders who, coming into the season, had exactly zero minutes of playing time, it's a recipe for disaster. New coach Damon Whitten knows he's in for a rebuild this season but if things break bad the Lakers could be fighting with Alabama-Huntsville for the bottom spot in the standings.