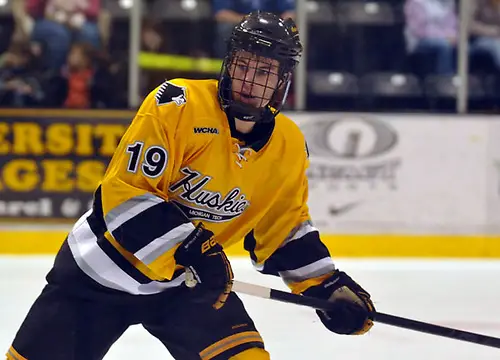 Going into his fourth season as coach in Houghton, Mich., Mel Pearson thinks he's finally put his ideal Michigan Tech team together.
"I feel this is going to be the best team we've put on the ice since I've been here," Pearson said.
On paper, it certainly seems like Pearson finally has the firepower to secure the Huskies' first WCHA playoffs home-ice appearance since 1993.
With all nine of their top scorers returning, including a strong forward group of Alex Petan (11-17–28) Blake Pietila (8-20–28), Tanner Kero (15-10–25) and David Johnstone (11-9–20), the Huskies should be able to score often.
"It all starts at forward," Pearson said. "With [Pietila, Kero, Johnstone and Petan] we have four kids that have played a lot of hockey and have had a lot of success at the college level. We'll go as they go, and I'm really looking forward to the kind of season they're going to have."
The Huskies will also be strong defensively, led by senior Riley Sweeney and a big group of sophomores, including Shane Hanna and Cliff Watson.
"He's one of the most exciting defensemen offensively that I've been associated with in college hockey," Pearson said of Hanna. "He led all WCHA frosh in scoring in league play last year and he's just an exciting player. We're anxious to see what he can do this year and take another step."
Hanna had four goals and 19 assists as a freshman.
With all of that offensive firepower, Michigan Tech has a shot to compete for a MacNaughton Cup title. They just need to find consistent goaltending without Pheonix Copley, who left after his sophomore year to sign with the Washington Capitals.
"I think the big question mark, and most people will want to know, about our goaltending," Pearson said. "We lost Pheonix Copley and we have to fill that hole."
Junior Jamie Phillips, who appeared in 13 games and started in 10 as a sophomore, will take the reins.
"He has played some games and has shown he can win at the collegiate level, so at this point he's in the lead to take over that opening," Pearson said.
The Huskies already started their season with a bang, sweeping Upper Peninsula rivals Lake Superior State on the road last weekend in the WCHA opener for both teams.
That means that, after one weekend, the Huskies lead the WCHA with four points and a 2-0 record. To stay there, the Huskies will have to stay consistent.
"We have high expectations this year and the players set high goals," Pearson said. "I see it being a very competitive year in WCHA. From top to bottom every night you're going to have to play your best game to win. If you don't, you're going to get beat. I think it will be tighter than last year and it went down to the last weekend last year."
About the Huskies
2013-14 record: 14-19-7
2013-14 conference record: 12-11-5 (fifth)
2014-15 predicted finish (coaches poll): Third
Key losses: G Pheonix Copley, F Ryan Furne, D Dan Sova, D Brad Stebner
Key returnees: F Blake Pietila, F Tanner Kero, F David Johnstone, F Alex Petan, D Shane Hanna, D Riley Sweeney
Impact rookie: Dane Birks, a 6-foot-3, 190-pound defenseman, was a sixth-round pick by the Pittsburgh Penguins in the 2013 draft.
Why the Huskies will finish higher than predicted in the coaches poll: With such a deep, experienced forward group and a potential game-changing defenseman in Shane Hanna, it's not out of the question to think the Huskies could compete with Ferris State and Minnesota State for the MacNaughton Cup title.
Why the Huskies will finish lower than the coaches poll: That experienced offense may come through but if the back line falters — and if Jamie Phillips can't be a consistent goaltender — Tech could swoon and be out of home ice altogether.