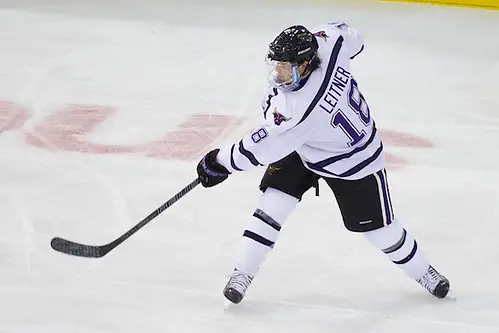 Minnesota State very nearly got where it wanted to go last year.
The Mavericks came within a point of winning the MacNaughton Cup. They won the Broadmoor Trophy as Final Five champions. They returned to the NCAA tournament and came within a whisker of advancing out of the first round.
But getting there wasn't as easy as it looked.
"We had to put together a good string toward the end of the year," coach Mike Hastings said.
As they were this year, the Mavericks were picked to win the WCHA a year ago. But they got off to a 4-7 start overall.
With almost every key player back from that team and expectations sky-high, Hastings says the Mavericks can't afford to test those waters again.
"We have to be good early," he said. "If we're not prepared and we're not playing real good hockey when we go to Omaha (on the opening weekend) and Duluth (on Oct. 17) and get into league play, we're going to have a tough time getting out of a hole like we did last year."
The Mavericks are fortunate to have players who remember the lesson.
It's a loaded team that includes the league's top two returning scorers in forwards Matt Leitner (12 goals, 45 points) and Jean-Paul LaFontaine (20, 40), both of whom have more than 100 career points, as well as the league's goaltending champion, Cole Huggins (.926 save percentage, 1.88 GAA).
Hastings has his most-experienced team in three seasons at Minnesota State.
Preseason all-league picks Leitner, LaFontaine and defenseman Zach Palmquist, as well as forwards Chase Grant and Max Gaede all have played more than 110 college games.
"We're going to lean on those guys from the get-go," Hastings said.
But the cupboard's not bare after that.
There's a promising junior class led by Bryce Gervais (16, 26) and Teddy Blueger (4, 26) coming up behind them.
"It's a season we're extremely excited about," Hastings said.
About the Mavericks
2013-14 record: 26-14-1
2013-14 conference record: 20-7-1 (second)
2014-15 predicted finish: First
Key losses: F Johnny McInnis, F Zach Lehrke
Key returnees: F Matt Leitner, F Jean-Paul LaFontaine, F Bryce Gervais, D Zach Palmquist, G Cole Huggins
Impact rookie: F C.J. Franklin
Why the Mavericks will finish higher than predicted in the coaches poll: Their young but now-experienced defensemen step up and they get top-flight goaltending from the get-go.
Why the Mavericks will finish lower than predicted: They're unable to replace a 20-goal scorer in McInnis and find a suitable replacement for Lehrke on the power play.