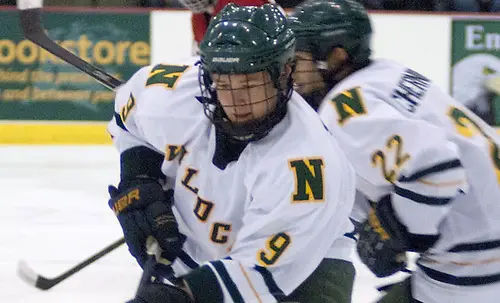 Walt Kyle said he's looking at the 2014-15 season with "quiet optimism."
Last year his Northern Michigan team played a boatload of freshmen — 10, to be exact — to get them prepared for future seasons. The Wildcats finished the season 15-21-2 overall, 13-14-1 in the WCHA and lost in the first round of the WCHA playoffs to Minnesota State.
This year, throwing those players into the fire early could pay off.
"I think you're not gonna win in this league, or any league, with young guys or inexperienced guys, and we had to kind of bite the bullet [last season]," Kyle said. "Those guys have all, from what I've seen, come back and done the things they've needed to to to take the next step. They all look very much on task to be the better players we'd hoped they'd be.
"The question for us is who's going to score goals?" Kyle said. "I think we have some guys who have a lot of room to grow in that department and I think they will."
Reed Seckel, the team's second-leading scorer (12-13–25), returns for his fifth year of eligibility. John Siemer tallied 18 points as a freshman.
But Kyle expects to be stronger on defense, especially with Mathias Dahlström in the net. Dahlström started in 25 of 38 games for the Wildcats and sported a 2.64 GAA and .912 save percentage.
"He's a quality goaltender, one of the better guys in the league," Kyle said. "I think he's a great guy for us to build on."
The Wildcats also have nearly their entire defensive corps back, including Mitch Jones, Jake Baker and Brock Maschmeyer.
"We have five of our top six, six of our top seven defensemen returning," Kyle said. "We think that position is a position where we have some strength. We hope guys like Jake Baker and Mitch Jones, who are seniors, can be leaders back there and have their best career years."
The Wildcats open their tough schedule Oct. 17-18 at the Resch Center in Green Bay, Wis., against Wisconsin; they also take on Minnesota-Duluth and Penn State in nonconference play.
"We have a quiet optimism," Kyle said. "We have to reduce penalty minutes and be better killing penalties. If we can do those things we take some big steps this season."
About the Wildcats
2013-14 record: 15-21-2
2013-14 conference record: 13-14-1 (seventh)
2014-15 predicted finish (coaches poll): Sixth
Key losses: F Stephan Vigier, F Erik Higby, D CJ Ludwig
Key returnees: F Reed Seckel, F Ryan Kesti, G Mathias Dahlström, D Mitch Jones, D Jake Baker, D Brock Maschmeyer
Impact rookie: Kyle said that, due to last year's large freshman class, this year's is smaller but has a few newcomers who could contribute right away. Joe Manno, a transfer from Northeastern, was singled out as being a player who could see significant time for Kyle. He went back to Dubuque of the USHL last season and had 10 goals and 12 assists in 35 games. He had four goals and eight assists for Northeastern in 14 games 2011-12 and 2012-13.
Why the Wildcats will finish higher than predicted in the coaches poll: NMU had 10 freshmen that saw time last year. This season they're a bit older, have more experience and should be better adjusted to the new WCHA. With a deep blue line and goaltending, they could compete for home ice this year.
Why the Wildcats will finish lower than the coaches poll: Kyle said he wasn't sure who was going to score consistently. If the younger forwards he's expecting to grow into scorers can't do that this year, NMU could be fighting to stay in the playoff hunt.