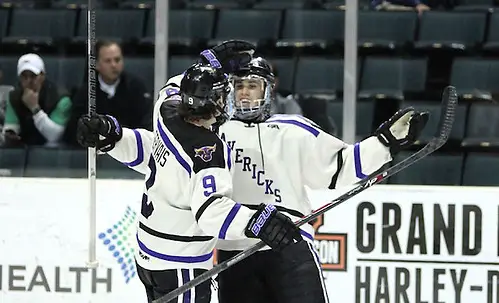 Mike Hastings recalled two seasons ago, his first as coach of Minnesota State, and the tough schedule of the "old WCHA." There were trips to Wisconsin and other places where "you had to go earn it," he said.
When realignment took place, and the WCHA was busted up and put back together again, the conventional wisdom around college hockey was that the league was an easier one to manage.
Not so, Hastings said.
"It's no different," he said. "I don't think there's anyone in the country who says I'd like to go Bowling Green back to back nights and try to get two wins there — or even one — or go to Northern Michigan and play a Walt Kyle-coached team.
"Everybody's prepared. That hasn't really been a change compared to anything we've seen before. And anybody who thought different has been proven wrong."
The league may have lost some star power in realignment, but it didn't lose any drama.
By the final weekend of the season, there were three separate races being fought among the WCHA's 10 teams: one for the MacNaughton Cup as regular-season champion, one for a top-four spot in the standings and home-ice advantage and one for the eighth and final playoff spot.
"Every week, everything mattered," Alaska coach Dallas Ferguson said. "It came right down to the wire — right? — the last game of the year deciding where everybody was going and who everybody was playing. I loved competing against it."
There was a bit of a feeling-out process in year one of the revamped league, which combined the leftover teams from the WCHA and CCHA after others had left for the Big Ten, NCHC and Hockey East.
But most of that, coaches said, involved travel arrangements and logistics, planning 10-day trips to Alaska, figuring out the best route to Alabama, preparing for long bus rides to Michigan's Upper Peninsula — not just once or twice but sometimes three times.
Teams that didn't go through some of that last season are going through it this year, maybe with the advice of last year's guinea pigs.
But on the ice?
"It was pretty evident pretty quick that it was going to be one-goal, close-checking games," Bowling Green coach Chris Bergeron said. "Every game was going to be the same."
Last season, two teams emerged from the WCHA to earn berths to the NCAA tournament: Ferris State and Minnesota State.
The Mavericks received the league's auto-bid by winning the Final Five and the Broadmoor Trophy. Going into the conference's playoff championship weekend, they were not guaranteed an at-large spot in the field of 16, as the Bulldogs, the team they beat in the league finals, received.
The following weekend, Minnesota State lost a tight, 2-1 tournament game to Massachusetts-Lowell, while Ferris State defeated Colgate 1-0 before falling 2-1 in double overtime to North Dakota in the regional finals.
Those games proved the WCHA hadn't gone anywhere and indeed could still compete on the national stage.
"The teams that come out of the WCHA and get to the national tournament are going to be battle-tested," Hastings said.
This season, the goal, according to new WCHA commissioner Bill Robertson and the coaches, is to get three teams in the national tournament.
It's no easy task — one that will require a better nonconference showing than WCHA teams made last season when they went 25-44-12 outside of league play (not counting postseason), including an 11-37-7 mark on the road.
"When we get in league play, we have a tendency to beat the heck out of each other, which we did last year. There's no easy nights," Hastings said. "In our nonconference, hopefully there's a focus that we can carry our weight."
Minnesota State and Ferris State again are the favorites for the top two spots in the league and, based off the national polls, to get to the national tournament. But who's poised to join them?
Michigan Tech and Bowling Green appear to be on the verge of a move up. Alaska made a late-season push last winter, and Alaska-Anchorage took Ferris State to overtime in the Final Five semifinals.
"I expect to have more teams in the tournament," Michigan Tech coach Mel Pearson said. "From top to bottom, every night you're going to have to play your best game to win. And if you don't, you're going to get beat. … I think it will be a tighter league than last year, and, as everybody knows, it went down to the last weekend to find out who was going to make home ice and who was going to make the playoffs."
Even the coaches whose teams that are still in the rebuilding phase agree.
Mike Corbett, whose Alabama-Huntsville team won just two games last season, said the league is moving in the right direction.
"We all know the WCHA is a tough, hardworking league with just as much talent as any league in the country," he said. "The biggest thing we've been able to learn over the course of one year of being in the league is what it takes to compete. …
"We're trying to emulate the successful teams in the WCHA."
Click on a team name below to see its preview: