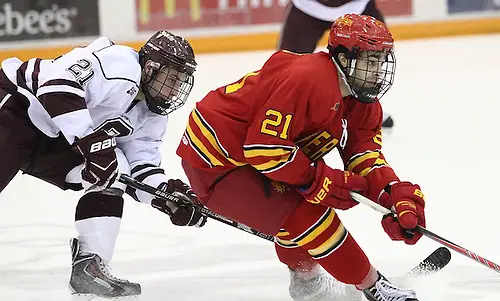 A year ago, Ferris State entered the season with a sure thing in goal and quite a few questions in the goal-scoring department.
The Bulldogs indeed received the expected great goaltending, and by season's end CJ Motte was getting deserved Hobey Baker Award consideration.
But aiding Motte in his national-best 28 victories and Ferris State in winning the MacNaughton Cup was more than enough offense — an average of 3.21 goals per game, second-best in the conference, to be exact.
Cut to this year, and Bob Daniels is asking the same questions as he did a year ago.
"Up front there are some real question marks," he said.
Gone are forwards Garrett Thompson, Cory Kane and Andy Huff, who scored a combined 41 goals last season.
Daniels said it won't be easy to make up for their production, however, he believes there is a good nucleus there.
It starts with Justin Buzzeo, who scored 14 goals and whose 32 points tied Thompson and Kane for the team lead. With Kyle Schempp (10 goals, 25 points), Chad McDonald (9, 20), Gerald Mayhew (8, 20) and Matt Robertson (12, 19), "we've got some pieces there," Daniels said.
Where there are fewer, if any, questions is in the back end where Motte (.928 save percentage, 2.17 GAA) returns for his senior season.
"We're in really good hands with CJ," Daniels said. "He's as good as any goaltender in the nation."
Also, the Bulldogs lost just one defensemen, albeit a good one in Scott Czarnowczan, to a team that allowed a WCHA-best 2.19 goals per game in 2014-15.
Ferris State was one of the first college hockey teams in action this year, and it beat Michigan 4-3 on the opening weekend before a sellout crowd in Big Rapids.
Four goals scored, with Motte giving up three?
Perhaps that victory answered all of the Bulldogs' questions.
About the Bulldogs
2013-14 record: 29-11-3
2013-14 conference record: 20-6-2 (first)
2014-15 predicted finish: Second
Key losses: F Garrett Thompson, F Cory Kane, D Scott Czarnowczan
Key returnees: G CJ Motte, F Justin Buzzeo, F Kyle Schempp, F Chad McDonald, D Jason Binkley
Impact rookie: F Tyler Andrew
Why the Bulldogs will finish higher than predicted in the coaches poll: Motte lives up to preseason accolades and has a Hobey Baker-like season in net.
Why the Bulldogs will finish lower than the coaches poll: They won't be able to give their goaltender the goal support he needs to win close games.