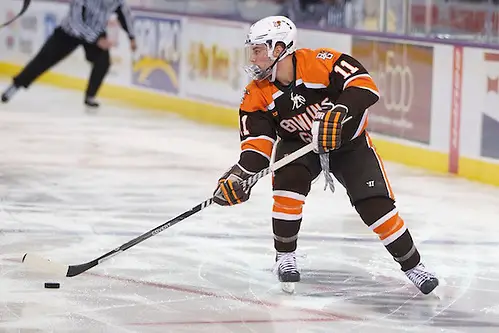 Chris Bergeron was hired as head coach at Bowling Green in 2010, and he led the Falcons to a five-win improvement in his first season, doubling the total from the previous year.
It's been a steady rise ever since, going from 10 wins to 14 to 15 to 18 — as well as a winning record and a trip to the Final Five — last season.
"I don't think we're sneaking up on anybody this year," Bergeron said.
But that's just fine with the Falcons, who appear to have climbed out of a deep hole, one that put the program in jeopardy of being dropped five years ago.
"We're so focused on trying to get our program back to relevancy and back to where we're in the conversation again," Bergeron said.
The Falcons may already be there, having been picked to finish fourth by the league coaches and third by media who cover the league.
However, no Bowling Green players received individual accolades in the preseason polls.
"For the first time in our time here, we have depth at all three positions," Bergeron said. "But we're not relying on one or two people to take us to where we want to go."
The Falcons return four of five double-digit goal scorers and four players who had 20 points or more a season ago. Also back is junior Tommy Burke, who became the No. 1 goaltender over the final 10 games of the season, a stretch that included a five-game winning streak going into the Final Five.
"We're continuing to learn how to win," Bergeron said. "We feel like 18 wins last year was good for us; we want to improve on that. We feel like getting to [the Final Five] last year was good for us; we want to improve on that. We were able to host the first round of the playoffs; we want to continue that mindset. But we also know how difficult it's going to be."
About the Falcons
2013-14 record: 18-15-6
2013-14 conference record: 13-11-4 (tie, third)
2014-15 predicted finish: Fourth
Key losses: F Bryce Williamson, D Ralfs Freibergs
Key returnees: F Dan DeSalvo, F Mark Cooper, F Adam Berkle, G Tommy Burke, D Mike Sullivan
Impact rookie: D Mark Friedman
Why the Falcons will finish higher than predicted in the coaches poll: Few major losses leave them with an experienced, veteran team that's ready to take big step forward.
Why the Falcons will finish lower than the coaches poll: They continue to struggle with consistency and in close games a season after going 1-4-6 in overtime games.