First in a three-part series.
One of the joys during the hockey offseason is to watch new season schedules roll in, one by one. It's a fresh start: no wins, no losses, nothing but hope, dreams and hypothetical wins leading to the Frozen Four.
Now that the new season is underway, fans can put those preseason hopes to the test, enjoying the season-before-the-season: nonconference play. But the process of actually arriving at that slate is far more involved than simply calling a fellow coach on the phone (although that's a good start).
Building a nonconference schedule is subject to expectations both on and off the ice. It's more art, less science. A team must land the right balance between competition, strength of schedule, home games and travel budgets, sometimes years in advance.
A new reality
After the landscape of college hockey was shaken by the tremors of conference realignment, it created a new reality: upwards of 14 dates to fill for some schools and a lot of new possibilities along the way.
Before realignment hit in the fall of 2013, most teams had a mere handful of dates unoccupied by conference play, making the job of nonconference scheduling relatively straightforward to manage over a multi-year span.
In 2012-13, the only league with fewer than 25 conference games was ECAC Hockey. Now, four out of six leagues are in that same category. Atlantic Hockey and the WCHA both play 28-game schedules; Atlantic Hockey teams played 27 league games in each of the last four seasons.
Big Ten, NCHC and Hockey East programs suddenly found themselves with (in most cases) double the number of nonconference games to fill on short notice.
And with only a year to prepare, it became a major challenge for most of those teams to fill the remaining space. Conflicts had to be sorted out, financial guarantees had to be negotiated, travel had to be booked and, yes, contracts must be signed, sealed and delivered.
"In the past 30 years, there wasn't much difficulty in scheduling nonconference games," Michigan State coach Tom Anastos said. "We had 28 league games, plus if you're in the [Great Lakes Invitational], that's 30. That transition has made it different."
In many cases, it's only added several pieces to an already challenging jigsaw puzzle.
To fill or not to fill?
"We got to the point last year where I couldn't get two more home games," Merrimack coach Mark Dennehy said. "We were already playing 17 road games, so we chose to only play 32 games, instead of 34."
While the NCAA affords teams the opportunity to shorten their schedules, some teams have resorted to adding nonconference games against league opponents in the middle of the season, at times on the same weekend.
Maine, in particular, elected to take that kind of creativity. The Black Bears' two games in Alaska don't count toward the 34-game limit, so they had a 36-game schedule to fill, and they turned to fellow Hockey East state schools.
Vermont, Massachusetts and New Hampshire are on Maine's schedule four times — twice in league play, twice in nonconference meetings.
But it hasn't been bumpy for everyone. For ECAC teams like Rensselaer, the changes presented an opportunity to jump headlong into the growing market for nonconference action.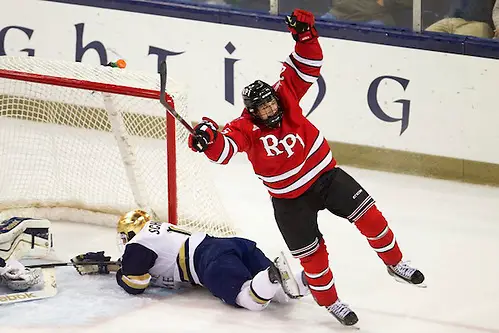 "It's made it easier for us," Engineers coach Seth Appert said. "We already had 12 [games] to find but in the past nobody had those games to give, home or away. Now more teams and more leagues are forced to look for games."
And for most Atlantic Hockey programs, the boon provided an opportunity to better leverage their location (all but Air Force are based in the northeast United States).
"Being just outside of Buffalo, we can go through Canada and our campus from Yost Arena is four hours, five to Columbus, four and a half to Michigan State," Niagara coach Dave Burkholder said. "We're a bus trip away from some of the top teams in the country."
And Niagara isn't about to just hop on a plane on a whim.
"We've always told recruits and parents during the recruiting process that we're going to provide a national schedule [as best we can]," Burkholder said. "That being said, I'm fiscally responsible to the university for team travel, time away from the classroom, etc."
Still, some programs are better able to take advantage of the new normal than others. All of those give-and take factors of home vs. road, competition vs. cupcakes, guarantees vs. reciprocity mean a lot of moving parts for coaches to consider in the years of work in planning their schedules.
In Friday's part 2 of the Open Dates series: One of the simmering controversies with nonconference scheduling: The ability for teams to schedule a majority of games at home, and how a growing number of coaches are pushing back.