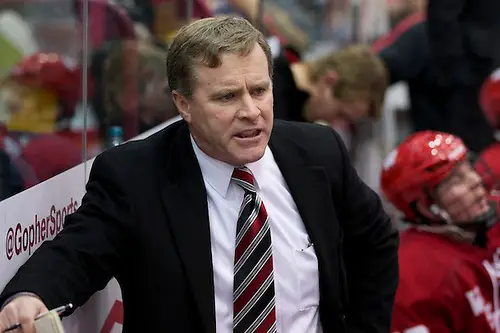 Each week during the season we look at the big events and big games around Division I men's college hockey in Tuesday Morning Quarterback.
Jim: This last weekend was much better for the top-ranked teams. But there is one team out there that I think should already begin to panic, and that's Wisconsin.
At 0-4, the Badgers are quickly playing themselves out of relevance. You're pretty close to this team: What gives?
Todd: Before the season, Badgers coach Mike Eaves was talking about needing his senior goaltenders to buy some time for the team's large group of young players to grow. You could argue that the growth is taking place, but the goaltending hasn't stole the team a victory yet.
I don't think there's much disputing that Wisconsin is going to be a rough-around-the-edges team that might be able to make a second-half run when things come together. But the hole is getting deep, and now the Badgers have the next two weekends off to sit on an 0-4 record.
Jim: You have to think when Eaves made this schedule with two weekends off, he was doing so to catch the team's collective breath. Little did he know his team would be 0-4.
At the other end of the spectrum, we should take the time to recognize defending national champ Union. The Dutchmen lost some key players and many worried how this team would respond. A 3-0 record with decisive wins over New Hampshire and Maine (twice) certainly answers those questions. Do you think this team has what it takes to repeat?
Todd: I think it would be foolish to rule out any team that's returning from a championship season, because most of that group of players knows what it takes to get there.
I'll be interested to see how the Dutchmen handle some adversity. I think that's a great indicator of how far a team can get, and my read on coach Rick Bennett is he'll have the team's leadership corps ready to handle that when it comes.
I think it's important to note that after two weeks, the Alaska teams are a combined 7-0-1. Now, all of those games have been played within the state's borders in the school's back-to-back tournaments, but it's at least a strong first step for the Nanooks and the Seawolves.
Jim: I have been keeping an eye on the Alaskas. Fairbanks made my ballot this week while Anchorage was my first team off my ballot. The test for both of these teams is how they do on the road. Being in Alaska, it goes without saying there are no easy road trips. Having to fly for seven hours or more to get to a game has to be exhausting, don't you think?
Todd: I think it's more the cumulative effect. Those last trips of the season are probably a lot harder than the first ones, and I've often wondered how much of a direct toll all the travel has on the teams' success.
One argument could be that young athletes may adjust better to travel than your average frequent flier, but I also can see how there would be a greater rate of decline in performance.
Jim: Out in the world of Hockey East, one team that has a lot of people shaking heads is Northeastern. The Huskies, a team that many believe to have the component of a championship-caliber club, are 0-3 and last weekend didn't score a single goal in a two-game series against Colgate.
Not taking anything away from the Raiders, but a team that has offensive talent like Northeastern should be able to muster at least a single goal in a weekend, no?
Todd: That is puzzling, for sure. One team that isn't having trouble putting up goals or wins is Robert Morris. After making the NCAA tournament for the first time last season, the Colonials have started off 4-0, scoring 15 goals and allowing only four. It's quite a departure from the start of last season, in which they didn't get their fourth win until Jan. 5.
Thumbs up
To the teams from the Last Frontier. In this week's USCHO.com Division I Men's Poll, Alaska is No. 16 and Alaska-Anchorage is No. 20. It's only the second time in the 17-plus years of the USCHO rankings that both teams have appeared at the same time; the other was on Dec. 1, 2008.
Thumbs down
To the Cheel Arena Zamboni, which broke down during the second intermission of Clarkson's home opener last Saturday. You had one job.
AAA has arrived! pic.twitter.com/kktAtCVPNZ

— Cap Carey (@CapCareyWDT) October 19, 2014
Coming up
It's a huge week for inter-region matchups of ranked teams.
No. 2 Union hosts No. 9 St. Cloud State, while No. 3 North Dakota welcomes No. 5 Providence in East-West series.
No. 14 Michigan heads east to play No. 7 Massachusetts-Lowell on Friday and No. 12 Boston University on Saturday.
And in the NCHC, No. 19 Minnesota-Duluth hosts No. 11 Denver for a two-game series.
In the WCHA, Michigan Tech kicks off a stretch of six straight games against ranked teams by traveling to No. 8 Ferris State for a series. The Huskies follow that up by hosting No. 14 Michigan and No. 20 Alaska-Anchorage.