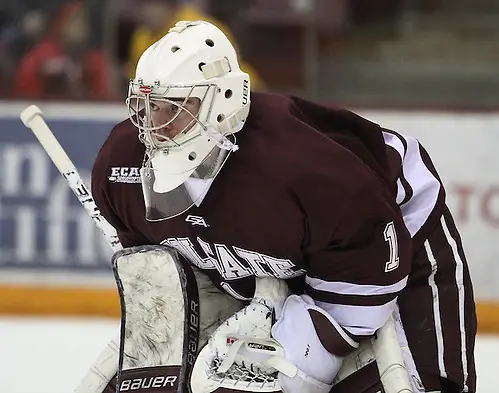 Last season, Colgate coach Don Vaughan praised the Raiders' ability to reset following a tough win or loss.
Two weeks into this season, Vaughan is saying the same thing — mostly because this year's team is the same as last year's edition.
The Raiders returned all but backup goalie Eric Mihalik and forward Mike McCann from last year's NCAA tournament team and were picked to finish first in ECAC Hockey in both the coaches and media preseason polls.
Colgate is off to a 3-1 start after a pair of shutout wins against Northeastern last weekend. Friday's win against the Huskies marked Vaughan's 350th win in his 22nd year as coach of the Raiders. He is one of only 11 active NCAA coaches to have reached that milestone.
"Like a lot of coaches, I don't look at the numbers," Vaughan said, adding that the impending milestone was mentioned in a meeting last week but that he hadn't otherwise known about it.
While the win gave Vaughan a chance to think about the players he's coached and the coaches he's worked with, he was most impressed with the Raiders' ability to handle the Huskies' physical play in the series.
"That's something in the past we may not have done well," Vaughan said. "I was happy after we pushed back."
In addition to the Raiders' physical play, sophomore Charlie Finn stopped all 52 shots he saw on the weekend. The two shutouts for Finn, the league's goalie of the week, are one more than he had as a freshman last season.
"He's strong physically with another year under his belt," Vaughan said. "He's fighting through the traffic a little bit better and finding pucks quicker. One of his biggest qualities is his compete level — he's unbelievably competitive. A lot of guys are high-strung high-energy, but [he's] very quiet. Sometimes he makes it look easy but underneath that, he's extremely competitive."
With Finn in net and a deep lineup led by senior captain Spiro Goulakos, forwards Kyle Baun, Darcy Murphy and Tylor and Tyson Spink, Vaughan said this year's team reminded him of the 2004-05 Raiders, who made the NCAA tournament with a 25-11 record.
"The second half [of last year] this group matured a little faster than I thought they would have," Vaughan said. "Some guys in the [junior] class are a little bit older. The maturing process might have come a little bit sooner having been through juniors."
Hayton standing tall for Saints
It's Greg Carvel's third season as head coach at St. Lawrence but the first time he's had the chance to bring in his own goaltender.
So far, so good.
Freshman Kyle Hayton has started all four of the Saints' games to date, including his first collegiate shutout last Saturday against then-No. 4 Ferris State.
Hayton also made 44 saves in a 3-2 loss to the Bulldogs on Friday, and was honored by the ECAC as the league's rookie of the week after stopping 77 of 80 shots on the weekend.
"[Some] people think he's a little undersized; he's under 6 feet," Carvel said of Hayton. "But he's really, really quick and combines that quickness with a good feel for the game. He's really competitive; sometimes you get a goalie that wants to be quiet and left alone, but he comes to the bench and talks to his teammates and does a good job communicating."
The early returns on Hayton, who played two seasons for Sioux City in the USHL before coming to St. Lawrence, are promising for a young Saints team. With four of its five top scorers gone from last season, including Hobey Hat Trick finalist Greg Carey, the Saints can't afford to get into many shootouts this season.
Hayton has helped the St. Lawrence penalty kill go 20-for-21 after finishing second-to-last in the country last year.
New assistant coach Jared DeMichel, the starting goalie on Rochester Institute of Technology's 2010 Frozen Four team, has implemented a new penalty kill system to take advantage of the Saints' team speed.
"We have a more aggressive mindset," Carvel said. "Instead of just waiting for their power play to come at us, we're going at them a bit more."
While the Saints still have plenty of offense to replace from last season, several individuals are off to promising starts. Sophomore Drew Smolcynski is tied for the national lead with six assists, while freshman defenseman Nolan Gluchowski had four points in his first two games before missing the Ferris State series with an injury. Carvel said he'll be out for a couple of weeks.
With 17 underclassmen on the roster, captain Gunnar Hughes and alternate captains Brian Ward and Patrick Doherty have helped keep the Saints on track in the early going.
"Our leadership group has been really good," Carvel said. "[It's] helped create team chemistry right off the bat."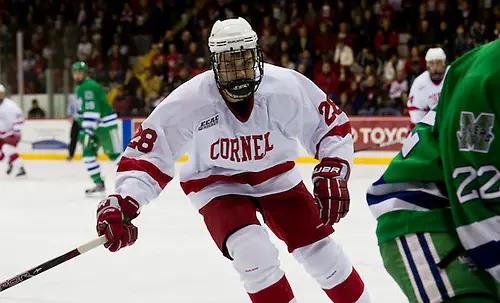 Around the league
• Scoring looked like it was going to be a problem for both Clarkson and Rensselaer entering the season, and that's been the case so far. RPI avoided getting shut out for the third game in a row Saturday thanks to Chris Bradley's power-play goal with 35 seconds left against Denver, while the Golden Knights scored one goal in a pair of losses to Vermont after scoring three goals in their first two games. Clarkson lost 3-0 Saturday despite outshooting the Catamounts 11-0 in the final period.
• Quinnipiac's defense was expected to be the backbone of the team this season. But the Bobcats have given up at least three goals in each of their four games, including six Friday at Massachusetts-Lowell. Michael Garteig and freshman Sean Lawrence have a combined .829 save percentage after Tuesday's 4-1 loss to Connecticut.
• Union forward Mike Vecchione was named the ECAC player of the week for the second time in a row after posting five points in a sweep at Maine. The sophomore's nine points are tied for the most in the country.
• Cornell held its annual Red/White game last weekend, with Joel Lowry scoring two goals to help the White team to an 8-5 win. The Big Red, Yale, Dartmouth and Brown all get started with exhibition games this weekend.
• Colgate forward Tylor Spink, the team's second-leading scorer last season, is recovering from an injury that caused him to miss the first four games. Vaughan was unsure about his status for this weekend.
• Former Union forward Josh Jooris (Calgary) and former Colgate forward Chris Wagner (Anaheim) each made his NHL debut on Oct. 17. Jooris had one of the Flames' two goals in a loss to Columbus.