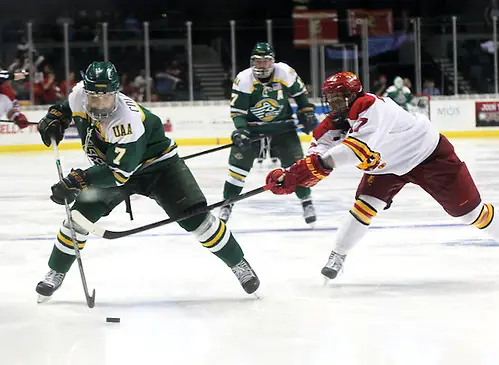 During the WCHA's preseason conference call, several coaches talked about getting used to travel in the new league last year, namely getting their long trips to Alaska in order.
It's a delicate balance for the coaches and their staffs. They want to arrange enough travel time to keep their teams fresh and not too jetlagged, but they also want to make sure the players aren't missing too much class time and that their academics aren't suffering as a result.
You'll have to forgive the two coaches from Alaska if they don't have a lot of empathy for their visitors.
"I'm not overly sympathetic to the coaches that commented on having to come up to Alaska," said Alaska-Anchorage coach Matt Thomas, the final speaker on the conference call.
Indeed, it's easy to forget that those same travel issues are factors for the Alaska schools — even more so. Except for when they play each other, Thomas' Seawolves and Dallas Ferguson's Alaska Nanooks must travel three or four time zones away every time they hit the road.
After a stellar two weeks in their home state to start the season, both teams will take this year's first voyages out of Alaska this week.
Following last weekend's Brice Alaska Goal Rush in Fairbanks and the previous week's Kendall Hockey Classic in Anchorage, the Nanooks (4-0) and the Seawolves (3-0-1) are both undefeated following those events for the first time since the Goal Rush's inaugural tournament in 2008.
It's also the first time since that year that the two teams are both ranked in the USCHO.com Division I Men's Poll. Alaska is No. 16 and Anchorage is No. 20.
Now the teams are in prove-it mode.
"The biggest question of our team is: Can we win on the road?" Thomas said in that preseason call.
Despite Thomas' impressive turnaround of the Seawolves last season, they were 3-10-2 in the Lower 48 states. The Nanooks, meanwhile, were 5-5-2 outside of Alaska.
This week, Anchorage will go all the way to Maine, returning the favor to the Black Bears, who opened the season against them on Oct. 10 (UAA won 3-1), and Alaska will play a nonconference series against former CCHA foe Western Michigan.
"Everyone's talking about travel," Thomas said. "That was something I thought we had to concentrate on this year."
Wit the hope of improving his team's road record, Thomas, the second-year coach, is trying something a few teams have done while scheduling back-to-back road series in Anchorage and Fairbanks.
"This year, we do have two two-week trips, one each semester," he said, "which could be a challenge academically for our players but athletically could be a little bit of an advantage. Some [coaches] have commented that they have to do it for us."
Anchorage will play Michigan Tech on Nov. 7-8 and stay in Michigan to play Ferris State Nov. 13-14. The Seawolves also will play Northern Michigan Jan. 30-31 and stick around the Midwest before taking on Minnesota State Feb. 6-7.
Last season, Michigan Tech and Minnesota State each spent 11 days in Alaska. Northern Michigan will have a similar trip next month.
According to the Alaska Dispatch News, the Seawolves left Anchorage on Monday and practiced Tuesday and Wednesday at Boston University before busing to Orono, Maine, on Thursday.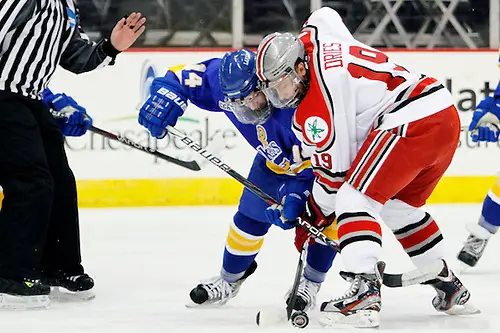 Lakers return home for shot at first win
Lake Superior State has struggled in its first six games under new coach Damon Whitten. The team started 0-6, with losses to Michigan Tech, Robert Morris and Notre Dame in consecutive weeks.
But maybe this weekend's festivities against WCHA foe Northern Michigan can light a spark under the Lakers.
It's Great Lake State Weekend in Sault Ste. Marie — LSSU's equivalent of Homecoming — and the Lakers will be honoring the 1994 NCAA championship team, which is being inducted into the LSSU Athletics Hall Of Fame this weekend.
Before the season started Whitten talked about returning Lake Superior "back to that level" of its championship years in the late 1980s and early 1990s.
That won't happen overnight, but it wouldn't be a bad start to earn some wins over a top rival on the weekend the past champions are watching.
Beavers look to knock off another top-5 team
A week after upsetting then-No. 2 North Dakota 5-1 in their season opener, Bemidji State had a week off to sit and think about its next top-five opponent.
The Beavers travel to No. 1 Minnesota this weekend looking to score another upset.
"I don't think we think too much about the rankings, but there's always been a big rivalry with Minnesota, and with North Dakota," Beavers sophomore forward Brendan Harms said. "Every game is a huge game for us. Against the higher-ranked teams, too. If we can play the best game we can maybe we can move up in the rankings. That would be great, too."
BSU last defeated the Gophers in November 2009 — the only time they've beaten Minnesota. They're 1-16-1 all-time against their in-state rivals.
Friday night's Bemidji State-Minnesota game will be aired on Big Ten Network — that network's first hockey broadcast of the season and another nationally televised game involving a WCHA team. The puck is set to drop at 8 p.m. CDT.
Around the WCHA
• Bowling Green sophomore forward Kevin Dufour scored three goals against Alabama-Huntsville last weekend and leads the nation in goal scoring with six. He scored nine goals during his freshman season. Teammate Nolan Valleau, a freshman defenseman, has six assists, which is tied for the national lead.
• Last season's league goaltending champion, Cole Huggins of Minnesota State, has been slow out of the gate. In three starts, he is 0-2 with a 4.70 GAA and a .752 save percentage. The good news for the Mavericks is that the previous year's top goalie, Stephon Williams, has been solid in his two appearances, including one in relief of Huggins. The junior is 2-0 with a 2.16 GAA and a .917 save percentage.
• Ferris State will begin defense of its MacNaughton Cup championship when it opens WCHA play at home against Michigan Tech. The Bulldogs are 17-0-1 in their last 18 home games. Their last loss at Ewigleben Ice Arena came in last year's season opener, Oct. 18, 2013, against St. Lawrence.
• This week's WCHA players of the week are Bowling Green forward Kevin Dufour (offensive), Northern Michigan goaltender Mathias Dahlstrom (defensive) and Alaska forward Austin Vieth (rookie).