Considering that Merrimack was picked by Hockey East coaches to finish 10th this season (and a rather distant 10th it was), the phrase "3-0 Warriors" must sound awfully pleasing to North Andover ears.
"It beats the alternative," Merrimack coach Mark Dennehy quips.
The Warriors swept Holy Cross to open the season, then fought back on Saturday to claim a league win over visiting Connecticut. Despite controlling play, Merrimack needed an extra-attacker goal from Brett Seney to force overtime and then another from Hampus Gustafsson to claim the win.
The resulting two points may come in handy in the standings by season's end.
"It's also good for the psyche," Dennehy says. "When you exert the amount of effort to play as well as we played, you want to be rewarded. That's human nature.
"As coaches, you're prodding the team to keep going and not be affected by the scoreboard, but it's a hard thing to do. So to put in the memory bank that, hey, we stuck with it, we played a full 60-plus minutes, and at the end of the day the ledger was in our favor. Now we can go back to that when we're in similar situations."
Based on play so far, Hockey East fans can expect to see a familiar sight: stellar goaltending in the Merrimack crease. Rasmus Tirronen claimed Hockey East's defensive player of the week award following the sweep over Holy Cross. He weighs in with a 1.32 GAA and a .943 save percentage.
"I don't want to say that he's picked up where he left off because that's impossible to do from one season to the next," Dennehy says. "But we did think he had a really good finish to the season last year, and he had another good summer and is really hungry to show how good he is."
Merrimack now embarks on four more nonleague games, including a rematch against UConn in the Liberty Hockey Invitational, before tackling Providence in its next league contest. With a young team playing eight freshmen, that's a definite positive.
"I did a poor job of scheduling last year," Dennehy says. "A lot of our issues, I brought on myself. So it's something I definitely tried to pay a lot more attention to this year. With a young team, it's nice to be able to play a number of our 12 nonconference games prior to getting into the meat of league play.
"Scheduling has become more and more important each year. With the restructuring [of leagues], the addition of teams and fewer and fewer league games, scheduling is rapidly moving up the priority list for coaches."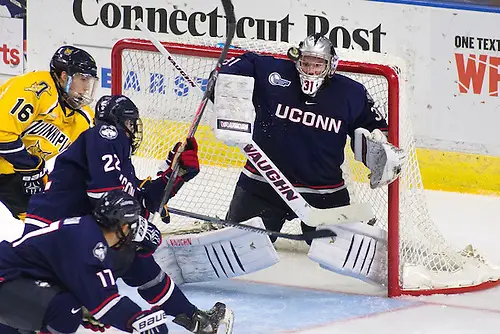 No cigars to celebrate entry into Hockey East
At least before Connecticut upset No. 15 Quinnipiac on Tuesday, "Close but no cigar" summed up the Huskies' early contests in their first season in Hockey East.
The Huskies traveled to Penn State for a two-game set, and in the Oct. 10 opener held a one-goal lead until the final minute when an extra-attacker goal evened the match. Ultimately, they had to settle for a tie.
A week later, they invaded Merrimack's Lawler Arena and clung to a 1-0 lead until the final seconds when, once again, an empty-attacker goal knotted the score. Even worse, Merrimack took the win with an overtime goal.
"They were two very different games," UConn coach Mike Cavanaugh says. "In the Penn State game, we played very well for the last two periods. I really believe that was a game we deserved to win. We just got a little bit unlucky there, but I was really happy with the way we played.
"In the Merrimack game, though, we were fortunate to be in the game, leading 1-0. Merrimack controlled possession and play for the last two periods of the game and it was only because Robby Nichols was outstanding in goal that it was 1-0. We actually got what we deserved in that game."
Nichols helped the Huskies break through on Tuesday, making 36 saves in a 4-1 victory over Quinnipiac in Bridgeport, Conn.
As for what UConn will be deserving in this its inaugural Hockey East season, that remains to be seen. Cavanaugh, at the very least, feels very much at home, returning to the league where he served under Boston College coach Jerry York for 18 seasons.
"I feel a lot more comfortable in Hockey East than I did in the Atlantic Hockey league," Cavanaugh says. "That being said, I don't think that's the case for all our players. In the past, we might play a Hockey East [opponent], but it was really a no-lose situation. We went in as an Atlantic Hockey league team without scholarships. If we won it was a great upset; if we didn't, no one expected us to win.
"Now, we're going into a game and this is a league member we're facing, they're in our league so we're supposed to be on par with these guys. So it's a completely different mindset for all 26 of our players. I think that by Christmastime we'll feel much more comfortable in our surroundings and playing in the league."
As for what his expectations are for his club, Cavanaugh says it's too early to tell.
"My expectations never change from game to game," he says. "We expect to go out and compete hard, we expect to play the game the right way, we expect to be mentally smart, and we expect to win the game. We feel that if we do those types of things, we can win the hockey game.
"That being said, I'm still trying to figure out where we are with personnel, who we are as a team and what our identity is going to be. I know the identity of hockey that we want to play. I'm just not sure what our identity as a team is.
"I remember [Oakland Athletics general manager] Billy Beane saying that it takes the first third of the season to figure our what you have, the next third to figure out what you need and the next third to get to where you want to go. It's a little bit different in college hockey because you can't just go out and get players or make trades or those type of things.
"But I do take that philosophy going into the first third of the season. Even in my days at BC, that was somewhat what we did. There were a lot of years where we were .500 at the Christmas break or just a few games over .500. You're playing different people, you're putting people in different positions, you're trying to figure out what you have as a team and what your identity is going to be."
Cavanaugh then invokes the mantra of seemingly every coach: Take it one game at a time.
"If you start to look at our schedule as a whole, it can be somewhat overwhelming," he says. "So we just want to play as very well as we can each night."
An important split and a bright outlook
A year ago, New Hampshire opened the season with a 1-4-1 record while traversing a gauntlet of tough early opponents. That rough start contributed greatly to the Wildcats uncharacteristically missing the NCAA tournament.
The same prospect beckoned this year with an opener at second-ranked Union followed by a two-game set at 10th-ranked Michigan. With expected goaltending mainstay Casey DeSmith on suspension for at least the first semester, a crater-sized hole to crawl out of seemed a likely possibility.
Instead, UNH followed a season-opening loss at Union with a rousing 5-1 win over the Wolverines in their own barn. That gave the Wildcats permission to get greedy and hope for a sweep. That possibility didn't come to fruition, but not for lack of trying. Trailing 2-1, the Cats had their chances, outshooting their hosts 16-8 in the third period.
Still, a split on the road against such a tough opponent could amount to a positive weekend by season's end.
"There's no question that you don't want to start the season 0-3," UNH coach Dick Umile says. "You want to win every game, but you don't want to get swept. It was important to get the win, and we played pretty good hockey over the weekend so I was pleased."
Umile holds no regrets for putting together such a difficult schedule.
"At the end of the day, you want to play the best teams that you can play," he says. "They make you better."
Freshman goaltender Adam Clark has assuaged most of the concerns about how well the Wildcats will fare without DeSmith. He's allowed only six goals in the three games and has posted a .929 save percentage.
"We're extremely happy with him," Umile says. "He's a big guy, 6-foot-5. He quietly plays very well in his crease. He's quicker than I think he realizes. He's played very well for us."
As has the defense, which is almost as inexperienced as the goaltending following the loss of three of last year's top four contributors. Umile has played three freshmen on the blue line, integrating another one into the mix when rookie John Furgele went down with a significant ankle injury.
"We're really pleased with the young defensemen," Umile says. "They've done a good job and given us the depth that we need back there even though there's not much experience playing at a Division I level. They fit in well with the team.
"Right now we have good chemistry going on with our team, led by [senior captain Matt] Willows. The guys are playing hard, and that's what we've asked them to do. Hopefully, we get good goaltending and give ourselves an opportunity to win games."
A few quick notes
• Kudos to Massachusetts-Lowell for its strong start, defeating sixth-ranked Boston College and getting a win and tie against No. 15 Quinnipiac. The past two years, the River Hawks have gotten off to rocky starts, then taken off. This year, the taking off started in game one.
• It seems strange to see only three freshmen on the roster of a recruiting juggernaut like Boston College. Of course, those three are mega-recruits and the numbers are a reflection of a large sophomore class.
• I can't help wondering if Hockey East will again have three teams that secure only a single road win all season. I sure hope not.
And finally, not that it has anything to do with anything, but …
This is my first column since January, when I was facing open-heart surgery. I bounced back in time for the NCAA regionals and the Frozen Four, but this is my first appearance in this space since going under the knife.
It's good to be back.
Thanks to Jim Connelly for covering my half of this space, and also for avoiding any Wally Pipp wisecracks. Thanks to my family and all the many close friends (Jim included) who gave me such great support. And of course, thanks to all of you for the well wishes. It was, and is, and always will be very much appreciated.
Thank you.