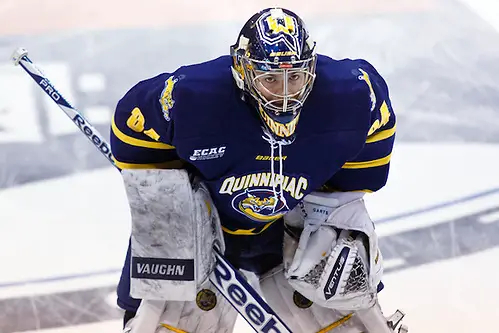 The Quinnipiac men's hockey program had not had a losing record through four games since the fall of 1999. Through this October's first quartet, the Bobcats are 1-2-1.
That said, there is no need for Bobcats fans to fret. After all, if somehow a season 15 years ago sets some sort of portentous precedent, the Bobcats will be A-OK: By playoff time, the 1999-2000 team was 26-5-3 and 13-1-2 at home.
"I really like our team. I like the makeup of our team, I like the character, I think we've got talent," said the coach of both the present and 1999-2000 Quinnipiac teams, Rand Pecknold. "But the results haven't been as good as we've desired, for a variety of reasons.
"We're better than 1-2-1. We've got 18 freshmen and sophomores, which I think puts us as the second- or third-youngest team in the country [by class years]. We lack game experience, and we've been getting exposed because of that."
An avatar for Quinnipiac's unaccustomed early-season struggles is the play of its junior goaltender. Whether the deficiencies lie more with the defense or his own play, Michael Garteig's career save percentage is sinking past .905 due to his abysmal .828 save rate thus far this fall.
"It's a little bit of both. Michael Garteig was .910 all last year, and had a really good season for us, so [this] is not going to hold through," Pecknold said, "but certainly, there have been some struggles. You're not going to win with .880 goaltending, .890 goaltending, and we're well below that right now. That will improve, but we think we can play better in front of our goalies, too."
Garteig's play has cracked the door for freshman Sean Lawrence, but the rookie's own .833 save percentage and 3.11 GAA is hardly exemplary.
"Right now, we need someone to step up and make some saves," Pecknold said. "'Gartzy' has proven that he can do it, but he's going to have to go on a little bit of a run now. We're very confident in our goaltending; this is a very small sample size, it's only four games. We're not in panic mode with that."
In front of the crease, Pecknold and his staff are understandably still toying with combinations.
"I like [freshman] Landon Smith when he played with [senior Matthew] Peca and [sophomore Sam] Anas. I liked [freshman] Tanner MacMaster, who's there now. We're still trying to tinker with our other lines.
"It's a little bit early [to commit to line combinations]. We're still trying to figure out who's going to play center, who's going to play on the wings, and same thing with the D pairings. We didn't put Sam on the wing with [graduated twins] Connor and Kellen [Jones] until about the fifth game, maybe game six, so it takes a little while to figure that out."
Among the newcomers, Pecknold has noted some bright spots.
"I've been real happy with both Smiths," he said."Landon Smith and [defenseman] Derek Smith have played well. [Senior defenseman and New Hampshire transfer] Justin Agosta has adapted to our system, which is different than UNH's, and he's been really good. In the Lowell game, he had a huge goal on the power play.
"It's still a little early with our other freshmen; you just never know how they're going to adapt. Some kids, you throw them in the mix and they're great right out of the gate. Other kids, it takes a couple months, other kids it takes 'til January. We're going to see good results here; it's just a matter of time."
Agosta isn't the only transfer on the roster. Unlike Agosta, former Massachusetts defenseman K.J. Tiefenwerth sat out a season between programs.
"It's always tough when you're transferring, having to sit out a year. It's a very difficult year. All you do is practice — there is no light at the end of that tunnel with games," Pecknold said in appreciation of Tiefenwerth's work ethic.
On the whole, it's still far too early to pull the parachute in Hamden.
"I don't want to say we're in survival mode, because we're not, but we're so young," Pecknold said. "We're just taking it one game at a time, whether it's on the road or home, just trying to get guys to buy into our identity and play to our identity. I think that's the biggest challenge we have as a team right now, is those two things."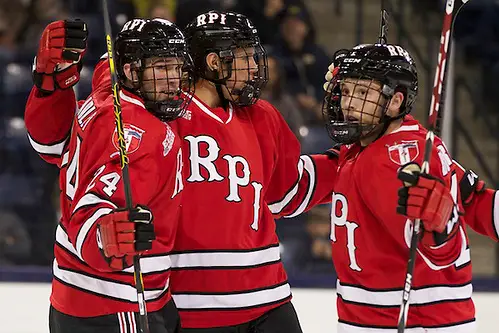 Engineers have plenty of fight left
"We're making some immature mistakes," is how Rensselaer coach Seth Appert began his comments.
In the next breath, however, he emphasized that "it's early, we haven't played a league game yet, half our league hasn't even played a game yet, so we're trying to keep things in perspective."
RPI is 1-5 and in the midst of a five-game skid. The Engineers have scored six goals in six games and already have suffered three shutout losses. They had a rough year last time out — finishing 15-16-6 — but the 2013-14 squad didn't endure its third scoreless game until late February.
Appert isn't expecting an offensive epiphany by any stretch, so don't come to Houston Field House expecting a touchdown and two-point conversion every night. But he is banking on redoubled defense and exceptional goaltending to right the ship.
"We're not happy with it by any stretch," he said. "I like the way we played in the first weekend. We were a little flat in Denver, and we actually probably defended better than the scores look [last] weekend. We only gave up 37 shots the whole weekend, but we are fighting the puck a little bit, fighting our offensive confidence. But like I said, it's early. We're learning about ourselves and trying to get ready for league play.
"Quite frankly, I think we're going to be a very good defensive team, and I think we're very close to that. We held Notre Dame to two goals. We held Minnesota — probably the best offensive team in the country — to two until about the last 10 minutes of that game. We held Bentley, one of the highest-scoring teams in the country last year, to 37 shots on the weekend."
One of RPI's major sore spots is in its special-teams play. The power play has just two goals on 26 opportunities (7.7 percent); the penalty kill has been more speed bump than brick wall at a mere 71.4 percent kill rate.
"Our special teams need to improve in both aspects. The power play hurts the penalty kill; the penalty kill feels a little more pressure when you're not scoring. It's simply not been good enough," Appert said.
Lament though some Puckman fans might, Appert and Co. are not withering after a mere six games.
"There was [frustration], but I think we're all right," he said. "I think there was frustration this weekend, but at the end of the day, that needs to be [redirected] by myself and our staff and by Curtis Leonard, our captain.
"We have a tremendous captain. One of the things that makes me feel good about this team early on is that I think our captain is an absolute stud of a leader and a human being, and I think we'll have — as the season plays out — some of the best goaltending in the country. And that reminds me a lot of our team two years ago, with [captain] C.J. Lee and [then-freshman] Jason Kasdorf, and that propelled us to a second-place finish even though we didn't have a forward on that team score 30 points."
Kasdorf — who missed most of last season with a shoulder injury — has already played to rave reviews from both familiar and new observers alike. His coach is a former collegiate goalie himself, and his pleased with what he's seen.
"He's better than he was. About a month ago … we were talking during a goalie session, and I just told him flat out: 'Jason, you're a much better goalie than you were a year ago or two years ago — it's not even close — but your numbers might not look like it in the first month of the season,' because we're inexperienced in some key areas, and he hasn't played games in over a year, all those things," Appert said.
All in all, the ever-optimistic Appert knows that while negative reactions are to be expected in the wake of a depressing start, there is no room for despair in the Rensselaer locker room.
"Urgency and disappointment, yes, but not panic and frustration, because that does not lead to quality play," he said.
Liberty Hockey Invitational to showcase local talent
The second annual Liberty Hockey Invitational at the Prudential Center in Newark, N.J., will feel like a homecoming for more than a dozen of its participants.
Between Yale, Princeton and Merrimack, there are 15 Garden State-bred players who will hope to skate on native ice in the state's biggest hockey venue. (Fourth entry Connecticut does not have a Jersey-raised player on its roster.)
Princeton: Forwards — senior Aaron Kesselman (Mays Landing, N.J. — Bishop Brady HS), junior Mike Ambrosia (Chatham, N.J. — Delbarton), freshman Eric Robinson (Bellmawr, N.J. — Gloucester Catholic). Defensemen — sophomore Tommy Davis (Ho-Ho-Kus, N.J. — Delbarton), freshman Joe Grabowski (Lawrenceville, N.J. — Notre Dame HS). Goaltender — sophomore Colton Phinney (Chatham, N.J. — Delbarton).
Yale: Forwards — junior Matthew Beattie (Whitehouse Station, N.J.), junior Charles Orzetti (Ridgewood, N.J. — Delbarton), freshman John Baiocco (New Vernon, N.J.). Defensemen — senior Matt Killian (Basking Ridge, N.J. — Delbarton), sophomore Dan O'Keefe (North Wall, N.J.).
Merrimack: Forward — junior Vinny Scotti (Vineland, N.J.). Defensemen — senior Dan Kolomatis (Basking Ridge, N.J.), junior Craig Wyszomirski (Mahwah, N.J. — Don Bosco Prep). Goaltender — senior Joe Pantalone (Hammonton, N.J. — Saint Augustine Prep).
Merrimack and UConn square off at 4:30 p.m. EDT on Friday; Princeton meets Yale at 7 p.m. The third-place and championship games will be held on Sunday — not Saturday — at 1 p.m. and 4 p.m., respectively.