If you are a St. Cloud State fan, you could be forgiven for wondering if the season might ever get easier.
After an opening weekend split with current No. 4 Colgate, last weekend the Huskies traveled to New York for a series with No. 2 Union, again earning a split.
Now the Huskies return home to Minnesota, with only a home-and-home with in-state rival and current No. 1 Minnesota on the docket this weekend.
The current No. 3, North Dakota, will face the Huskies in late November.
In fact, in its first six weekends of play, the only currently nonranked team the Huskies will face is Western Michigan, which made the semifinals of last year's NCHC tournament.
Asked about the seemingly brutal start to the season, St. Cloud coach Bob Motzko downplayed it as something not unique to this year.
"I kind of think it's tough every year; I think all of us are used to it," said Motzko. "When you say we have a tough schedule, if it was something else I'd like to know what easy is, because I've never found an easy schedule in college hockey.
"I don't think we look at it from a standpoint of rankings. We're playing awful good hockey teams right now, and we're trying to get our season off to a good start and move forward."
Last weekend against Union, St. Cloud lost the first game 5-1, plagued by a poor start and excellent play by Union netminder Colin Stevens, who kept St. Cloud off the board until there were only five seconds left in the game.
"We had plenty of chances that night to get back into the game, but I thought their goaltender, Colin Stevens, was outstanding, and we could have got in it to make it look better," said Motzko. "We had three straight breakaways, power plays, plenty of shots, and Stevens was just outstanding in goal."
Ben Storm finally got the Huskies on the board at 19:55 of the third, and while it would be easy to wonder if the goal helped give St. Cloud momentum that it used for a 3-2 win on Saturday, Motzko said it's not the case.
"When you break it back down, it definitely wasn't a 5-1 game," Motzko said of Friday's loss. "We really made a lot of mistakes to give them such a big lead. When you break the game down, we did a lot of good things Friday night, and we carried the momentum from good play.
"I'm sure it was encouraging that we got that goal late, but we played pretty good hockey for five periods, almost five and a half periods. It was really the first seven, eight minutes Friday night."
Though the home-and-home with top-ranked Minnesota might seem to warrant more preparation, Motzko, whose team took it easy Monday after a long travel day on Sunday, said that his team is mainly concentrating on what it needs to do to improve.
"We're breaking our game film down right now from the tendencies that a team has to work on defensively or offensively, and those are the things each week that you try to get your team working on better and moving your team forward to get better in the areas you have to have success," he said.
"Early in the year, you are concentrating 90 percent on your own team, your own play, and worrying very little about the opponent you are going to play. It is what it is. Obviously, Minnesota has got tremendous talent and has some great strengths that we will have to be very well aware of, and we'll try to be prepared for that and do our best."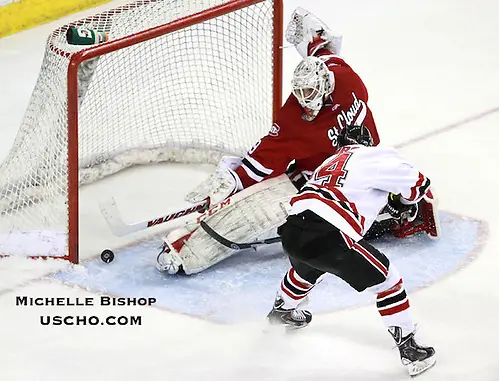 Omaha retains scoring prowess
Coming into this season, many wondered where Omaha would find its scoring.
The Mavericks, who were 16th in team offense last season, lost three of their top six scorers to graduation and their top scorer, Josh Archibald, to early departure.
So far, scoring hasn't been a problem. The Mavericks are 10th in team offense nationally, and sophomore Jake Guentzel is third nationally in scoring while his classmate, Austin Ortega, is 13th.
"That's our line right now, Ortega, [Dominic] Zombo and Guentzel," said Omaha coach Dean Blais. "They're doing everything for us, power play and penalty kill. We knew coming into the year that if we were going to be successful early, especially with a lot of freshmen, that those guys were going to have to carry us, and they've done a great job so far."
In their last outing two weeks ago, the Mavericks swept Western Michigan on the road, notching 5-2 and 3-0 wins. While the top line was active on the score sheet, the Mavericks got contributions from others as well, such as Tanner Lane and Brian Cooper.
"We need scoring from other people, other players, than just that top line. That's the key to anyone's success, is a balanced scoring attack," said Blais. "Last year, we had a bunch of seniors that could provide it, whether it was Ryan Walters, Zahn Raubenheimer, Brock Montpetit and Josh Archibald, certainly, who scored 29 goals for us. That's hard to replace. Our whole freshman class might not get 29 goals together. It does put pressure on Zombo, Ortega and Guentzel, but it's really important that those freshmen come along as fast as they can."
The Mavericks have nine freshmen who have seen action so far. These young players are getting a tough introduction to the college game, as most of the first two months sees UNO on the road; the Mavericks have only one home series in a stretch of six series that started with Western Michigan.
"That's always a concern, but we played really well against Western Michigan and won both those games against a real physical team, and we're going right into Cornell and Ohio State with the same kind of mentality," said Blais. "We have to be the aggressor; we can't be the retaliator. Big and physical means that we are going to have use speed and discipline to have a chance to win."
This weekend, the Mavericks travel to New York to face Cornell for a pair. Last year, the Big Red swept the Mavericks in Omaha.
"They did it on the power play mainly," Blais said of that series. "They're a well-coached team with Mike Schafer. They play the same way every year, and that's good, honest, hard-nosed hockey, and we're going to have to not try to do outdo them. We have to play to our strength, which is fast and execute well."
Players of the week
Offensive player of the week — Austin Farley, Minnesota-Duluth: In a split with No. 11 Denver, Farley scored a goal in each game for the Bulldogs and had an assist. On Friday, he scored UMD's only goal on a power play to tie the game at one before Denver scored twice to win. On Saturday, he fired 10 shots, recording another power-play goal and an assist in the third period in UMD's 6-1 win.
Defensive player of the week — Troy Stecher, North Dakota: Stecher notched four assists, two on each night, while finishing with a plus-3 rating as North Dakota recorded a win and a tie against No. 5 Providence. On Friday, he assisted on the game-winning goal while finishing plus-2, and on Saturday, he assisted on both North Dakota goals in a 2-2 tie while blocking three shots. Stecher also helped North Dakota kill 14 of 15 penalties on the weekend.
Rookie of the week — Kasimir Kaskisuo, Minnesota-Duluth: Kaskisuo had a .923 save percentage and 2.02 GAA in Minnesota-Duluth's split series with Denver. In Friday's 3-1 loss, he made 19 saves and helped kill three of Denver's four power plays. In Saturday's 6-1 win, he made 29 saves and helped kill four of Denver's five power plays. He totaled 48 saves on the weekend while giving up only two even-strength goals.
Goaltender of the week — Lukas Hafner, Western Michigan: Hafner played both games in Western Michigan's split with No. 16 Alaska, recording a 1.52 GAA and a .953 save percentage. He made a total of 61 saves on the weekend, over 30 in each game, allowing only three goals on the weekend. On Friday, he helped kill six of seven Alaska power-play attempts in a 1-0 loss, and on Saturday he made 30 saves. One of Alaska's two goals Saturday was on a penalty shot by Garrick Perry in the first period.