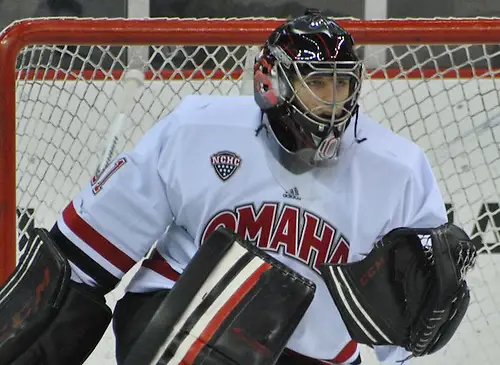 Before this season started, Omaha coach Dean Blais seemed to be trying to keep outside expectations low.
It was a smart move to make on his part. The Mavericks had one of the country's best freshman classes coming in, but with 12 fresh faces making up the bulk of UNO's lineup, the team always was going to be a somewhat unknown quantity.
Most of his best players this season are freshmen, he said, and the team's veterans would need to hold down the fort for a while until the newcomers shed their newness.
So far, that's exactly what's happening.
Going into this weekend's series at former CCHA rival Ohio State, the Mavericks are sitting pretty at 4-1-1 after six games. The only loss was to No. 13 Minnesota State on Oct. 11, and UNO has won three of its four games since then.
All four of those latter games were on the road. UNO swept Western Michigan in the teams' first two league games during the middle of last month, and the Mavericks picked up a 1-1 tie and 2-1 win last weekend at Cornell.
Blais said he's pleased with his team's early run of form, and especially three wins from four games against Cornell and WMU, the nation's tallest and fourth-tallest teams, respectively, and also two of Division I's most physical outfits.
"We've played some tough teams, really physically tough teams, and they're a lot to handle," Blais said. "Cornell's like that, and Western Michigan's big and physical, too, in our own league. I don't know what we're going to do when we start playing some faster teams, because we played four straight games on the road against bigger teams that did a good job of beating us up, and then there's the traveling that takes its toll, too."
Omaha doesn't have a ton of veterans this season, but the more seasoned players have led the way thus far.
Eight of the Mavericks' top 10 scorers are vets, and forwards Jake Randolph (one goal and three assists) and Luc Snuggerud (one goal, two assists) are the only freshmen among them.
Another big reason for UNO's early success has been the play of senior goaltender Ryan Massa. The Mavericks have had well-documented netminding issues in recent seasons, but Massa has become a rock at the back at the beginning of his final campaign in Omaha.
"Ryan has played really well," Blais said. "He's been the league's best goalie a few weeks in a row here now, but he doesn't want it to just end here.
"He wants to be a first-team All-American this year and just have all there is to get in his senior year. So far, he's lived up to his own expectations."
All told, although there's a sizable imbalance between fresh faces and old hands on Omaha's roster, the experienced vets are doing their job of keeping the Mavericks competitive while the newcomers get up to speed.
"That's the way it's going to have to be for now," Blais said. "The veterans aren't necessarily providing the most offense or defense because we only have a handful of upperclassmen, but they're certainly leading the team well.
"Our older guys, even some that aren't known to be big-time players, they're hard workers and the freshmen are getting leadership that they need from their peers that's different to what they can get from coaches, and I think that's important to have."
UND huffs, puffs, completes comeback
Not a whole lot was going right for North Dakota through the first 40 minutes of its home game last Saturday against Air Force.
In front of a sold-out crowd for the U.S. Hockey Hall of Fame game, UND found itself down 2-0 to the Falcons in the second intermission. Air Force struck early in both the first and second periods, and although UND was outshooting the Falcons 18-9, UND wasn't creating enough quality scoring chances at the visitors' end of the ice.
Highly-favored UND was going to need to dig deep just to get back into the game, and that's what the hosts did in the third period.
The comeback started early in that final frame of regulation. UND freshman defenseman Tucker Poolman got his team onto the board at 6:53 after beating Falcons goaltender Chris Truehl through a screen in front.
Higher drama was to come later in the game. Very late, in fact, as with goaltender Zane McIntyre on the bench in favor of an extra attacker, forward Drake Caggiula netted a game-tying goal with 29 seconds left.
A little over two minutes into the resulting overtime period, UND provided Air Force with another chance to pull off an upset. The Falcons were given an effective 2:43 power play after Brendan O'Donnell was assessed a checking-from-behind major penalty.
While on the power play, however, a lapse from the Falcons in the neutral zone led to their demise. UND's Michael Parks gained possession of the puck in the middle of the ice, beat one defender in the attacking zone and slipped a pass in front of the net to linemate Bryn Chyzyk, who tapped the puck in to give UND a short-handed overtime winner with 6.4 seconds left on the clock.
"[It was the] definition of a roller coaster game, I think," Chyzyk said. "We came out really poor and we left ourselves 20 minutes to earn a W and I thought we did that, and that was big for our team and for our locker room.
"Our third period was excellent, but definitely we've got to work on our starts [to games] after that one."
UND played with more and more urgency as the game went on. That, Parks felt, was what won his team the game.
"We kept saying on the bench and in both of those intermissions, being down during the game, we've got to play desperate," he said. "We found a way to get more pucks to the net and really possess the puck and kind of take over."
Players of the week
Offensive player of the week — Blake Coleman, Miami: The senior RedHawks forward had a four-point weekend for Miami against Minnesota-Duluth. In the RedHawks' 4-3 loss on Saturday, Coleman found his name on the score sheet three times after having played a part in each of his team's goals.
Defensive player of the week — Ethan Prow, St. Cloud State: The junior defenseman was essential to the Huskies picking up a split last weekend against top-ranked Minnesota. In his team's 4-1 win over the Gophers on Friday, Prow provided two assists, with one coming on the Huskies' game-winning goal.
Rookie of the week — Danton Heinen, Denver: The forward picked up already his second rookie of the week award for his performances last weekend against Denver. On Saturday, two of his seven shots in a 2-1 overtime win against Boston College found the back of the net.
Goaltender of the week — Ryan Massa, Omaha: The senior Mavericks netminder continued his hot start to the season last week in UNO's successful trip to Cornell. Massa posted a .968 save percentage and gave up only two goals — one of them on a power play — in a win and a tie against the Big Red.