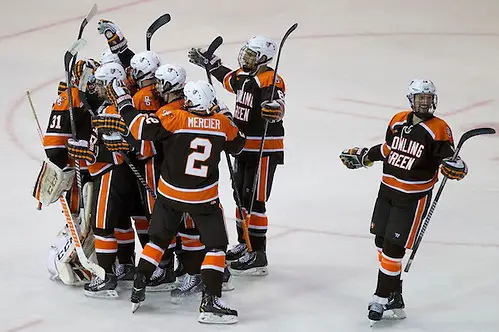 Before the season began, new WCHA commissioner Bill Robertson said that he expected the league to get three or more teams in the national tournament this year.
Bold statement by the new boss, considering how conference realignment reshaped the league.
Last March, two WCHA teams got into the NCAAs. Minnesota State captured the autobid by winning the Final Five, and Ferris State, which won the regular season title and was considered a top team all season, got an at-large berth.
Had the Mavericks not won the Broadmoor Trophy, beating Ferris State, they likely would have received a bid, too, although that was anything but a lock before Final Five began.
While this season is relatively young, the WCHA is off to an impressive start, one that not only caught the attention of followers outside the conference but one that just might grant Robertson's wishes 4½ months from now.
Seven of the league's 10 teams have winning records (although one of those teams is recently banned-from-postseason-play Alaska), and one of the teams that sits below .500 is Ferris State at 3-4 despite allowing just 14 goals in seven games. Scoring just 10 thus far, of course, is the problem for the Bulldogs).
Michigan Tech is 6-0, having swept Ferris State and Michigan in back-to-back weekends, and Northern Michigan is undefeated at 5-0-1 (see below).
Hardly the Little Sisters of the Poor conference people were predicting it would be a couple of years ago.
"As a coach, I like to deal with facts and not opinions," Minnesota State coach Mike Hastings said. "And the facts are that Bowling Green played Miami one and one and tied and won at Clarkson. Bemidji went in to North Dakota and won 5-1. …
"Northern Michigan is undefeated, and you look at Tech and they gotta be one of the best teams in the country right now. Why not?"
The WCHA is 20-16-3 against nonleague teams, a record that includes an 0-6 record by Lake Superior State and Alabama-Huntsville (combined record 1-16-1).
A strong nonconference performance can only help WCHA teams once the PairWise Rankings become a factor.
"It says something when Ferris State stays in the top 20 (in the USCHO.com Division I Men's Poll) after being swept at home by Tech," Hastings said, "and I think they deserve it."
Minnesota State, the favorite to win the league, knows it will be no cakewalk to try to keep pace with Michigan Tech and stay ahead of other teams trying to do the same.
The Mavericks split at Bowling Green in a matchup of what had been the league's top two scoring teams.
Now Michigan Tech (3.83 goals per game) is tops in the league and fifth in the nation, followed by Bemidji State (3.5, more than a goal over last year's average), which goes to Mankato this weekend. The Mavericks are third at 3.38.
Ban includes league playoffs
Alaska's postseason ban this season due to eligibility infractions includes the WCHA playoffs, league associate commissioner for public relations Matt Hodson confirmed on Wednesday, shortly after the sanctions were announced.
With a playoff format that drops out the bottom two teams from contention, the Nanooks' exclusion will mean that the WCHA's ninth-place team (provided it's not Alaska) will make the playoffs and will face the MacNaughton Cup champion (again, provided it's not Alaska).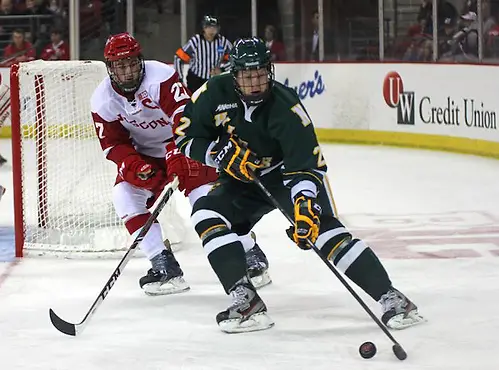 Undefeated in the U.P.
It's still early, but two of the three teams in Michigan's Upper Peninsula are undefeated and nationally ranked.
Michigan Tech is off to its best start since 1972-73 after its sweep of Michigan last weekend in Houghton. The Huskies leaped into the top 10 with the two wins and are No. 9 in the country and even received a first-place vote.
"One of the key thing is, when we're winning it gives us some confidence," coach Mel Pearson said after Saturday's game. "When you're playing the right way, it goes through the team that you can have success playing the right way. Also, we have some depth. It's going to create some competition."
Down the road in Marquette, Northern Michigan is 5-0-1 through six games and entered the poll this week ranked No. 20. The Wildcats' lone blemish was a 1-1 tie against Alabama-Huntsville last Friday. NMU rallied for a 4-1 win Saturday night.
Coach Walt Kyle isn't taking his hot start for granted, however.
"We get into the meat of our schedule right now," Kyle told the media following Saturday's game. "Between now and the break at Christmas it's all WCHA. We have some real tests here."
Tech and NMU don't meet until a home-and-home series in January, so it's likely neither will still be undefeated by the time that matchup happens. But if both teams continue their strong play it could still be a marquee matchup.
Losing streaks end
The league's other U.P. team, Lake Superior State, got its first victory of the Damon Whitten era on Saturday, defeating Alaska-Anchorage 3-2 in overtime on a Bryce Schmitt goal.
The win broke a nine-game losing streak to open the season and a 13-game skid dating to last season.
The Lakers, mercifully, get a weekend off after playing five straight weeks starting with the opening day of the season, a day most teams conducted their first official practices.
Meanwhile, Alabama-Huntsville snapped a six-game losing streak to start the season (nine games in total) with that 1-1 tie at Northern Michigan.
Under normal circumstances, this would have given the Chargers their first WCHA points of the season. Unfortunately, a scheduling quirk shut them out. The series was a nonconference set left over from a scheduling contract that predated conference realignment.
Ice chips
• Bemidji State's sweep of Alaska was its first two-game weekend sweep at home since Feb. 10-11, 2012, against Colorado College.
• Bowling Green's Kevin Dufour continues to lead the nation with nine goals as well as three power-play goals in eight games.
• Ferris State goaltender CJ Motte recorded his 11th collegiate shutout on Friday, most among active players.
• Northern Michigan has the best defense in the nation, giving up just 0.83 goals per game (five goals in six games).
• Minnesota State leads the nation in shots on goal against, allowing a mere 20 per game. The Mavericks have 121 more shots than their opponents and average 15.12 more per game, which also leads the country.
Players of the week
This week's players of the week are: Bemidji State sophomore forward Nate Arentz (offensive), Michigan Tech junior goaltender Jamie Phillips (defensive) and Bowling Green freshman forward Tyler Spezia (rookie).