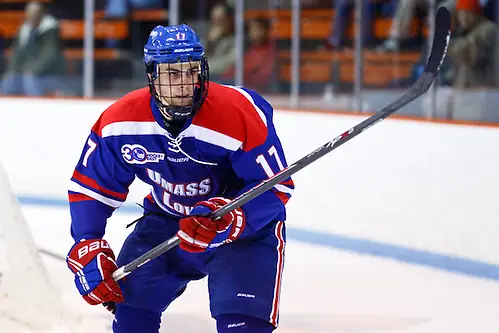 It's a good time to be a Hockey East fan. Three league teams (Boston College, Boston University and Massachusetts-Lowell) are ranked in the top six in the country, and another three (Providence, Vermont and Notre Dame) are in the top 20.
Let's take a closer look, then, at two of those teams and a third that is at least receiving votes.
Lowell: At the top
After two straight Hockey East titles, River Hawks fans braced themselves for life after a strong senior class graduated. It would be difficult, but a three-peat was possible.
Then Lowell was hit with arguably the most significant losses to the pros of players with remaining eligibility: forward Scott Wilson, defenseman Christian Folin and, worst of all, All-American goaltender Connor Hellebuyck, who just happened to double as the winner of the inaugural Mike Richter Award, given to the country's top goaltender.
Dreams of a three-peat flew out the window. With only three seniors on the roster and gaping holes left behind by the departures, the River Hawks would have to be content with middle-of-the-pack status.
Someone, however, forgot to tell the team and its exceptional coach, Norm Bazin.
The season is mighty early, but Lowell stands atop Hockey East with a perfect 3-0 league record and a 5-1-1 overall mark. The River Hawks moved to sixth in the USCHO.com Division I Men's Poll with a sweep of New Hampshire last weekend, shutting the Wildcats out 2-0 in their own barn before shellacking them 8-2 at the Tsongas Arena.
That said, Bazin, who is perhaps the personification of the term "even keel," isn't making preparations quite yet for a banner-raising next October.
"The sample size is so small that it's tough to get a good grasp as to what we have," he says. "We're encouraged by the start. We feel like we've got a good workmanlike group. So from that standpoint, I'm encouraged. But to say anything more than that is difficult at this point.
"Our goal is to be the best team at the end of the year. So we're working toward building a team. I like this young group so far because they're hardworking. I don't think they've fully developed an identity yet; they're still working on it."
Ironically, this year's young squad, for whom preseason expectations were muted, have succeeded in getting off to a great start while its highly touted predecessors struggled out of the gate. Two years ago, the River Hawks opened with a 2-5-1 record before catching fire. Last year, they lost three of their first four, including the home opener on banner-raising night to a Sacred Heart team coming off a 2-30-4 season.
Did Bazin concoct a new approach to launch his young team so successfully?
"We try to get off to a good start every year, to be frank," he says. "We change a number of things each year based on our personnel. I don't necessarily think it's been the changes or this or that. We play every game to get a little bit better than the last.
"I think our goaltending has been solid, our defensemen have hung in there, and our forwards are working hard to help out. It's a committee effort. It's a unit of five out there, and that's what we're basing some of our success on."
To replace Hellebuyck and graduated-senior Doug Carr between the pipes, Bazin first selected junior Kevin Boyle, a transfer from Lowell's sister school in Amherst where he appeared in 20 games two years ago.
After the River Hawks' loss to Michigan, in which Boyle got the hook, however, Bazin gave freshman Jeff Smith his shot and he's run with it. Smith allowed only a single goal against Michigan State and then after Boyle shut out UNH on the road, Smith came back and anchored the 8-2 win at home.
"We're going week to week, seeing how they look in practice," Bazin says. "I gave the older kid [Boyle] a little bit of a leash, but Smitty has done well in his first two starts and Boyle is coming off a shutout. We're pleased with how they're competing, and they're going to have to continue that competition if they're going to get better."
With only three seniors in the lineup, the team has been forced to rely on the underclassmen, and they have delivered. The top five scorers are all sophomores and No. 6 is freshman C.J. Smith.
"I've been pleased with not only the sophomore class, but the younger classes in general," Bazin says. "They've been contributing, and they're going to have to make contributions if we have any hope of getting anywhere. That's who we're depending on."
Providence: Better than its record
The Providence Friars were picked to finish first in Hockey East but limped out to a 1-3-1 record before toppling previously undefeated Boston University on its own ice 2-1 on Saturday.
One can make a pretty good case, however, that the Friars' record is a better indication of the difficulty of their schedule rather than a reflection of their collective abilities.
"We've played five of our six games on the road … all against top 20 teams," Providence coach Nate Leaman says.
He has a point. The Friars opened with two games at Ohio State, which has since fallen out of the national rankings but entered that series at No. 17. Since then, they've traveled to second-ranked North Dakota, then faced fifth-ranked BU in a home-and-home series.
A veritable gauntlet, especially on the road.
"We've been tested early," Leaman says. "We've probably played the most difficult schedule in the country, but it's making us better and that's what we need right now. It's part of the adversity you go through within a season. At this time of the year, we just need to keep improving one day at a time.
"I'm good with where we're at, but it hasn't been, by any stretch of the imagination, five of six wins. Everything hasn't been easy for us."
The win at BU had to be a great morale booster, not to mention an important boost in the standings, but none of that concerns Leaman.
"Polls are distractions," he says. "Standings, right now, are not what we're focused on. What we're focused on is finding our identity as a team and getting to play the type of hard-nosed hockey that we're used to playing here.
"I thought we did that Saturday night [in the win over BU]. That's why I was really happy. I thought we did that Saturday night up at North Dakota also.
"Every year is different. Every team is different. It's understanding what our identity is, what makes us successful as a team, that is what's important early.
"We've had the type of schedule that if you do make mistakes, they're going to burn you. We've had the type of schedule that you usually have at the end of the season. We've learned lessons. At the end of the day, we're getting better and that's what's important."
In particular, Leaman expects significant improvement on the Friars' specialty teams. To date, they've scored only twice on the power play, converting at only a 6.2 percent clip, while coming in as Hockey East's worst penalty kill, having surrendered seven power-play goals (72.0 percent).
"That's an area we definitely need to pick up," he says. "We have too many good players here to have our power play be at the level it's at now. We certainly need to produce more. I thought we had a really good power play on Saturday against North Dakota and on Saturday against BU. We generated a lot of chances, and we scored a goal both of those nights.
"I know our power play is going to get better. We have a lot to offer in that area; we have a lot of ability in that area.
"Our penalty kill is coming around. It's coming up in big moments in games. I thought North Dakota was the best power play we've seen, and Saturday night out there we did a good job against them. I think BU had a terrific power play as well and we did a pretty good job against them on Saturday.
"Those two areas need to get better for us to be successful."
Maine: A big turnaround
Maine opened the season in a tough way. The Black Bears traveled to Alaska, where they lost both games. They then came back home and faced eighth-ranked Union and got swept.
Oh-for-four. Ugh.
Since then, however, they've taken three of four points from an Alaska-Anchorage team making the reverse trip, then swept Massachusetts.
The difference?
"Playing better," Maine coach Red Gendron says matter-of-factly. "It's simple. There are certain things you have to do, and if you don't do them, you generally don't [win]. It's really that simple."
Gendron says there's been no one area that was struggling and has since taken a leap forward. Rather, it's been a broad-based improvement.
"It's been every phase of our game," he says. "We haven't been great defensively some nights. Often, [we've struggled] offensively, and sometimes it's been special teams.
"You've got to be able to hit on all cylinders. When we're losing games, we're lacking in that way; when we've won, we've been a heck of a lot better across the board, in all phases of the game."
The biggest concern entering the season was between the pipes, where last year's seniors, Martin Ouellette and Dan Sullivan, left a huge hole behind. This season, Matt Morris, who saw six games of action as a freshman two years ago, has played in six contests and freshman Sean Romeo three. Neither has posted glittering statistics, but Gendron has been satisfied.
"I think they've done really well," he says. "I think they've gotten off to a good start. A few bumps along the way, but that happens. There are some ups and downs when you don't have a lot of experience."
When you think of this year's Black Bears, you instinctively think of forward Devin Shore and defenseman Ben Hutton, but it's sophomores Cam Brown and Blaine Byron that are leading the team in scoring with seven points.
"They've both progressed from last year to this year," Gendron says. "When I think of both of those young men, I see people who love hockey in a big way. Doing extra work to improve yourself — some people might call it work, they'd say, 'I'm having fun.'
"That's how they conduct their business every day. They're always playing with a smile on their face. [Although] with Brownie, he's got a bridge so when he smiles, there's a missing tooth.
"He's a fabulous kid, one of the smallest players in college hockey, with a real big heart. Afraid of nothing.
"And Blaine Byron is always smiling no matter how hard he's working."
Their success, Gendron contends, is tied to that attitude.
"It's pretty tough to be good at anything if you don't love it," he says. "The price that one pays to be exceptional at something is pretty high. It's a lot easier if you really enjoy it."
While Maine's recent success has been great to see, the Black Bears will be hard-pressed to keep that momentum going. They head out on the road, where they won only one game last year, to face 14th-ranked Vermont for two games, then play two against fifth-ranked BU, one against No. 3 Boston College, another two against Vermont and then a game at sixth-ranked Lowell.
If you weren't counting, that's eight games, all against nationally ranked opponents. Then they play a home-and-home with New Hampshire to close out the first semester.
"We take it one game at a time," Gendron says. "And truth be told, there was a time in college hockey where there were certain teams that were always going to win, and there were certain other teams that weren't. From year to year there were basically the same results. Occasionally, there were a few teams that got up a little higher than they should and a couple teams that got down a little lower than you'd expect.
"It's not like that in college hockey anymore. It's parity. Everybody's good. It's hard to win. I don't care who you are, it's hard to win.
"For us, we're going to take 'em one at a time. We respect all; we fear none."