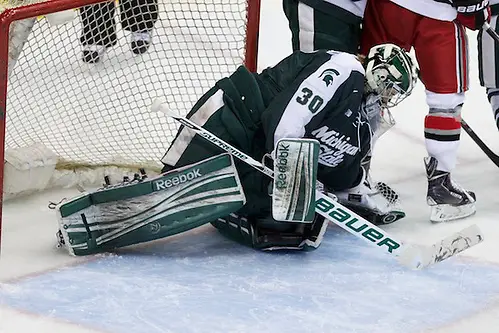 For Michigan State, the slow path to rebuilding is no accident.
"It's a calculated plan," said assistant coach Tom Newton, now in his 25th year with the Spartans.
"If you want to have a good team, you can take some shortcuts and you can have a good team for a year or two and be back at the bottom of the barrel," said Newton. "Tom [Anastos] wanted to build a program. The type of player and student-athlete he wanted to bring in, he went out and found them."
Newton — or Newts, as he's often called — is widely regarded as one of the nicest guys in the business, and keeping him on after being hired was widely regarded as one of Anastos' smartest decisions when he took the helm in East Lansing four years ago.
It's clear that Anastos has made many good decisions since, not the least of which has been his patience with a program that he considered a bit underdeveloped in terms of talent. Instead of blasting the players he inherited, Anastos was as professional and kind as he could be while still insisting that the Spartans needed to raise their talent level.
"That's right," said Newton. "You get nowhere when you're not positive. You alienate the players, the alumni, the fans."
From the get-go, the Michigan State players bought into Anastos' vision and the program progressed steadily in its first three seasons with Anastos as head coach. "That's no easy thing," said Newton. "They're kids. They have to buy into it on their own."
The result is this season's modest success, a 3-5 record and a month with only one weekend that didn't see a win. "We'd like to have more wins," said Newton. "That's the only drawback."
Last weekend, the Spartans went east to challenge New Hampshire, another team that is in a bit of a rebuilding phase. Friday's 4-2 win was "an exciting game," said Newton. "I thought that we did a good job taking advantage of the moments of the game. We maximized our scoring opportunities and put the pucks away. When they had those opportunities, [goaltender] Jake Hildebrand was outstanding.
"That was our first game on a 200-by-100 surface and we transitioned pretty well. I thought we were tentative in one-on-one situations, but otherwise we played well."
In some ways, Newton said, the Spartans had the better game in Saturday's 5-2 loss. "Our quality of play, our one-on-one intensity was better," he said. "Their goaltender probably came up a little bigger than the night before. The game probably liked them a little better. They got a couple of goals on really good efforts, great shots by their guys that Jake had no chance on."
Coming out of a split like that, Newton said: "We take the experience that you have to manage the moments. You have to take advantage of their weak moments to create offense, and you have to shut down their moments and not allow them to create those moments. That's what we have to do every game. We have to be real good each night for 60 minutes. We're getting closer and closer to that."
One sign of welcome change so far this season is the extra offense the Spartans are getting, a result of their relentless effort. Last year, Michigan State finished the season averaging 2.19 goals per game and it was anybody's guess as to who would show up on the score sheet this season.
Now the Spartans are averaging 2.38 goals per game through eight contests — modest progress, but progress nonetheless. Matt Berry leads the team with five goals, another welcome sign for a player whose career has been hampered by injury; last season, Berry had 10 goals in 23 games.
The Spartans are also seeing hopeful things from sophomore Mackenzie MacEachern (4-4–8) and junior captain Michael Ferrantino (4-3–7). MacEachern had eight goals in 36 games last season; Ferrantino netted nine in 36 games.
"We very seldom question our effort," said Newton. "We work hard but don't work as smart as we should sometimes, but that's hockey. If you have good effort, the quality of your decisions is the difference between winning and losing. If you work hard, it does not guarantee success, but if you work hard and make good decisions and are playing a team on par with you for talent, you should be winning."
Another welcome sign is the play of junior Hildebrand, who made 42 saves in Friday's win and 16 in Saturday's loss. He's having a better start to this season than last, said Newton — "he's playing Hildebrand-esque" — and it doesn't hurt that the team is doing a little better offensively.
"Pitchers and goaltenders both appreciate a little help up front," said Newton.
This weekend, the Spartans take on No. 8 Boston College for a single game in East Lansing Friday night.
"Obviously, their reputation precedes them," said Newton. "I think they're a team that always has high expectations. They lost some very talented players from last year's team and they're probably in a situation when they've definitely reloaded but finding out roles on the team.
"I think we're going to find a very hungry, talented hockey team coning in here, which we have great respect for. At the same time, we're going to make sure that we force them to play their best game against us."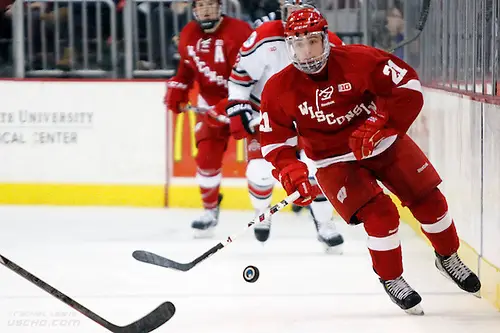 Staying positive
It's challenging to remain upbeat after your team's worst start since 1932-33, but after Wisconsin dropped a pair of home games to North Dakota last weekend, losing 4-3 and 5-1, coach Mike Eaves saw a few positives.
"Walking out of the locker room, our penalty killing was better, our power play gave us energy," Eaves said Saturday. "We created more offense and were closer to earning a victory than last night, so that's the building block we leave with tonight."
The three-goal output Friday was a high mark for the Badgers this season, and heading into the third period Saturday night, Wisconsin trailed by just one goal.
Wisconsin's offense is averaging 1.17 goals per game, second-to-last in the country, and the Badgers are giving up 3.33 goals per game (46th).
In 1932-33, the Badgers lost all nine games they played. More recently, in the 2008-09 season, it took Wisconsin eight contests to win a game, having started the season 0-6-1.
The 0-6 Badgers are off this weekend, next facing Colorado College on the road Nov. 21, followed by a road game against Denver the next night.
Quick stats
• Minnesota and Penn State are tied for second (with Robert Morris) in scoring offense nationally, each averaging 3.88 goals per game.
• Minnesota's power play is second nationally (32.3 percent); Penn State's (27 percent) is tied with Quinnipiac for third.
• Penn State senior forward Taylor Holstrom (3-8–11) is tied for third nationally in points per game (1.57).
• Minnesota senior forward Kyle Rau (3-9–12) is fourth (1.50).
• Penn State junior forward Eric Schied (5-1–6) is one of two players nationally with three game-winning goals, second in the country.
• Minnesota junior defenseman Mike Reilly (2-9–11) leads defensemen in points per game (1.38).
• Michigan's Dylan Larkin (2-5–7) is tied with four other rookies for third among freshmen in points per game (1.00).
• Michigan is 31st nationally in points per game (2.71).
• Averaging 15.9 minutes per game, Michigan is eighth in the nation in penalty time and the only Big Ten team among the top 20 teams nationally in average penalty minutes per game.
The Big Ten/Hockey East Challenge
Somehow, the Big Ten is ahead this week. Sixteen games have been played, and the Big Ten holds a 19-18 lead in points.
This weekend's series between Penn State and Massachusetts-Lowell will count as part of this challenge. The Nittany Lions are 1-0-1 in the challenge after their win and tie against Connecticut in October, and Lowell is 1-1 with a loss to Michigan and win over Michigan State last month.
The conference that records the most points from the 20 games between these leagues designated as part of the challenge will be rewarded with a cup. Teams earn two points for a win, one point for a tie, and a bonus point is awarded to a team with a road win.
Players of the week
Two players receive their first awards, while the middle guy is a ringer.
First star — Minnesota sophomore forward Taylor Cammarata: Cammarata led all scorers nationally last weekend with five points, all assists, in Minnesota's two-game sweep of Notre Dame. He assisted on the game-winning goal in Friday's 5-0 win and had a career-high three assists on the first three goals in Saturday's 4-2 win. Cammarata leads the nation in assists per game with 10 in eight contests. This is his first career Big Ten weekly award.
Second star — Minnesota junior goaltender Adam Wilcox: Wilcox recorded a series .953 save percentage and 1.00 GAA versus the Fighting Irish, recording his ninth collegiate shutout Friday night. Saturday's win was his 58th victory for the Gophers. This is his sixth career Big Ten weekly award, his first since March 4, 2014.
Third star — Michigan State junior forward Michael Ferrantino: Ferrantino scored three goals in Michigan State's road split with New Hampshire, including the game-winning goal in Friday's 4-3 contest. Ferrantino, the Spartans' captain, has four goals and three assists in eight games this season; last year, he went 9-11–20 in 36 games. This is his first career Big Ten weekly award.
My ballot
1. Minnesota
2. North Dakota
3. Massachusetts-Lowell
4. Michigan Tech
5. Boston University
6. Colgate
7. Boston College
8. St. Lawrence
9. Minnesota-Duluth
10. Robert Morris
11. Union
12. Providence
13. Minnesota State
14. Miami
15. Quinnipiac
16. Vermont
17. St. Cloud State
18. Denver
19. Omaha
20. Northern Michigan