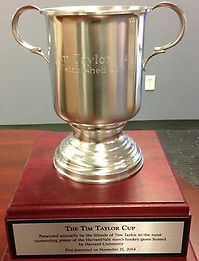 Friends and peers of the late Tim Taylor have created an award that honors the former Harvard, Yale and USA Hockey coach with the Tim Taylor Cup.
The award will be presented to the most outstanding player of the annual Harvard-Yale men's game played in Boston. The first presentation takes place Nov. 15 at the conclusion of the game at Harvard's Bright-Landry Center.
"Timmy was a very special person to so many of us in the hockey community," said Joe Bertagna, a former Harvard goaltender who played for and coached with Taylor, in a news release. "He was a teacher who always had time for fellow coaches and so many players along the way. Given his association with both institutions, we felt that this was a proper way to honor his contributions to our game."
Taylor was a member of the Harvard class of 1963, serving as captain of the 1962-63 team that captured the ECAC Hockey championship. He later returned to his alma mater as freshman coach and assistant varsity coach to Bill Cleary. He was named Yale's head coach in 1978 and enjoyed a remarkable 28-year run, winning 337 games for the Bulldogs.
Taylor was active with USA Hockey in a number of roles, and as recently as 2013, was a key advisor to the U.S. Junior National Team that won gold at the World Junior Championships in Ufa, Russia.
"Timmy was passionate about the game his entire life," added Ben Smith, who played at Harvard, coached with Taylor at Yale and also works for USA Hockey, in a news release. "He never tired of watching and studying the game and sharing his observations with others. He was very generous with his time and only had the best interests in growing the game both at home and on the international stage."
Unfortunately, a four-year battle with cancer took Taylor's life on April 27, 2013.
In addition to the Tim Taylor Cup, the ECAC has named its Coach of the Year award after Taylor and the Hockey Commissioners Association named its national Rookie of the Year award in his honor as well.
The first Tim Taylor Cup will be presented by a member of Taylor's family at the conclusion of Saturday night's game, the recipient to be chosen by representatives from the schools and the media attending the game.