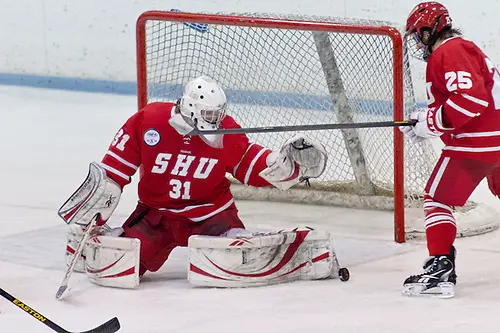 There's never been such a thing as too much goaltending. Although it's a position where only one player can play at a time, having multiple goalies capable of playing is something every coach dreams about.
The competition forces each guy to bring his best game whenever he gets the chance to play, and it often creates camaraderie through competition. The team is able to ride a hot hand with another ace in the hole, something that makes a team even tougher for opponents to plan against.
At Sacred Heart, having multiple goalies playing solid minutes is translating to success. Through their first 10 games, seniors Alex Vazzano and Andrew Bodnarchuk are in a virtual timeshare, with the former playing six games to the latter's four.
They have similar GAAs, with Bodnarchuk's 2.64 slightly better than Vazzano's 2.84, and they're neck-and-neck in save percentage with Bodnarchuk at .919 and Vazzano at .912.
Last weekend, it was Bodnarchuk's turn, and he didn't disappoint in helping lead the team to a win and tie over Canisius. On Friday, he made 26 saves, including nine in the third period, to help buoy strong offensive Pioneers comebacks from two one-goal deficits.
Trailing by one in the first period, they tied the game at 1-1 after a goal by Jacob Brightbill. In the second, Canisius scored early but David Iacono and Drew George each scored to put the Pioneers up 3-2.
In the third period, Bodnarchuk displayed some toughness: Mitch McCrank received a minor for goaltender interference, and Bodnarchuk responded by picking up a two-minute penalty of his own for roughing.
On Saturday, he continued the streak, saving 37 shots as the Griffs outshot Sacred Heart 41-29. In overtime, after Sacred Heart rallied from down 4-3 in the third period, Bodnarchuk stopped all four shots taken in the extra frame to preserve the tie.
"Our goaltending had a great weekend," Sacred Heart coach CJ Marottolo said. "[Bodnarchuk] gave us a chance to win both games. That's something that we've seen out of both him and Alex Vazzano. They both compete really hard, which is something that's great to have if you're a coach."
The goaltending helped the team rally from slow starts during both games; Canisius scored the first goal of both games yet came away with just a single point.
"We have not been off to the starts that we want [in games]," said Marottolo, "and we definitely want to start faster. But I think the games showed we have a lot of fight, that we can scratch and claw in our effort, and that's something that's really a positive."
With the three points, the Pioneers improved to 3-3-2 in league play, good enough for third place behind only undefeated Holy Cross and nationally ranked Robert Morris.
Those eight games are the core of what they've played so far, with only two nonconference games played on their schedule so far (against then-No. 4 Colgate). Even so, the team is choosing to focus on the micro instead of the macro.
"The standings are skewed right now," said Marottolo, "so the message for everyone is that every game is always so important. We have a nonconference game coming up this weekend with UConn, and then we get back into it with games against RIT at RIT.
"Every team in Atlantic Hockey is so good, and there's amazing parity in the league. So you have to be ready to play every game and be ready to be hunting points on any given night."
The Pioneers will play their first game against the Huskies as nonconference foes on Friday at the Taft School in Watertown, Conn.
Unbalanced schedule, unbalanced results
Chris Lerch and I talked at length before the season about the new, unbalanced schedule. With six teams in the West and five teams in the East, the league scrapped its pod-based schedule for a new format.
The new format created more chances for the Eastern teams to beat Western powers, and the discussion of which teams are better than others has long been a topic of water cooler talk among those in the media and fan followings.
The five teams formerly in the Eastern pod are a perfect .500 through the first month of the season against the six Western-based schools. Holy Cross and Sacred Heart are both 1-0-1, and American International is 2-1. Army is 1-4-1 against the West, but it has been swept only once — last weekend against Mercyhurst.
There's a lot that exists within the numbers. Niagara is 1-3 against the Eastern teams, while Canisius is 2-2-1. Mercyhurst is 2-0 but has played only one series against Army. Robert Morris is 1-0-1, but like the Lakers, it has played only one series, also against Army.
Air Force hasn't played any series against Eastern teams, and the Falcons won't until early December when they play Bentley.
Because of the scheduling, there is more opportunity for Eastern teams to collectively play Western teams. The unbalanced nature means some teams will play more than others, but as of right now, the Eastern squads are holding up quite nicely.
Happy trails, Bill Bellerose
Holy Cross' associate director of athletics and business manager Bill Bellerose will retire at the end of the 2014 calendar year. A former Crusaders puck star, Bellerose is still in the top 10 in career points and goals. He was part of the NCAA men's ice hockey committee from 2005 to 2010.
Bellerose was an instrumental figure in the founding of the old MAAC hockey league, which eventually became Atlantic Hockey. As the chairman of the ice hockey committee in 2010, he was one of a kind, a high-ranking figure who read what the Internet community had to say about the Frozen Four, directly responding to it in an open letter that perfectly explained and opened the door to some of the background of an unprecedented event.
Join all of us associated with the modern day of Atlantic Hockey in thanking a man who helped make so much possible for the present day.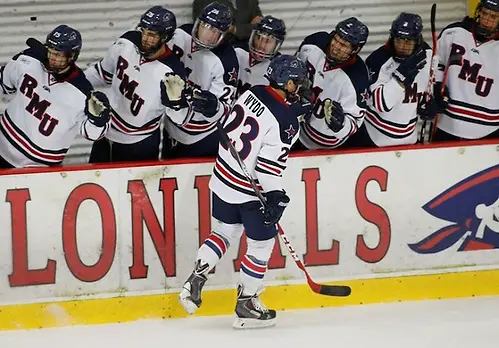 Numbers game
One month into the college hockey season, let's check in on some Atlantic Hockey stats ranking among the NCAA's elite.
Robert Morris unshockingly leads the way. The Colonials' offense is tied for second-best in the nation with Penn State and Minnesota at 3.88 goals per game. Their defense is tied for third-best in the nation with Cornell at 1.50 goals per game. That translates to a +2.38 goals-per-game margin, tops in Division I.
Their special teams rank in the top 10, including a ninth-best penalty kill at 91.2 percent. Senior Cody Wydo, at 1.62 points per game, is second best in Division I behind only Jack Eichel from Boston University.
No team matches Robert Morris on an overall scale, but others hold national recognition in select categories.
Bentley's offense ranks 11th overall thanks to the nation's best power play. The man-up for the Falcons is 14-for-37 (37.8 percent), a full five percentage points better than second place. Their special teams lit the lamp four more times last weekend.
Following a hat trick against Niagara on Friday, sophomore Max French pulled into 18th overall in points per game at 1.22, fourth-best in the nation in goals per game.
Home cooking?
The scheduling gods had a devilish sense of humor with respect to the Army Black Knights this year. They started the season with seven games at Tate Rink, four of which were against teams playing in last year's Atlantic Hockey championship game (Canisius and Robert Morris).
One game was against Brown, and ECAC Hockey just produced two consecutive national champions.
Their only road trip? A short seven-hour, 450-mile jaunt to Mercyhurst.
They'll play their final two home games until after Thanksgiving this weekend — against second-place Holy Cross.
Tweet of the week
It always thrills me as a journalist when I take some good natured fun. Last week, I omitted a hot sports take about the Mercyhurst Lakers' win over No. 4 Colgate. It led to the Lakers official Twitter account giving me the following rib:
@DanRubin12 no love for @HurstMensHockey after beating #4 Colgate? http://t.co/K2x0yzV0A4

— Mercyhurst Hockey (@HurstMensHockey) November 5, 2014
First off, a quick explanation. I didn't omit Mercyhurst on purpose. Chris made a comment about their "biggest win" in our weekly Monday recap column, and I let that kind of be our marinade to the meat.
But at the same time, I did omit it so I do apologize to the Lakers faithful for disappointing them. I end with this, however: There will come a day when those wins will be just another win, and I'm personally looking forward to it since the AHA is good enough to grab those wins every year.
Last year, my running joke was the length of which I had to go to pick against Robert Morris. Every time I picked them, they seemingly lost, but once I started picking against them, I became acutely aware of their success. I picked against them through the playoffs, and they won the league.
Looks like my foil this year is going to be Mercyhurst. That's fine. I look forward to keeping track of how I can jinx and reverse jinx you!
Players of the week
The weekly winners from the league offices, with some additions from me:
Players of the week — Air Force's Cole Gunner and Bentley's Max French: Gunner had a four-point weekend against Alabama-Huntsville, including a three-point third period when the Falcons trailed the Chargers by a 3-0 count. His third point was a game-tying goal with 5:48 left. French scored a hat trick for Bentley in its win on Friday over Niagara, earning him additional honors.
Goalies of the week — Bentley's Blake Dougherty and Sacred Heart's Andrew Bodnarchuk: Dougherty earned league honors for posting his second shutout of the season with a 33-save performance on Friday. On Saturday, he followed up with 28 more saves in the Falcons' 3-2 overtime loss to Niagara. His .940 conference save percentage places him third among Atlantic Hockey goalies. Bodnarchuk's aforementioned performance earns him additional honors, taking home three points for the Pioneers in their weekend series with Canisius.
Rookie of the week — Army's Tyler Pham: Pham notched four points on Saturday in Army's wild game with Mercyhurst. Two of those were goals, one of which was on a penalty shot. Both times, his goal gave the Black Knights the lead.
A final note
Veterans' Day was Tuesday, and I don't think I would be doing the right thing if I didn't send a hearty, huge thank you to those men and women around the globe and here at home serving the United States of America.
It's unique to be in a conference where both the United States Air Force Academy and United States Military Academy compete, and it's an honor and privilege to be associated with those institutions. The athletes who play for those schools are among the best young men I've ever come into contact with, and it's humbling to be able to both call your games on the air and write about them in print.
So thank you for your service and for all that you do. You never sleep so I can do so comfortably.