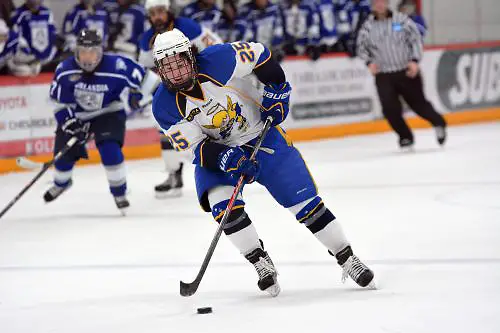 Dylan Nowakowski has been making an impact at St. Scholastica since he arrived on campus.
As a freshman, he was named one of the top rookies in the NCHA, leading the team in assists (18).
Last year, the junior forward out of Calgary once again led the team in assists, dishing out 16, as he showed no signs of a sophomore slump.
Nowakowski hasn't missed a beat this year either. He has already tallied two goals and dished out four assists, tying him for second on the team in points.
Not every player is destined for success at the college level, but Nowakowski has certainly made the most of his opportunities with the Saints, who are 5-1 and ranked No. 12 in the country.
"I'm not really surprised I've played well," he said. "I owe a lot of that to being put into situations where I can make plays. I've been given a chance to be productive, and I've taken advantage of it."
He said feeling comfortable within the system has been a huge help as well.
But Nowakowski has never become complacent in his role for the Saints, who are hoping to contend for an NCHA championship and spot in the NCAA tournament.
He spent a lot of time in the offseason improving his game.
"I feel like I've gotten a lot faster, and I've also tried to do a lot more with the puck," Nowakowski said. "I've focused a lot more on trying to be more of a scorer this season."
Nowakowski scored 15 goals in his first two seasons and came into the year as one of the more experienced players on a team that features 13 freshmen and sophomores.
"We lost a lot of good players from last season, but we had a good group coming back, too, and it's just a matter of the younger players filling in and playing their roles," Nowakowski said. "We are just working to get better every week."
Nowakowski remembers what it was like to be a younger player learning to adapt to life at the college level. Even with the success he enjoyed as a freshman, it wasn't an easy transition.
"You have to get into a different rhythm and get used to only playing a couple of games a week," Nowakowski said. "The game is a lot more physical, so the extra time to recover does help. Everyone at this level is good. You have to be at your best in every game."
The Saints' only loss this season was to Finlandia, falling 4-3 on Saturday. St. Scholastica bounced back the following day with a 3-2 win.
Derek Sutliffe has paved the way with six goals and four assists. Luke Simpson (2-4), Keegan Bruce (3-2), Justin Krabben (2-3) and Dave Williams (1-4) have all been steady contributors as well. The Saints have a total of 12 players with at least three points apiece.
Still early, the Saints know they still have a long way to go to accomplish their goals, which includes winning a league title. A year ago, St. Scholastica reached the conference tourney title game after winning its first postseason semifinal game since 2007.
St. Norbert, the eventual national champion, ended the run with a 5-1 win. The Saints lost 3-2 to St. Norbert in the 2013 tournament.
"We want to go further this year – we want to be able to win the league tournament and go to the NCAA tournament," Nowakowski said. "We have the talent and potential to accomplish it, but it's a matter of being prepared to play every night. It's a tough league and you can't afford any let-ups if you hope to succeed in it."
Johnnies on the spot
St. John's opened MIAC play in stellar fashion over the weekend, sweeping St. Olaf in a two-game series.
The Johnnies won by the scores of 4-1 and 4-2 to extend their unbeaten streak to six games. St. John's is 4-0-2 overall.
The two weekend games marked the fifth time this season that St. John's has scored at least two goals in a game. They have scored 19 goals overall.
A balanced attack has been the key. Five players have scored two or more goals, with Neal Smith leading the way with four. He has dished out one assist as well.
Not only are the Johnnies productive on offense, but they haven't given up much to the opponent either, allowing only nine goals. Saxton Soley has anchored the defense, giving up just seven goals in five starts.
Making a defensive point
Wisconsin-Stevens Point has won four of the five games it has played this season, and the 2013 national runner-up has found success behind a stellar defensive effort.
Only one opponent has scored more than two goals against the Pointers, and that was St. Olaf in a 3-2 win.
Stevens Point has given up just seven goals in all and has limited opponents to a total of 108 shots. On the flip side, Stevens Point has taken 202 shots, resulting in 23 goals.
The Pointers have room for improvement on the power play, converting on just three of their 18 chances, but they haven't let opponents fare well on the power play either, giving up just four goals in 18 chances.
Goalie Brandon Jaeger has been instrumental to the success of the defense. In five games he has a sparkling goals-against average of 1.40.
The Pointers' defense will certainly be tested this weekend as they take on Lake Forest and Adrian. Lake Forest received votes in the latest national poll, while Adrian is No. 5 and averaging 6.17 goals per game.
Ferocious attack
Adrian has looked every bit worth of its lofty national ranking this season. The Bulldogs have won their first six games, scoring five or more goals in each one.
What is even more impressive about their offensive success is that they have been efficient on the power play. Adrian has punched in 10 power play goals on 36 opportunities.
The Bulldogs, who have scored 37 goals overall, have also been unselfish, dishing out 61 assists. Six players have come up with five or more assists, including eight by Taylor McCloy.
Kyle Brothers has tallied seven assists while Ryan Gleseler and Ryan Lowe have come through with six assists apiece. Duston Hebebrand and Matthew Thompson have dished out five apiece.
Brothers and Josh Ranalli lead the Bulldogs in goals scored with five apiece.
In the Poll
Several West region teams are ranked in the latest national poll, including St. Norbert, which is No. 1 in the nation. Adrian is ranked fifth and Stevens Point is sixth. Eau Claire and River Falls are also in the top 10, checking in at ninth and 10th, respectively. St. Scholastica is 12th and St. John's is 15th.