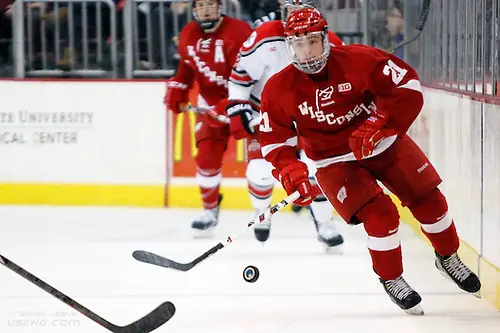 Two days after Thanksgiving, the Wisconsin Badgers had one big thing to be thankful for — a zero no longer occupied the first column of their record.
Wisconsin defeated Ferris State 5-3 last Saturday evening at the Kohl Center. The win followed a 1-1 tie on Friday night, which was the first non-loss result for Wisconsin this season. As they head into Big Ten play, the Badgers have a 1-8-1 record.
"We had been close on some of the games that we played up until that point, so it was good to get that monkey off of our back," Wisconsin coach Mike Eaves said, adding that the exhibition shootout victory on Friday, even though the game went in the books as a tie, gave the Badgers some confidence going into Saturday's contest.
"Then coming back on Saturday and getting a regulation win was good for our kids. Some of the things we'd been teaching them came through for us, in terms of the way we wanted them to play."
Though it would have been tough to predict a 0-8 start, the possibility of Wisconsin getting off to a difficult start was something that a lot of people were aware of. The Badgers lost much of their scoring from last year's team and needed to rely on a lot of freshmen to step into big roles.
Eaves likes to describe the scenario by using a farming analogy.
"We planted a lot of young seeds with a lot of young people, guys that had never played college hockey before. The reality is that seeds don't grow overnight," he said. "This isn't 'Jack and the Beanstalk' where you put seeds in and the next day you come out and they're up to the sky. You put them in the ground, you water them, you put some fertilizer on them and get them a little sun. Then they become bean sprouts. We're kind of poking our head out of the ground right now, we're moving in the right direction."
Negativity about the Badgers' record started almost from the get-go, due to the hype that typically surrounds the program. Wisconsin was the No. 10 team in the preseason USCHO.com Division I Men's Poll.
Even though everyone may have thought the sky was falling in Madison after the 0-8 start, Eaves said that there was no negativity from anyone involved with the program.
"If you came here and you were here on a day-to-day basis, you would have never guessed last week that we were 0-8," he said. "The energy was good and the work ethic was terrific. The guys are close; nobody's pulling away from one another. I don't think about us being 1-8-1 right now. I'm excited about the fact that we did get a win, but we've been improving. We didn't have any solid proof that we were going in the right direction by getting a win, but now we have that. Our big thing is just to stay with this process and keep going."
The one thing that the Badgers have going for them is their conference record, which is 0-0. Wisconsin will open up Big Ten play this weekend at home against Penn State.
Penn State got one of its first big wins as a Division I program two seasons ago at the Kohl Center. This year, the Nittany Lions have gotten off to a hot start and split their first Big Ten series of the season at Michigan on Nov. 21-22.
"They have a legitimate chance of winning game in and game out because of the work ethic," Eaves said of Penn State. "They're still growing, too, and getting the kind of players they want in there. We had four very difficult games against them last year and we'll have four very difficult games this year, as well."
Eaves said that he was happy that Big Ten play didn't start until early December.
"Absolutely, I won't lie to you," he said. "Right now we have a fresh start."
The bulk of Wisconsin's Big Ten games will be played in 2015, which is another thing that the head coach thinks may work in his team's favor.
"History tells us that when freshmen come back from Christmas break, they truly aren't freshmen anymore," Eaves said. "They've been on their own for the first time. Now they know what school's all about. They were trying to learn a new system of play. They're dealing with social pressures of going out and dating. There's an awful lot on their plate.
"And now after Christmas they come back and get their feet on the ground a little bit," he added. "They'll be ready when they get back."
Wisconsin's roster features 11 true freshmen.
Although he has been the man behind the bench for a while, Eaves said he has never been in a situation quite like this year at Wisconsin with so many new players replacing key departures from the year before.
"This is the extreme; we've had similar but not to this extreme," he said. "We got a lot of guys getting their first goal or first assist [each game] and they're in new buildings for the first time and that's all part of being a freshman."
Players from three Big Ten teams on U.S. roster
Eight players from Big Ten clubs were named to the U.S National Junior Team's camp roster in preparation for the 2015 IIHF World Junior Championship. The roster was announced on Tuesday morning.
Here's a list of the Big Ten players on the roster:
Minnesota: Forward Hudson Fasching and defenseman Ryan Collins.
Wisconsin: Defenseman Jack Dougherty.
Michigan: Forward J.T. Compher, forward Tyler Motte, forward Dylan Larkin, defenseman Michael Downing and defenseman Zach Werenski.
Camp opens for the U.S. team on Dec. 16 at Boston University's Walter Brown Arena. The team will play three pre-tournament games before the World Juniors — Dec. 19 vs. Boston University at Walter Brown Arena, Dec. 21 vs. Germany and Dec. 23 vs. Sweden. The games against Germany and Sweden will be played at Rogers K-Rock Centre in Kingston, Ontario.
The 2015 IIHF World Junior Championship will be co-hosted by Toronto and Montreal and is set to begin on Dec. 26. The gold-medal game will be played on Jan. 5. The U.S. will compete in Group A, which also features Canada, Finland, Germany and Slovakia. Group B is made up of the Czech Republic, Denmark, Russia, Switzerland and Sweden.
Three stars of the week
First star — Michigan sophomore goaltender Zach Nagelvoort: Nagelvoort picked up both victories in Michigan's weekend sweep over Rensselaer. He stopped 25 shots during Friday's 3-2 victory and saved 24 shots in a combined shutout with Luke Dwyer on Saturday. The sophomore netminder also picked up his first career point, an assist, during Saturday's game. This is Nagelvoort's fifth career Big Ten weekly award.
Second star — Ohio State sophomore goaltender Christian Frey: Frey stopped 29 shots in the Buckeyes' 5-1 victory over Notre Dame in the consolation game of the Shillelagh Tournament. He also helped Ohio State go 3-for-3 on the penalty kill. This is Frey's third career Big Ten weekly award.
Third star — Minnesota senior defenseman Ben Marshall: Marshall had a three-point weekend in the Gophers' contests against Boston College and Northeastern. He scored the game-winning goal in Minnesota's 6-2 win over BC and tallied two assists in its loss to Northeastern. This is his first career Big Ten weekly award.
B1G in the poll
Minnesota's loss to Northeastern dropped it from No. 3 to No. 6 in the latest USCHO.com Division I Men's Poll. Penn State is the only other Big Ten team receiving recognition from the voters, although the Nittany Lions accumulated only four points.
My ballot
My bias toward teams from Minnesota really came out this week.
1. Minnesota State
2. Boston University
3. North Dakota
4. Minnesota
5. Miami
6. Michigan Tech
7. Minnesota-Duluth
8. Massachusetts-Lowell
9. Denver
10. Vermont
11. Omaha
12. Harvard
13. Colgate
14. Quinnipiac
15. Bowling Green
16. Providence
17. St. Cloud State
18. Union
19. Boston College
20. Northern Michigan
This week's games
Minnesota at Michigan State (Friday and Saturday, Munn Ice Arena)
Ohio State at Michigan (Friday, Yost Ice Arena)
Penn State at Wisconsin (Friday and Saturday, Kohl Center)