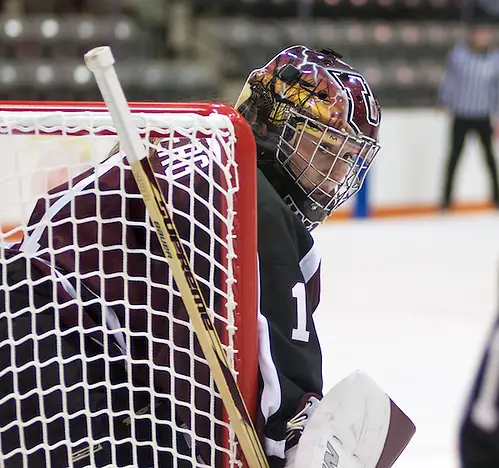 Arlan: There are some teams that we probably expected to show a few more cracks by this point that have acquitted themselves very well. Foremost on that list is Quinnipiac, whose schedule has stiffened, but the Bobcats keep rolling. Bemidji State is looking more and more like it plans to be part of the conversation all year. Although Maine has been rather dreadful in nonconference play, the Black Bears continue to get it done in Hockey East action. Those are a few of the positive stories that are emerging.
For any single game, something akin to Newton's Third Law of Motion applies. If for every action, there is an equal and opposite reaction, then for every goal scored, there is also a goal allowed. Kudos to No. 1 Boston College. Another great week with a shutout of a decent Yale team on the road, topped by a major statement win over Harvard. I was very impressed by the Eagles defensively in that game, and as the game went on how they were able to nullify what is at least on paper a dangerous Harvard team. Their quickness enabled them to hustle back and diffuse threats before they materialized. We already knew that BC could score, and score, and score some more. After Saturday, I guess I need to add at least another "and score" to the previous sentence.
Then there's the other side of that equation. I came into the season thinking Harvard might be the best team in the country based on what was being added to the returning nucleus. I found some excuses for what was a bit of a wobbly start, but I can't excuse what happened at BC. Some offered the opinion that the Eagles are just eight goals better. Insert your favorite expletive here for my opinion on that.
Do you have any thoughts on Harvard at BC and how a 2-2 game after 25 minutes became a 10-2 massacre?
Candace: Well, there are several theories to go by. There is the one about BC being eight goals better, but you are right, I don't quite buy that one. The best theory I've seen is that Harvard is still experimenting with defensive combos, and that might explain part of it, but not all. I've seen the video for the goals, and the first thing that jumps out at me is how good BC's top line of Alex Carpenter, Haley Skarupa, and Kenzie Kent is. That line struck just 25 seconds into the game. Carpenter got taken down along the boards and while she was sliding on the ice on her butt still got a pass off to Kent, who broke in and roofed a quick strike top shelf. Harvard hung in there for a while, but honestly it seemed like the Crimson almost gave up when Skarupa scored to make it 5-2.
That goal really showed how good BC's top line is. Kent passed it to Carpenter in the neutral zone, and Carpenter blew right by Marissa Gedman to create a two-on-one. She fed the puck to Skarupa on the left side of the slot, and Skarupa one-timed it past Emerance Maschmeyer, who got pulled after that goal. Brianna Laing didn't do much better; she was replaced by Maschmeyer in the third period after Carpenter picked up the puck in the right corner, skated back toward the slot (beating four Harvard skaters) and wristed a shot low glove side to make it 10-2.
On the night, Carpenter and Skarupa each had two goals and four assists, and Kent had two goals and two assists. The three of them really seem to read each other well. On the ninth goal, Kent carried the puck in and dropped it back to Skarupa, who was trailing. Skarupa then sent a pass behind a Harvard defender to Carpenter streaking inside past Sarah Edney, and Carpenter beat Laing from the doorstep.
Both Edney and Gedman are seniors, and have been solid defensively for the Crimson during their careers, but they couldn't slow down BC's top line. Carpenter and Skarupa are 1-2 in the country in scoring; Carpenter is averaging 2.79 points per game, and Skarupa 2.36 points per game. Minnesota's Hannah Brandt, a Patty Kazmaier finalist last year, is third with 1.75 points a game, so Carpenter is scoring more than a point a game over the third-best offensive player in the country. Yes, Brandt is playing against some better teams, like Wisconsin, Minnesota-Duluth, and Bemidji State, but that's still an impressive number. Kent is currently 13th in scoring nationally, and second among freshmen behind Wisconsin's Annie Pankowski.
Harvard looked out of sorts the next night against Northeastern, needing two third-period goals to get a 4-3 win. I don't know if the Crimson were reeling from the loss to BC, or if it's that Northeastern is getting better. Before moving on, I'd be curious to know your thoughts on BC vs. Harvard, and where the two teams are right now.
Arlan: The answer to where BC is right now is rather easy. If the tournament was held now, the Eagles would likely win it. They do score some goals that are nearly impossible to stop when they execute like they can. It's hard to stop a team that has three lines that can score. It's also difficult when going against a dominant first line. When you combine the two like BC does, that is a combination that you rarely see. The blue line ranges from solid to excellent and can provide a lot of offense in its own right. The goaltending is a little bit more of an unknown, just because it hasn't had to perform that many minutes with the game on the line. I know there is a different pressure that goes with playing for a contender, but for all practical purposes, the goalie just has to avoid losing the game for 30 or 40 minutes and the offense takes care of the rest.
As for Harvard, I'm not sure what game film it watched that made it think that standing around and playing passively in the defensive zone in the second period was the way to go. I saw the same thing from Minnesota State against Wisconsin a couple of weeks ago, and it had a similar result. The Mavericks are very young; Harvard doesn't have that excuse. Some teams that can't skate with BC have tried that, and it hasn't worked particularly well. If you give the Eagles all kinds of time, eventually, someone will win a one-on-one matchup and the puck goes in the net. Harvard has the speed to apply pressure and at least go down trying, so I'm not sure why it didn't use it. Having five skaters on the ice that act like they are on a penalty kill works about as well as the prevent defense does in football.
Anyway, nobody is going to beat Boston College with poor goaltending. Yes, there were some nice goals, but the fourth goal BC scored was as weak as they come, and that was the real tipping point in the game. Up until then, BC scored, and Harvard answered. Allowing BC to take a two-goal lead that easily, however, was damaging both tactically and psychologically. I'd have pulled Maschmeyer right then. She tends to be like Longfellow's little girl with the curl: When she's good, she's very good, but when she's bad … I guess horrid is as good an adjective as any. Against the Eagles, it seems to be one extreme or the other. It likely didn't matter when Laing entered, given she wasn't quite on top of her game either. For the Crimson to win against BC, Maschmeyer has to play like an upperclassman with Hockey Canada credentials. If she allows a goal or two, she needs a short memory and she has to move on. No goalie can allow it to snowball out of control and start allowing goals on shots that aren't that dangerous, because there will be plenty of quality chances as it is.
Maybe what I have to take away from that Harvard fiasco versus BC is that Cornell is much better than I gave them credit for. First series of the season, playing the Eagles with a new starter in net, inexperienced on the blue line — at least it took the Big Red two games to lose by an eight-goal composite score. Given that, I don't know how encouraged Northeastern should be about losing to Harvard, even by just a goal. This is the time of year where it is all about getting wins. If you can't post signature wins every time out like BC and Quinnipiac are able to do by vastly different methods, then find a way to get a "W" far more often than not by whatever ugly means are necessary.
Union was able to accomplish that to get the 1-0 win over Northeastern on Tuesday night with 59 saves by Shenae Lundberg making the first-period goal by Kathryn Tomaselli stand up. Good for the Dutchwomen; they were a happy bunch at the final buzzer.
Northeastern is up to eight losses and three ties and still has three games left with BC before the postseason. That doesn't leave much room for bad results against anyone else, and there will be a couple more games with Boston University and maybe Harvard. Hockey East is the hardest league to handicap on a weekly basis, but it is the easiest to predict in terms of the NCAA tournament. BC is in, pure and simple. BU looks to be an 80 percent bet to make the field. The rest of the league combined doesn't figure to have better than about a five percent chance. Am I neglecting a method by which another team could either find an at-large route to the dance or shock BC and possibly BU in the playoffs?
Candace: Short answer: No. An at-large bid is beyond all of Hockey East at this point. The season is almost half over, and outside of BC and BU, not a single Hockey East team is in the top 16 in the PairWise. The Hockey East teams don't have enough games to be able to make that up and get into the top eight, where even then, depending on what happens in the conference tournaments being eighth might not be enough. No, in terms of at-large, it's BC and BU.
Could a Hockey East team win the conference tournament and get in via the league's auto-bid? I suppose it's not completely outside the field of probability, but I'd say the odds are even less than the five percent you mentioned, because that team would have to likely beat both BC and BU consecutively to win, and I think that would be too big an ask. We've already discussed the Eagles in depth, but the Terriers have a lot of strong players, including Marie-Philip Poulin, who is starting to produce like the Canadian Olympic star she is.
Having said that, and having seen what BC just did to Harvard, it makes last week's 1-1 tie between the Terriers and Crimson all the more puzzling. Maschmeyer obviously had a better night against the Terriers, making 34 saves; BC got its 10 goals on 42 shots. With Sarah Lefort and Poulin up front though, you would have thought the Terriers could get more than one goal. BC and BU each have two games left in their first half; they start the second half in January by playing each other, which should be a fascinating game to see.
Getting back to the PairWise, a couple of weeks ago when we discussed Bemidji State, you indicated you didn't see them as an NCAA tournament team. If the season ended today, they would be in, assuming there are no upsets in the conference tournaments, as after splitting with Minnesota-Duluth the Beavers are eighth in the PairWise. The caveat of course, is the volatile ECAC, where two teams, Quinnipiac and Clarkson, are top eight in the PairWise, while four others, St. Lawrence, Harvard, Dartmouth, and Princeton, are in the 10-16 positions and perfectly capable of getting hot and winning the ECAC tournament, as is the currently unpredictable Cornell. For now though, let's focus on the success the Beavers are having; are you reconsidering your notion of Bemidji as an NCAA tournament team?
Arlan: Not really, and the problem isn't Bemidji State, Minnesota-Duluth, or any team that winds up as the third contending team in the WCHA. It's the remaining schedule that stacks the odds against getting into the field. Let's look at what awaits the Beavers the rest of the way.
They finish up the first half of their round-robin schedule in the league with series against the Minnesota State and St. Cloud State. We'll assume those are wins, although for a BSU team that ranks smack in the middle of the country in scoring offense, the Huskies in particular can present a danger. Before Christmas, they start the second half of the WCHA schedule versus Ohio State, a team that swept the series in Columbus. Now the Beavers have OSU on home ice, but the result of that first series suggests a bit of a matchup problem, so it is tough to assume that they'll be able to win both games. After what winds up being a very short holiday break with only one weekend off, Bemidji State is back into the grind, at Lindenwood, which may be a less-challenging opponent, but it means a long bus ride with Nicole Hensley at the end of it. Then the Beavers stay on the road for the rest of the month: at UMD, at Wisconsin, and at North Dakota. If they survive that and we're still thinking of them as a tournament team, then the gauntlet eases, because they get a final bye week, followed by the Huskies and Mavericks before hosting the Gophers to close the regular season. The possible area of improvement from the first half is the zero wins versus Ohio State and Wisconsin, but that is countered by trying to equal the 4-1-1 mark against the combination of North Dakota, UMD, and Minnesota. Their more-aggressive style under a new coach may have surprised a couple teams, but there will be fewer surprises when teams see you for the second time. Then the postseason starts with what figures to be a quarterfinal series versus either UND or Ohio State. If the Beavers advance, they are likely to face Wisconsin and Minnesota in some order. Can they do that with the five and a half losses they had in the first half? If they do, will that be good enough to make the field?
That's why I don't like BSU's chances of getting into the NCAA tournament. Once the league tournaments start, then the ECAC and the WCHA look very similar in terms of difficulty. Until then, the ECAC schedule forces only half as many games against the league heavyweights, and makes up the difference with games versus the bottom four that are left home for the postseason and more nonconference games, usually against Hockey East. The WCHA may have a weaker team like Minnesota State this year, but once the playoffs start, a third-place team won't be seeing the Mavericks.
That's why I think we'll see a third ECAC team reach the NCAAs before a third WCHA team does. St. Lawrence has a tough schedule remaining, but we have to expect that either Cornell or Harvard will start to play closer to expectation than we've seen thus far.
Before the season, I think that most people expected either Northeastern or Vermont to finish third in Hockey East. However, Maine has proven to be the team that won't go away. While the Black Bears have too many overall losses to reach the national tournament, can they remain in the top three in the standings, meaning they wouldn't have to meet BC until a conference final?
Candace: I don't see why not. Right now, the Black Bears are in second place, holding a one-point lead over Boston University, which has a game in hand. That game should vaunt the Terriers back over the Black Bears into second place. That means Maine has to hold off Northeastern, over which the Black Bears have a three-point lead having played the same number of games. I suppose it's not outside the realm of possibility that Providence, Connecticut, New Hampshire, or Vermont could get hot and start beating everyone but the Boston teams, but currently, Providence is in fifth and is five points out of fourth and trails Maine by eight points, while the other three are tied in the cellar with two points each, 11 points behind Maine.
Maine has already beaten Northeastern and Boston University this year, split with Providence, and just swept Vermont. The Black Bears have 11 league games in the second half; only three are against Boston University and Boston College, so even if they lose those three and then go .500 in the other ones, they should be in pretty good shape. Northeastern has 12 league games in the second half (Maine faces BC this Friday, while Northeastern faces Union, hence the discrepancy). Of those 12 games, three are against Boston College and one is against Boston University. Third place could come down to the series between Maine and Northeastern on Jan. 24-25. That series is in Orono, which gives the Black Bears an edge.
I'll also be very interested to see how the 5-8 spots in Hockey East play out. I would have picked Vermont for fifth easy, and likely fourth, before this weekend. All the Hockey East teams except BC and BU are currently under .500 for the year except for the Catamounts, who are at .500. However, Vermont is 1-6 in conference play, and only one of those losses was to Boston College and none to Boston University, whom the Catamounts face this Friday. Vermont will likely lose its fifth in a row this weekend, not an auspicious mark for a good ranking in HE.
Over in the ECAC, the standings also look like a log jam. Rensselaer and Union occupy the cellar, and have no league points, then Brown, Colgate, and Yale are tied with two points each. If the season ended right now, Cornell and Harvard, both picked 1-2 in the preseason poll, would be on the road to start the ECAC tournament playoffs. The Big Red haven't gotten off to a great overall start, but they are 3-2 in league play, and have two games in hand on third-place St. Lawrence, whom they trail by three points, and fourth-place Princeton, whom they trail by two points. Are you expecting the Big Red to get it in gear?
Arlan: At some point, but after watching them again on Monday night versus Mercyhurst, who knows how soon that will be. Cornell may be a team that needs to get into the break without sustaining too much more damage and regroup. Unfortunately, it has a North Country trip coming up this weekend that will conclude a stretch with four games in six days. I'm sure they didn't want to start that out with an overtime game, especially given that they don't play a very deep rotation.
At times, Cornell is its own worst enemy, playing much sloppier with the puck than need be. The Big Red attempt a lot of long passes through the center of the ice, and Mercyhurst was able to pick off many of them. They also send too many soft, blind passes near their own blue line, a few that just managed to crawl outside the zone before the Lakers could pounce. Brianne Jenner and Jillian Saulnier are great players, but they look to pass to each other so often that it starts to get predictable. Both did have high-grade chances in transition where Amanda Makela came up with big saves to preserve the tie, but outside of that duo, Cornell struggled to generate a lot of offense. Mercyhurst came into the game second in the country behind Cornell in average penalty minutes, but the Lakers only gave the Big Red one power play and killed it off rather easily. The lone goal for Cornell came on a rather innocent-looking shot by Morgan Richardson from along the side wall that found its way in. Overall, I expected more urgency from a six-loss team hosting a ranked opponent that had ended its season each of the last two years. Part of the problem may have been that it was a very ragged game for the first 50 minutes with a ton of whistles, especially considering that there were few goals and penalties to interrupt play.
That was my first look at Mercyhurst this year. While this isn't the most talented club that Mike Sisti has sent over the boards, it is quite efficient with the pieces it does posses. The goal it scored on Monday was a good decision to shoot at the far pad in transition and allow the wing on the weak side to collect a rebound with net available. Makela is having a very strong senior campaign, ranking right near the top in all statistical categories, so the Lakers won't need a ton of offense to be successful. Barring injury or some other unforeseen calamity, the Lakers look to be on course to extend their run of NCAA trips to 11 straight.
One reason that Makela isn't even higher in the goaltending stats is that Chelsea Laden in putting up some attention-getting numbers for Quinnipiac. She has eight shutouts already, saves 96 percent of the shots she faces, and allows an average of 0.57 goals per game. I know that is a product of both the level of competition and the Bobcats' defense, but it can't be easy to come up with a save with the game on the line if you haven't seen the puck in five minutes or more. How do we evaluate her season when she has yet to reach 200 saves while playing all but one of the Bobcats' games?
Candace: Well, there's an old saw that you can only beat who is in front of you, and Laden is doing that. Yes, Quinnipiac's schedule hasn't been that tough, but when the Bobcats have played tough teams, Laden has come up big. Quinnipiac's strength of schedule is currently only 18, but Boston College is only 16, and Boston University only 12, and I rarely see those teams' strength of schedule discussed. Laden has played 14 games and only given up eight goals all season; that's insane. Laden is getting it done. The one caveat isn't really about strength of schedule, but strength of offense. Aside from Clarkson and St. Lawrence, all of Quinnipiac's opponents rank in the bottom half nationally in scoring, and many are in the bottom quarter; I don't count Yale because its numbers are so skewed by playing Sacred Heart. Still, in two games against Clarkson, which has the number 11 offense in the country, Laden has only given up one goal.
Looking at Quinnipiac's remaining schedule, there aren't many teams that should challenge Laden either. Harvard has two games against the Bobcats, and has at least shown it can score, Cornell has one rematch, Clarkson plays them once more, as does St. Lawrence, and the Bobcats also face Boston University and Boston College on Jan. 21 and Jan. 24, respectively. Those games might give us the best look at Laden's strengths, but even last year, Laden put up pretty amazing numbers with a 1.47 GAA and a .928 save percentage.
It will be interesting to see if Quinnipiac can maintain its momentum. Last season, the Bobcats started strong, going 12-2-5 in the first half, with the only losses to Harvard and Clarkson. The former ended the Bobcats' early unbeaten streak in Boston, and this weekend, Quinnipiac is on the road at Dartmouth and Harvard, so I'm wondering if history might repeat itself.
The other interesting stat about Quinnipiac is that the Bobcats are currently seventh in team offense, averaging 3.20 goals per game, and they only have one player, freshman Taylar Cianfarano, averaging at least a point a game. Just to contrast that, Boston College has eight players averaging more points per game than Cianfarano, Wisconsin has six players at or better than Cianfarano's number, and Minnesota has three.
One team that hasn't been talked about much lately is North Dakota, which is currently in third place in the WCHA. Part of that is that North Dakota has played two more games than fourth-place Minnesota-Duluth and fifth-place Ohio State, and four more than sixth-place Bemidji State. North Dakota closes its first-half WCHA schedule this weekend in Madison against Wisconsin. Was this weekend's sweep of St. Cloud an indicator that North Dakota will be getting back to its winning ways?
Arlan: I don't see a a sweep of the Huskies and a three-game winning streak as indicative that UND will prosper in Madison. There were definitely some positives to take away from the weekend, outshooting the visitors by nearly two to one and not being in jeopardy at any point in the series. Top scorers Becca Kohler, Meghan Dufault, and Amy Menke all had good series. Josefine Jakobsen and Gracen Hirschy, a couple of other key producers who've frequently been absent from the score sheet this year, had two-goal games on Saturday.
After a couple seasons were North Dakota's scoring matched up well with Wisconsin's, the Badgers once again hold the upper hand when it comes to firepower. Last year, UND had its best results to date against UW, and it did so by holding the Badgers to one goal or less in all of the games where North Dakota came away with a win or tie. That will me much tougher this year. Wisconsin scored three goals in both meetings in Grand Forks, and that was without all of its weapons available. After that series, yes, I expect that UND will produce some wins. It finishes up 2014 at RIT, and then plays Ohio State and Syracuse after its break. That should provide the opportunity to get the record back into the black. The next three weekends bring Bemidji State, Minnesota-Duluth, and Minnesota, and that will likely be make-or-break time for North Dakota's regular season.
One place where I'm having trouble deciding if the glass is half-full or half-empty is Clarkson. The Golden Knights have only lost twice in their last 11 games, both at the hands of Quinnipiac. As you said above, their offense was shut down by the top defense in the country. However, we also saw hints of the same problem in the first round of the Nutmeg Classic versus Connecticut. I'm sure the 51 saves of Elaine Chuli were the biggest reason for that, but there are other danger signs. Erin Ambrose averaged better than a point a game through her first two seasons; now her average is just above half a point per game. Granted, she doesn't get to skate with Jamie Lee Rattray any longer or the rest of last year's seniors, but Ambrose was in the middle of everything during her first two seasons. Now it's looking like if the first line of Shannon MacAulay, Cayley Mercer, and Geneviève Bannon is stopped, there isn't as an effective Plan B. Freshman Savannah Harmon provided some pop early, but now she's cooled. Do you see it as a sign of trouble ahead for Clarkson, or just a point of the season where young players hit a bit of a wall before catching a second wind?
Candace: I think it's a potential sign of trouble actually. If you look at Clarkson's overall schedule to date, the Golden Knights put up a lot points during a stretch in October when they played Syracuse twice, St. Lawrence once, and Brown once. In November, Clarkson has played seven games, and in those games has only scored more than two goals twice. Clarkson has struggled to score against better teams, aside from once against St. Lawrence. The Golden Knights got three goals in two games against Boston University, one goal in two games against Quinnipiac, and two goals against Harvard. I'm not sure what's going on with Ambrose, but I'd expect her numbers to get somewhat better as the season progresses.
The Golden Knights end their first half with two games this weekend, one against Cornell that I think will be low-scoring, and one against Colgate where the better players might get some points on the board. Ironically, they open the second half with the same two teams in reverse order. However, unless the scoring starts to get more consistent, I think the Golden Knights might be in trouble in the playoffs, and I'd also expect that the series against Wisconsin in January could get ugly.
Let's end by talking about a team we haven't discussed much: Ohio State. The Buckeyes are currently in fifth in the WCHA, and host the fourth-place Minnesota-Duluth Bulldogs this weekend. OSU actually swept Bemidji earlier in the year, and I don't think either of us expected them to take points off Wisconsin or Minnesota. So far, the only really puzzling result was the loss to St. Cloud. The Buckeyes are also winning despite not having anyone producing well offensively. Do you think the Buckeyes can do better in the second half?
Arlan: Marginally better perhaps. The analysis is very similar to that I used for Bemidji State. Against which WCHA opponents is Ohio State likely to improve in the second half? Obviously, not the Beavers, because it would take a sweep in Bemidji just to repeat the six points earned in the first half. OSU didn't take points from Wisconsin or Minnesota, but the pair of one-sided shutouts at the hands of the Badgers weren't particularly encouraging, and it doesn't have an outright win over the Gophers since 2007. The Buckeyes have been able to compete quite well with both UMD and North Dakota in recent years; they may be slight underdogs, but it is hardly a surprise when they take points. Similarly, it isn't a big shock if St. Cloud State is able to get points off of Ohio State. The Buckeyes scoring offense and defense are both roughly a half a goal a game better, but SCSU is still in range when the two meet, and the upcoming series adds the challenge of playing on the big ice sheet in St. Cloud.
So many of these WCHA battles come down to who can score the two or three goals needed to win, and it definitely helps to have players who've proven they can put the puck in the net. Sara Schmitt leads Ohio State with 14 points. While it is nice to get offense from the blue line, you need to be able to get it from forwards as well. Claudia Kepler and Julia McKinnon lead in goals with five. By comparison, Wisconsin has seven players who have scored seven goals or more. Conversely, Bemidji State's leading goal scorer is Stephanie Anderson with four, and the Beavers average just 1.8 goals in league play. The success they've achieved can greatly be credited to team defense and scratching out a goal or two at key moments. Other teams are in roughly the same boat. UMD scores just 2.25 goals per WCHA game, so it isn't a big departure from the norm when it goes to Bemidji and scores essentially one goal in each game, adding an empty-net goal in game two.
So I think we're going to see some so-called upsets in the WCHA in the second half, but likely not a trend favoring any one team. Offensively, most of these teams are what they are. The Bulldogs offense may improve more than most as the newcomers get more comfortable playing together, and if so, they may edge closer to Wisconsin and Minnesota and separate themselves from the pack behind. Or it could be North Dakota, Bemidji State, or Ohio State that finds an extra goal each weekend and makes an upward push.
We see that same theme play out all over the country. By and large, teams struggle to find enough offense on any given day. The exceptions to date have been a Quinnipiac team that needs little offense because it allows almost nothing, and a BC squad that apparently has an objective of reaching double figures. Everyone else is trying to cook up a fail-proof formula.