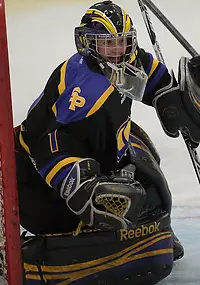 Janna Beilke-Skoug is the definition of "solid, veteran goaltender."
Now in her senior season at Wisconsin-Stevens Point, Beilke-Skoug currently leads all of Division III with seven wins while posting a strong .941 save percentage and  1.45 goals-against average.
Wis.-Stevens Point coach Ann Ninnemann has watched and admired Beilke-Skoug's game the past four years, and said her desire and willingness to improve, as well as her work ethic, has set her apart and made her successful.
"Throughout the past four years, Janna has continually improved her game both on and off the ice," said Ninnemann. "She came in and had to make adjustments to the college game coming from playing Wisconsin high school hockey and AAA hockey. Last year specifically, she stepped up and proved that she was the No. 1 goalie on our team and dominated the playing time of our goaltenders. It was her first two years of watching, learning, and growing to become a solid goaltender and what happened to be one of the best in the country last season."
Admittedly, Beilke-Skoug said that even with her eye-popping numbers this season, it's not the time or place to get complacent.
"I am a person that is never content with where I am," said Beilke-Skoug. "In my opinion, my work ethic is my greatest asset. I spend my summers training in Sun Prairie (Wis.) with High Performance Goaltending, where my training partners are mainly all men's hockey players who push me to my extremes to be my best. In season, I get out on the ice early as often as I can to work on goalie skills with coach. In practice, I compete hard with my teammates, who compete hard with me to make all of us better."
In a roundabout way, Beilke-Skoug always knew she would wind up attending Stevens Point, but it was originally going to be for her other passion — music. The fact she could combine that with hockey made it the best of both worlds for the Madison, Wisconsin, native.
"Before I was even talking to colleges looking to play hockey, I was visiting UWSP for cello lessons with my private cello teacher, Dr. Leviton, who is the cello professor here at UWSP," explained Beilke-Skoug. "So before I was even looking for schools to play hockey, I had already fallen in love with the UWSP music school, which in a very large way made my decision to go to UWSP very easy. I also felt very at home with my visits to UWSP with coach Ninnemann, and always liked the fact that she said, 'We are a blue collar team.'"
A double major in music and biology, Beilke-Skoug said practicing her cello is a great way to clear her mind from goings-on at the rink, in addition to spending vast amounts of time studying in the school's anatomy lab.
Next season, Beilke-Skoug plans to go to grad school with the end goal of being a physician's assistant. She said if a coaching opportunity presents itself, specifically coaching goaltenders, she'd listen to that offer, too.
Ninnemann said the Pointers' confidence this season stems from the play of Beilke-Skoug between the pipes.
"As a coach, solid goaltending is one piece of the puzzle you need to have to be successful, and it showed last year with our overall team success," said Ninnemann. "As a senior, this is her last chance to lead our team from the net out, and she has stepped up to the challenge. Last year and this year, we know what we are going to get from Janna day in and day out when she is in the net. It helps with our team confidence as well that the ladies on the ice in front of her can take a few more risks knowing that we have a solid, veteran goaltender in net.
"Janna is one of the hardest and most determined athletes I've worked with, both on and off the ice. She always wants more reps and more sets in the net and in the weight room. She has a team-first mentality knowing that if she can be her best, she gives our team the best chance to win. She is always the first person on the ice for practice and goes through the same routine to work on her gloves and her rebound control every single day."
And to think that Beilke-Skoug literally had to help beg her parents to let her get on the ice way back when.
"I started out swimming and playing soccer," Beilke-Skoug said. "I was a soccer goalie and my best friend's dad, who was a hockey coach for the youth program, said I had a nose for the net and tried to convince my parents to let me play hockey. I think it took a year or two to convince them, but they finally said yes and I started in fifth grade when I was 10 and loved it right away. I'm really close with my family and I owe a huge portion of any success of mine to my parents who have been extremely supportive in everything I do.
"I was a very involved child; I did every activity under the sun."
The season now in full swing, Beilke-Skoug is focused on doing what she does best to help Wis.-Stevens Point hoist some hardware down the road.
"I want to see our team be as successful as we can be," said Beilke-Skoug. "It is a common goal among the team to win the WIAC championship and earn our way to an NCAA championship. Personally, I'd like to come up big for my team to do my part to make these goals a reality."
Noteworthy
Five teams remain with zeroes in the loss column entering this weekend's play: Plattsburgh (8-0-2), Adrian (5-0-1), Amherst (5-0-0), Connecticut College (3-0-3), and Bowdoin (2-0-2). … On the flip side, four teams are still looking for their first win of the season: Hamilton (0-4-2), Finlandia (0-7-0), St. Olaf (0-7-0), and Hamline (0-4-1). … Plattsburgh has scored a Division III-best 49 goals, with freshman Kayla Meneghin accounting for nine of them, including two short-handed. … Finlandia and Hamline have tallied just six goals this year. … Wisconsin-River Falls junior Chloe Kinsel leads the D-III scoring race with 10 goals and 22 points in nine games, a 2.44 points-per-game average. … Elmira senior Ashton Hogan is atop the goals chart with 11 thus far, and teammate Ashley Ryan has a nation-best 15 assists. … Bowdoin senior Lan Crofton and St. Thomas freshman Paige Kittelson both have microscopic 0.32 goals-against averages, and 32 D-III women's goalies have sub-2.00 goals-against averages.