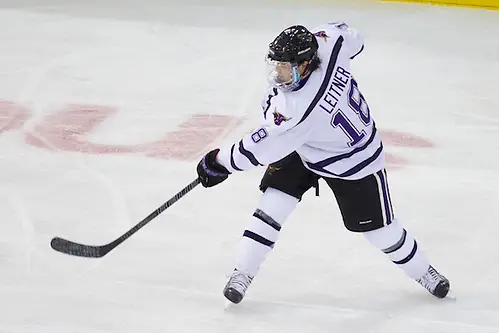 It may not have seemed as long as its extended trip to Alaska last season, but Minnesota State put on the miles the last two weeks — approximately 2,200 in all — busing back and forth from Mankato, Minn., to Michigan's Upper Peninsula for consecutive series at Michigan Tech and Lake Superior State.
Over a span of 12 days, the Mavericks were away from home for parts of 10 of them, including Thanksgiving, and they came out on the other side not only unscathed but, arguably, as one of the best teams in the country.
After going 4-0 on those trips to Houghton and Sault Ste. Marie, Minnesota State (11-3, 9-1 WCHA) has upped its winning streak to six games and has won nine of its last 10. It's moved up to an all-time-best No. 2 ranking in the USCHO.com Division I Men's Poll and maintained the top spot in the more-meaningful-every-day PairWise Rankings.
It's been a total team effort, coach Mike Hastings said.
"Different guys have stepped up at different times, and that's a real positive," he said. "I think this group can hang their hats on that — different guys taking the lead and contributing."
Indeed, three different players — all junior forwards — have recorded hat tricks in the last eight games: Bryce Gervais, Teddy Blueger and Brett Knowles. Knowles, who missed time early rehabbing from offseason surgeries, scored his hat trick during Friday's 7-0 victory over the Lakers. It was just his fourth game this season.
Eight different players have game-winning goals, with Gervais scoring three and another junior, Dylan Margonari, scoring two.
Meanwhile, one of the WCHA preseason player of the year picks, senior Matt Leitner, has quietly moved atop the team's scoring list with 15 points. He's one of seven players in double figures on the roster.
On defense, it's no surprise that senior Zach Palmquist leads the WCHA with 12 points, but sophomore Casey Nelson is right behind him at 11.
And then there's goaltender Stephon Williams.
The junior appears to have found his form from his outstanding freshman season. His back-to-back shutouts against the Lakers gave him seven for his career, which put him in a tie atop Minnesota State's all-time list.
Williams had four of those shutouts as a rookie but ended up getting bumped out of the No. 1 job last season by another fantastic first-year player in Cole Huggins.
This year, Huggins struggled early, and Williams moved back in. His numbers weren't great early, especially compared to some other outstanding goalie play in the WCHA, but he was winning games with the help of a high-scoring offense. Now, he's 11-1 with a .931 save percentage and a 1.52 GAA.
"He's pretty focused," Hastings said.
The Mavericks are back home for the next two weekends, hosting Alaska in a league series and Princeton in nonconference play before taking a semester and holiday break.
Then, on Jan. 2-3, it's back to — you guessed it — the U.P., Marquette this time, for a series at Northern Michigan.
"It's a progression that needs to continue," Hastings said of his team's success. "In our league and in college hockey, if you can get caught sniffing the roses, you're going to get blown by. We've got an awful lot of work to do."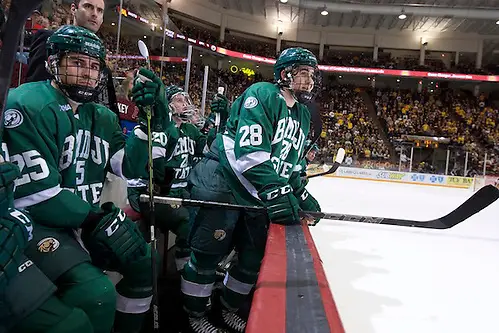 Beavers back on track?
Bemidji State bookended November with a pair of wins. In between was heartbreak.
The Beavers seemed to get the perfect start to their WCHA schedule with a sweep of then-nationally ranked Alaska, including an overtime victory on Nov. 1 that pushed their record up to .500.
The next seven games were varying degrees of painful for the Beavers, who lost all seven despite playing well in each game.
A 4-1 win against St. Cloud State on Saturday — the month's penultimate day — finally snapped the streak.
"We played good hockey seven of the last eight games," Beavers coach Tom Serratore said following their victory. "It's the craziest thing in the world how we're 1-7 in our last eight. We shouldn't be, but we are."
The seven losses all came against ranked teams: Minnesota State, Michigan Tech, Bowling Green and St. Cloud State.
"We had to end that streak someday," defenseman Ruslan Pedan said. "Now we just have to start keeping it up and playing the right way. Nothing was going our way. I think now finally pucks were bouncing the right way."
Saturday's redemption came in the form of goaltender Andrew Walsh (34 saves) and the Fitzgerald triplets.
The brothers, all freshmen, had all the points on the game-winning goal: Gerry Fitzgerald from Myles Fitzgerald and Leo Fitzgerald at 8:13 mark of the third period.
"Somebody needs to spark you," Serratore said. "Gerry, Leo and Myles sparked us right there and got the second goal. It was a sigh of relief on the bench."
The math is pretty simple: The Beavers are 4-10 overall. When they've scored four or more goals this year, they're 4-0. When they've scored three or fewer, they're 0-10.
"Since we scored four goals on Saturday night, hopefully we're going to keep scoring goals," said Pedan, who scored his first goal of the season in the win. "It's going to help us if we score more than one or two goals every game."
Bemidji State travels to Alaska-Anchorage this weekend.
Ice chips
• Despite getting swept by Michigan Tech, Alabama-Huntsville held the Huskies' potent power play (19.1 percent) scoreless in 10 attempts. The Chargers' penalty kill is a respectable 81-for-94 (86.2 percent), and their combined special teams are at 62.5 percent, which ranks second in the country.
• Following this weekend's home series against Bemidji State, Alaska-Anchorage will be off for nearly a month, next playing Jan. 2-3 at Alabama-Huntsville.
• Alaska is 11-1 all-time against Minnesota State, including a split last season in Fairbanks. However, the first 10 meetings of the series came between 1982 and 1995, when the Mavericks were a Division II program.
• No. 14 Bowling Green takes a three-game winning streak into a top-20 matchup at No. 19 Northern Michigan this weekend. The Falcons were idle last week and, after playing the Wildcats, are off until Jan. 3 when they play Robert Morris in an outdoors game in Toledo, Ohio.
• Ferris State is idle this week following its tie and loss at Wisconsin. The Bulldogs are 7-7-1. Through 15 games a year ago they were 11-2-2.
• Lake Superior State hits the road this weekend to take on the nation's new No. 1 team, North Dakota. It will be only the second time the two storied programs have met and their first since Dec. 14-15, 1973. UND swept that series, although the Lakers finished the season 20-10 and won the NAIA national championship that year.
• Idle Michigan Tech is 8-0 in road games this season — all in league play. The last time the Huskies won eight road games was 2006-07 when they finished 11-12-2 away from Houghton.
• Northern Michigan wrapped up its 10-day Alaska adventure, finishing 2-2 there. The Wildcats have held opponents to one or zero goals in all but three games this season with four shutouts, including a 1-0 win over Alaska-Anchorage on Nov. 21.
Players of the week
This week's WCHA players of the week were Michigan Tech forward Alex Petan (offensive), Minnesota State goaltender Stephon Williams (defensive) and Bemidji State forward Gerry Fitzgerald (rookie).