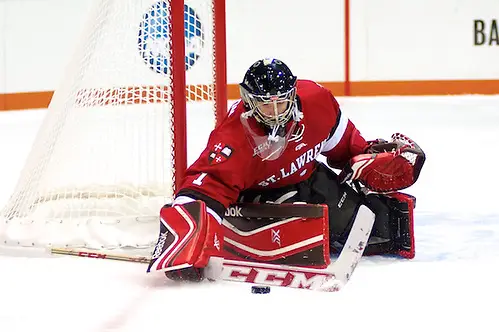 The St. Lawrence Saints are close to having a good first half, but No. 10 Vermont still stands between a 10-6-1 first-half record, a mediocre .500 mark, or anywhere in between.
"For the first time this year, we lost two games in a row, and they are two games that I think could have gone either way," said coach Greg Carvel, whose Saints are licking their wounds following a home loss to rival Clarkson in their lone game last week. "For us, it's all about continuing to do what we have to do. We have to realize that games the rest of the way are going to be tight, and the margin for error is very small."
The Saints, who play a home-and-home nonconference series with Vermont on Friday and Saturday, seem to have their defensive house in order, surrendering just 18 goals in their last 10 games, including three shutouts.
"Defensively, we seem to be getting better and better; offensively, we need to find a little more offense in our game," Carvel said.
While SLU has averaged seven fewer shots a game than its opponents, Carvel isn't sweating the statistic. He said that oft-cited, vaguely defined "scoring chances" are exponentially more significant than mere shots on goal.
"I wish we had more shots, but our guys like to make prettier plays, rather than just throwing pucks at the net," he said. "We are trying to change that mentality a little bit, but it's not a stat that concerns me at the end of the game; I'm more concerned about the scoring chances."
One of the most conspicuous stars in the Saints constellation has been rookie netminder Kyle Hayton. His .935 save percentage ranks ninth in the nation, and his four shutouts have already tied the program's single-season record.
His coach has been pleased as punch to have such a performer tending the Appleton twine, but Carvel is likewise mindful of the immense workload being demanded of his novice keeper.
"It's been on my mind since early in the season, when we realized that he was our No. 1 guy," Carvel said. "After about six or eight games we sat down and said, listen, we want to make sure we don't wear you out physically or mentally. He assured me that he's a guy that needs to ride the wave. In his past when he's had to share the net, he's lost momentum.
"We manage him through the practice week to make sure he's ready to go for the weekend. He's done a hell of a job for us, and has been a big part of the reason why we've had a decent start to the season."
When asked if Hayton had exhibited any signs of fatigue — especially during the second start of the weekend — Carvel responded with a simple fact: "My take on that is that Kyle has four shutouts. Three of them are on Saturday nights. Our team in general, we feel that on Saturday nights, we are better than Friday nights. That speaks to the fact that we really manage our guys through the week to make sure that we're really energized and ready to play on Friday and Saturday nights."
Overall, Carvel said he is encouraged by his team's mindset.
"The thing I like about my team is that we're pretty consistent: We get the same effort every night," he said.
Vermont is 11-3-1 with the weekend's home-and-home ahead. The Saints hope that their reliable effort will bear red-light fruit, and maybe put a couple more dings in the Catamounts' record before the holiday break.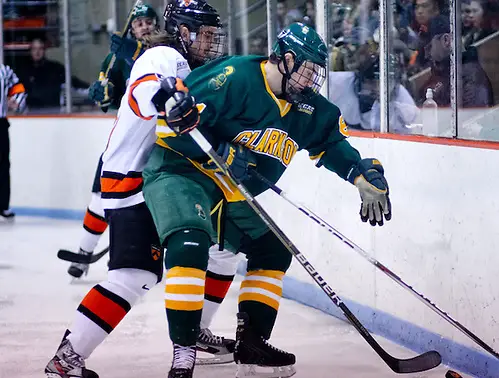 Young Knights maturing, gradually
First off, Clarkson coach Casey Jones wants everyone to know that he is satisfied with the effort of his Golden Knights (6-7-4, 4-1-2 in ECAC action), if not necessarily the product on the ice.
"We've competed really hard in the first half — I'm proud of how we've competed — but we've just got to stay the course, keep plugging away, and find ways to win games," he said.
On a team predicted to struggle offensively, Jones nonetheless can't be blamed for perhaps hoping for more than he has received.
"I think what's happened is [we lost] four of our five top scorers … and so now we have some guys who haven't had the experience, thrust into major roles, and we're trying to find our way. I don't think it's any harder to describe than that," he said. "We play some nights with three freshman centers down the middle. We end up having a lot of youth or a lot of inexperience at some positions."
While Clarkson is allowing only two goals a game overall — 1.29 in league play — the goals for have been almost as hard to come by. Clarkson is hovering around two goals a game as well, scoring slightly less overall but a bit more (2.14) against ECAC opposition. One major weakness has been the power play, scoring on fewer than 10 percent of opportunities overall.
"I'll be honest with you: We haven't had a lot of power plays per game," Jones said. "We haven't been an overly penalized team. We've been in some lower-penalized games, but [the power play] is probably our biggest area of concern, the fact that we haven't been able to generate … on the power play. We're looking to get a little bit more of a shooting mentality and a net-front presence, little things that you go back to. Obviously, that's an area where we're not getting much."
Jones doesn't take issue with the officiating, however, noting that opponents are drawing insignificantly more advantages than his own side.
"The number of power plays we're getting is not the problem," he said.
"It's funny," he recalled, "in our exhibition against Queens, we scored five power-play goals, so you go into the season thinking, 'Hey, we should be able to score on the power play.' Then you don't, and it takes a while."
On the whole, Jones said he is excited about the direction the Knights are headed and the way that they have played through challenging circumstances.
"We've played in hard places, in tough games, that have afforded us the opportunity to be ready to compete with a young team in the ECAC," he said. "We only have two seniors, and more so than that, other guys have waited for major roles.
"We all know that we've got to have good habits and we've got to try to plug away to score goals, but we have to hang on something, and for us that's team defense. That has afforded us an opportunity to stay in games every night as we get our feet under us."
Clarkson has a shot at elevating its record to .500 with a single game Sunday at Michigan State.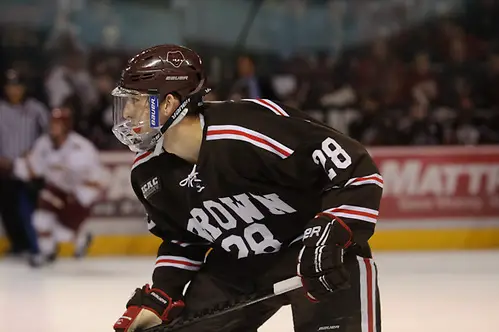 Brown fighting for every inch
"It's been a tough start to the season, obviously. It's not the start that I or our team envisioned," Brown Bears coach Brendan Whittet said.
Suffice to say, his comments should come as no surprise with the team at 3-8 overall and 1-7 in league play.
"That being said, looking at it, I would say that we — myself included — looking at our offense, our incoming guys, felt good about the direction that we're going."
Whittet admitted that he may have been guilty of holding higher expectations for his youthful team than it was reasonably capable of achieving, at least right off the bat.
"We're extremely young. Every time we step on the ice, you're looking at a max of 13 underclassmen, including a majority of freshmen who are playing each and every night," he said. "Some of these guys are very, very skilled kids, but they're young and they're straight out of prep school hockey, versus [many freshmen nationwide] having that year or two of junior hockey under their belt.
"So, growing pains: I probably should have foreseen it a little more than I did, especially with the losses of three of the guys on the blue line and the loss of Garnet Hathaway. We miss those guys. They were really good players that added something we're missing; it's been a real roller coaster."
Also disappointing has been the play of Brown's goalies, who have a .889 save percentage through 11 games.
"The goaltending has been average," Whittet said. "It's not just the goalies; it's a team thing."
Sophomore goalie Tim Ernst (2-2 overall, .916 save percentage) "has given us the opportunity to be successful over his last three games," Whittet said, and is emerging as Brown's No. 1 over classmate Tyler Steel.
Whittet has played four freshmen in 10 or all 11 games: forwards Sam Lafferty, Max Willman, Tyler Bird and defenseman Josh McArdle; all but McArdle are NHL draft picks.
"They're really good hockey players," Whittet said. "They're players that come in with really high ability, really high skill level, and honestly there would've been another one there with [defenseman] Dane Cooper, who has been a really good defenseman for us, but unfortunately suffered a major concussion at Colgate and at this juncture I don't know when he'll be back."
Captains Matt Lorito and Mark Naclerio and alternate Nick Lappin are doing their best to keep the team even-keeled and focused.
"We're not discouraged by any stretch," Whittet said. "It's a long year, and we've only played 11 games. There are some things that we need to correct and adjust, get some of these guys back from injury, but the [captains] have been tremendous in the locker room and they have high expectations for themselves as players, and as such I think they've been very good in the locker room.
"Honestly, we need more out of those guys, too, though; they're our top players. Nick has zero goals on the year. You need your top players to be your top players. They've shown signs of coming out of it a little bit over the past few games, but there's a lot more that those guys can give on the ice, also."
Whittet said he believes that Brown — picked seventh in the coaches' preseason poll, sixth by colleague Nate Owen, and fifth by yours truly — is close to turning the corner, as its youth gains enough experience to compete against more seasoned opponents.
"We feel real positive that we're close to solutions," he said. "We're 2-2 over the last four, and that might not seem like a lot, but it's a lot better than we were rolling into those last four. We've had some real stinkers. We've had some games where we were just really inconsistent over the 60 minutes, and as a young team, we've had a tendency to get down on ourselves and not be able to overcome bad shifts or a goal against, and things just snowball.
"From my perspective, the break comes at a good time. I do think it's going to be a process; it's not going to happen overnight. We need some guys to step up and mature sooner rather than later for us to have success down the stretch."