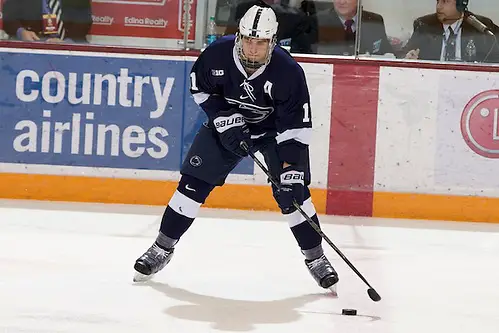 OK, show of hands: How many of you thought that Penn State would be sitting atop the Big Ten standings as the first half of the season comes to a close?
It would be more surreal if the Big Ten season itself weren't in its infancy, with four maximum number of league games played by any team. Still, it's quite a thing to see last year's last-place squad with more points than anyone else heading into the midyear break.
And, of course, the Nittany Lions got to that spot with their first-ever Big Ten sweep last weekend, 5-2 and 4-2 road wins over struggling Wisconsin.
"It's a great accomplishment to get two wins this weekend," Penn State coach Guy Gadowsky said after Saturday's game. "The team played with poise and got the job done. There is a lot to work on over the break, but I'm proud of this team in the way it fought back from being down to keep their composure and get those goals."
After trailing 1-0 early in the second period, the Nittany Lions scored three goals within nine minutes to take a commanding lead. One of those goals was on the power play. One — Tommy Olczyk's game winner — was scored short-handed. Penn State also netted two power-play goals in the first game. The Nittany Lions' power play heads into the break fourth-best in the nation (26.7 percent).
Wisconsin, last year's Big Ten playoff champion, sits at the bottom of the league standings with those two losses to Penn State, but those losses are just symptomatic of Wisconsin's bad first half. With an overall record of 1-10-1, the Badgers are a bit of a puzzle even to themselves.
"We may not understand the lessons that we are going to get from this time until we are past it," Wisconsin coach Mike Eaves said after Saturday's loss, his 500th game as head coach of the Badgers. "But what we can control right now is keeping our effort at a high level and coming back on Monday purposely ready to get better."
After an exhibition game Friday against the U.S. Under-18 Team, Wisconsin returns to regular season play Jan. 2, 2015, for the first of two home games against Michigan Tech. Penn State will play Robert Morris in the Three Rivers Classic on Dec. 29.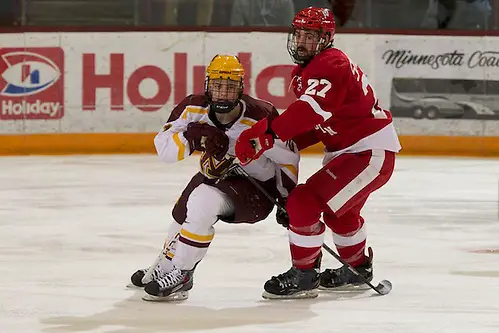 It's all a matter of perspective
Because of the twists and turns of Big Ten scheduling, only Penn State and Michigan State have played four conference games. Michigan and Ohio State each have played three, while Minnesota and Wisconsin have two behind them.
It's early in terms of conference play and nearly anything can happen in the second half, but the fact that the season itself has come to its annual holiday break creates a sort of stop-and-take-measure point, and how a team sees itself is really a relative thing.
In overall play, Penn State is 9-4-2 and Minnesota is 9-4-1. Good records, right?
Perhaps. Minnesota junior forward Connor Reilly thinks that the Golden Gophers could be doing much better. "From what we could be, I'd say [we're] a C or C-plus," Reilly said after Minnesota took four of six points from Michigan State in East Lansing last weekend.
"We're 9-4-1, which is a pretty good record there, but we assess ourselves on reaching our full potential and doing everything we can … to make the most of our opportunities," said Reilly. "We have high expectations here at the University of Minnesota so we're not happy going into the break, but at the end of the day, we're going to have to keep working to get better and keep working for the end of the year."
Minnesota coach Don Lucia said that the Gophers were "mixed" in the first half.
"Our specialty teams have been good. That's been a real shining spot," he said. "We need some guys who have scored last year to start scoring. We've got some guys who had double-digit goals sitting with one. Those guys have to contribute a little bit more than what they've done so far this year. One of the strengths of our team has been balance with some other guys contributing on a nightly basis."
Connor Reilly is among the Golden Gophers players who are producing. Reilly had three goals and an assist in the series against Michigan State, bringing his season total to seven goals and two assists in 14 games. Last year, Reilly had six goals and six assists in 37 games.
The most notable among those one-goal performers is senior Seth Ambroz, who had 14 goals and nine assists in 41 games last season, compared to a goal and three assists in 14 this year.
Earlier in the season, Minnesota was averaging close to four goals per game and was second in the nation; the Gophers end their first half with numbers that are still pretty good: 3.43 goals per game (ninth) and the country's best power play, converting at 34 percent.
Michigan State took the extra shootout point Saturday, giving the Spartans the feeling of having won their last conference game going into the break. But coach Tom Anastos knows that two points isn't three points and Friday's 5-0 loss to the Gophers exposed some areas where the team needs real work.
"I still say today that I think our record should be flipped," Anastos said after the 3-3 tie. "Last night by far was the most disappointing performance of the season. To our guys' credit, we really answered the bell today and I thought rebounded. I still have a pit in my stomach over how we played last night.
"We've let some games get away from us. I think this team has to find how to get that kind of consistency and effort every night. That's what we have to get. We've had some good nights where we've played well and didn't win, and we've also had some nights where we gave games away that we didn't have everybody going or we didn't have the kind of consistency that we had out tonight."
After Friday's loss, Anastos sat a couple of players who have seen quite a bit of ice time, most notably senior Matt Berry, who leads the team in points with seven goals and six assists.
"If you play really well to your potential and you don't win, you can kind of live with that," said Anastos. "As much as it stinks, you can at least live with it, but when half of your team or a few players, maybe — whatever it is — don't necessarily show up to play, that becomes frustrating. For us to be successful, we've got to have pretty much everybody going.
"We need solid goaltending. We need good defensive play. Special teams need to be solid and then our five-on-five play needs to be good. There's a lot that I've liked about our play that's progressed to this point, but we've got to put it all together on a more consistent basis to get better results."
Consistency will be the key to Michigan State's success in the second half, and everyone in the locker room knows that.
"We came out battling tonight," said senior forward Brent Darnell, who was absolutely dominant in Saturday's game. Darnell has three goals in his last four games. He scored two in 31 last year.
"We've got to keep that up throughout the season," said Darnell. "Our consistency is huge for us, so if we keep that, we give ourselves that chance to win every night."
The Spartans have played two Big Ten series this season and taken points from each, splitting with Ohio State and earning those two against the Gophers last weekend.
Michigan State hosts Clarkson for one game on Sunday before taking two weeks off before the Great Lakes Invitational, which begins Dec. 28. Minnesota next plays Merrimack Jan. 2, 2015, in the Mariucci Classic.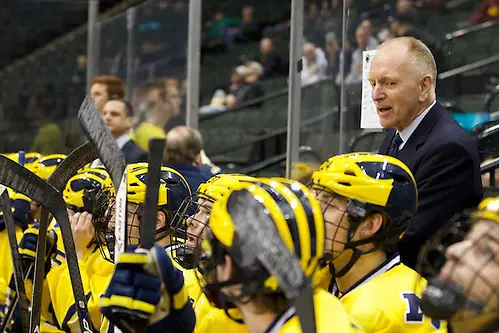 It seemed like old times for old rivals
Last Friday, the Wolverines hosted the Buckeyes for a single game and slaughtered them 8-3. This was no deceptively lopsided score — and for the third consecutive weekend, Michigan has shown that it's a team that knows how to roll.
"We're suddenly tweaking our lines and putting players in a position where we think they can be successful and then part of it is because of injuries," said Michigan coach Red Berenson. "We had [Andrew] Sinelli in the lineup a week ago for a game and then he wasn't 100 percent, so we took him out and put Tony Calderone in that spot. Tony scored two goals now in the last two games and good for him. He's taking advantage of his role, playing with [Andrew] Copp and [Tyler] Motte.
"Justin Selman became healthy and Selman got to play last weekend for the first time for a game and he gave us a spark and now he's in the lineup on the right side even though he can play left wing or center. I think players are realizing there's competition for ice time and to play in the games and so that brings out in everyone."
After an uneven start to nonconference play this season — including a three-game losing streak that saw the Wolverines swept by Michigan Tech and outscored in that series 10-3 — Michigan seems to have awakened in ways that may spell big trouble for Big Ten opponents.
Since that series against Michigan Tech (Oct. 31-Nov. 1), the Wolverines have outscored opponents 35-17, averaging five goals per game in that span. Their only loss during that stretch was a 3-2 decision that went Penn State's way, and the Wolverines rebounded the following night with an 8-1 win over the Nittany Lions.
Michigan is averaging 4.07 goals per game (second nationally) and is giving up 2.93 goals per game (41st), but since that sweep at the hands of the Huskies, the Wolverines are giving up two goals per game on average. Michigan's power play has been struggling, but the Wolverines netted four against the Buckeyes.
"Offensively, we're getting better," said Berenson. "We're getting better in the defensive zone. We're not spending as much time in our zone. Penalty killing's getting better, the power play's getting better, and I think our defense is getting better and our forward lines are starting to show some real … offensive danger, if you would. They're good with the puck and we've got four lines that have a chance to score."
The decisive win gave the Wolverines a chance to cap the first half on a positive note while giving the Buckeyes a barometer by which to measure themselves.
"You know how it goes here," said Steve Rohlik after the loss. "They certainly weren't acting like a 14 percent power play."
Rohlik sounded frustrated but upbeat after the loss.
"Our team seems to bounce back a lot, but you know you've got to build on streaks," he said. "You lose one or two or three in a row, you've got to learn to win one or two or three in a row, and that's one thing we have to learn. Our guys show up and they're doing the right things, but they've got to understand that we've got to keep getting better.
"One thing I do like is I like our locker room. I like our guys, but myself included, it starts with me, I've got to be better in the second half and so does our team."
Heading into the second half, Rohlik is looking to improve special teams. Ohio State's power play converts at 15.3 percent (36th) while its penalty kill is effective 78.4 percent of the time, tied with American International at 49th in the nation.
"Special teams is always a key. It's no secret," said Rohlik. "And that's a most disappointing thing, on both sides — and not for lack of effort. We work extremely hard on it. Certainly that's something we've got to continue to work on, but also for us, we've got to become consistent. That's been one of our major issues. We've been good for one game, not so good for another. We've been good for a period and not so good in another. Good teams find a way to be consistent, and I'm talking from our goaltending on out.
"That's what it is sometimes. You've got to earn your bounces. We've got to earn our bounces. Everything starts with the staff. We've got a month off, which is a long time to sit on this one. We've got to turn this into a positive and understand how hard it is to win at this level."
Ohio State returns to play on the road against Mercyhurst Jan. 2, 2015. Michigan plays at Boston College on Saturday.
Players of the week
Two players receive their first awards, while the middle guy is a ringer.
First star — Minnesota junior defenseman Mike Reilly: Reilly led all Big Ten scorers with a goal and four assists as the Golden Gophers earned four points on the road against Michigan State. He matched his career-high points total (three) in Friday's 5-0 win with a goal and two assists and added two assists in Saturday's 3-3 tie. Reilly has three goals in nine games this season; he had nine in 41 last year. This is his second career Big Ten weekly award but his first of the 2014-15 season.
Second star — Michigan sophomore forward Tyler Motte: Motte registered a personal-best four points — all assists — as the Wolverines beat Ohio State 8-3 Friday night. It was the first four-assist game by any Michigan player since 2009, and his performance extended his point streak to four games. Motte has five goals and nine assists in 14 games this season; he registered nine goals and nine assists in 34 games last year. This is his third career Big Ten weekly award but his first of the 2014-15 season.
Third star — Penn State junior forward David Glen: Glen had a goal and two assists in Penn State's road sweep of Wisconsin. He scored the first goal and had an assist in Friday's 5-2 win and another assist in Saturday's 4-2 win. Glen has three goals and three assists in nine games; last year, he registered three goals and six assists in 32 games. This is his first career Big Ten weekly award.
My ballot
1. North Dakota
2. Boston University
3. Minnesota
4. Minnesota State
5. Michigan Tech
6. Massachusetts-Lowell
7. Miami
8. Vermont
9. Minnesota-Duluth
10. Omaha
11. Harvard
12. Denver
13. Robert Morris
14. Quinnipiac
15. Bowling Green
16. Merrimack
17. Providence
18. Michigan
19. Boston College
20. Penn State