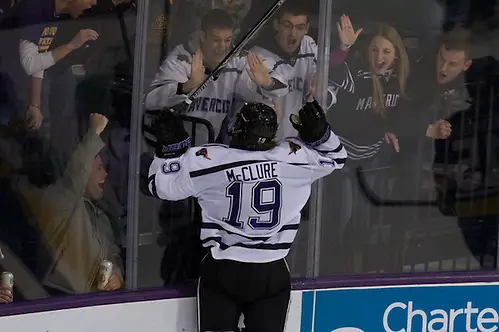 Here are five surprises and other things to know about the first half of the WCHA season:
1. WCHA serves notice
Last summer, new league commissioner Bill Robertson talked about setting a goal of getting more than two WCHA teams into the national tournament, something that sounded like a bit of a stretch at the time.
Not so now.
If the season ended today, Minnesota State would be the No. 1 overall seed for the NCAA tournament, and Michigan Tech and Bowling Green also would be in the field of 16. Of those teams' combined 10 losses, eight have come against teams currently ranked in the USCHO.com Division I Men's Poll. Those games include the Mavericks' series sweep at Tech and split at Bowling Green.
Whether you put a lot of stock into holiday-time PairWise Rankings or not, there's no denying that the Mavericks, Huskies and Falcons legitimately belong in the conversation for best teams in the country right now, and the race between those three for the MacNaughton Cup should be a fun one in the second half.
Circle your calendars for Jan. 16-17 (Bowling Green at Michigan Tech) and Feb. 27-28 (Michigan Tech at Minnesota State).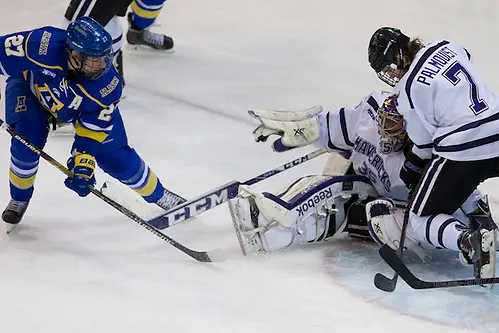 2. Forwards, march
The WCHA scoring race is tight through the first 18 games or so, with no one player running away in points.
Much has been made of Minnesota State's depth with six of the league's top 13 scores, including the conference's leading goal scorer, Bryce Gervais (11). But those 13 players have 14 or more points apiece, with Alaska's Tyler Morley leading the race with 19, one ahead of Michigan Tech's Tanner Kero and two ahead of Gervais and his Minnesota State teammate Matt Leitner.
Bowling Green's Kevin Dufour ranks second in goals with nine but has been stuck on that number since the "Church of Dufour" was established six games ago.
Another scan of those 13 leaders, and you see that the WCHA is indeed a veteran-driven league with 10 seniors and juniors. There are no freshmen in the group but three sophomores: Minnesota State defenseman Casey Nelson, Alaska forward Marcus Basara and Bemidji State forward Nate Arentz.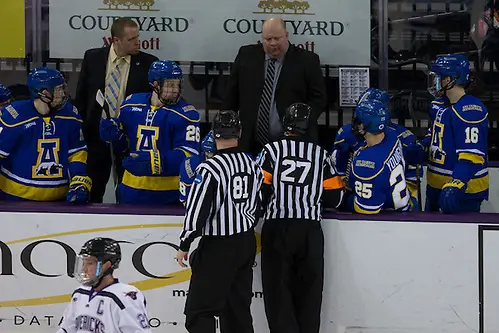 3. Alaska rule
The WCHA's three season-long races (MacNaughton Cup, home ice for the conference tournament and final playoff positions) made the end of its first season post-realignment meaningful and exciting last year, and it's shaping up to be the same this time around, except with a little twist.
Alaska, which was stripped of postseason play due to NCAA sanctions, likely will factor into the tournament field as a potential spoiler.
Already, the Nanooks have shown to be a good team, handing Minnesota State a home loss two weeks ago. They have to play the Mavericks again later this season, as well as Ferris State and Bowling Green right after the break.
But the other Alaska factor is for the eighth and final seed for the WCHA playoffs. The Nanooks seem unlikely to finish ninth or 10th, so a team that normally wouldn't make it to the tournament will this year. Currently, Alaska-Anchorage and Lake Superior State are tied for eighth with six points apiece, and Alabama-Huntsville is two points behind them at four (with two games in hand on the Lakers). Those three teams just happen to be three of Alaska's final four opponents this season.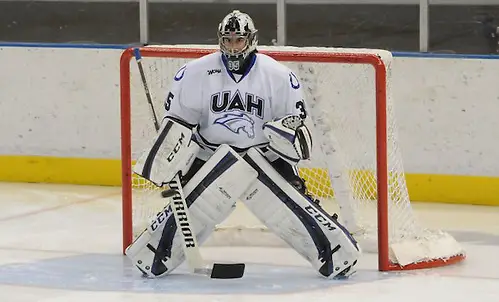 4. Great year for goaltending
Coming into the season, everyone knew about one elite WCHA goaltender: Ferris State's CJ Motte, a Hobey Baker Award finalist last season and this year's preseason league player of the year.
Well, Motte's still a great goalie — he's played 1,000-plus minutes and is in the top 10 nationally in both save percentage and GAA — but he's not the only WCHA backstop to turn heads. Michigan Tech goalie Jamie Phillips and Northern Michigan goalie Mathias Dahlström have also entered the conversation.
Phillips stepped in for the departed Pheonix Copley better than anyone could have hoped. He's fifth nationally in save percentage (.939) and fourth in GAA (1.69).
Dahlström started hot — for a while his GAA was under 1.00 — but has been injured as of late and is now only at a modest 1.74 GAA. He and Motte each have four shutouts.
And don't forget about Alabama-Huntsville's Carmine Guerriero. He's 11th nationally in save percentage (.934) and has kept the Chargers in games they have no business being in.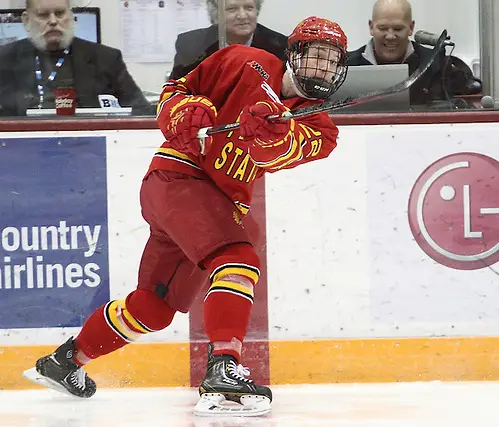 5. Stuck in the middle, again
The middle of the league standings looks, much like last season, like a jumble at the midway point.
Ferris State, the defending MacNaughton Cup champion, and Northern Michigan are tied for the fourth and final home-ice spot with 12 points each.
The Bulldogs haven't been as dominant as they were last year — they've had only two conference series sweeps — but they're still in decent position thanks to Motte and their team defense. The Wildcats also have relied on their team defense behind Dahlström but haven't been quite as sharp since their two-week Alaska trip over the Thanksgiving break.
Coming in fast is Bemidji State, which is just three points behind that home-ice slot at nine points. The Beavers are riding a five-game unbeaten streak into the break thanks to a talented group of sophomores (including Arentz) and freshmen who have bolstered their offensive numbers compared to recent seasons.