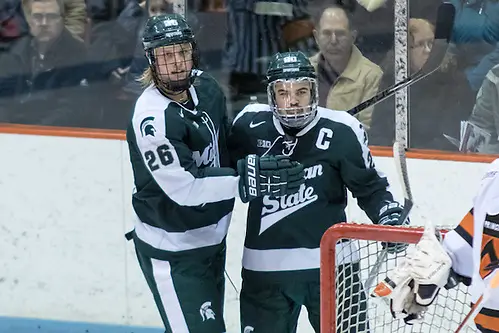 Here's some info on the 50th Great Lakes Invitational:
The details
Where: Joe Louis Arena, Detroit.
Sunday's schedule: No. 5 Michigan Tech (13-3) vs. Michigan (8-7), 3:30 p.m. EST; Ferris State (9-7-1) vs. Michigan State (6-9-1), 7 p.m.
Monday's schedule: Third-place game, 3:30 p.m. EST; championship game, 7 p.m.
TV: Fox Sports Detroit Plus.
Notes to know
After falling to Western Michigan 1-0 in overtime in the Great Lakes Invitational title game last season at Comerica Park, Michigan Tech comes into this season's tournament as a big favorite. The No. 5 Huskies are 4-0 against Michigan and Ferris State this season. Tech hasn't allowed more than three goals in a game this season. The Huskies are third in the nation in scoring defense (1.69 goals against) and have the second-best penalty kill in the country (91.9 percent). Sophomore goaltender Jamie Phillips is helping lead that charge; he's fourth in the nation in GAA (1.69) and fifth in save percentage (93.9).
Michigan brings a hot offense into the GLI, third best in the nation (3.87 goals per game) with a power play that is 7­for­15 (46.7 percent) in its last three games. Senior Zach Hyman (7­10–17) leads the team in scoring, and sophomore Alex Kile (9­6­­15) is tied for second in the nation with six power­play goals. Eight different players have accounted for Michigan's eight game­winning goals.
Although Ferris State has been playing hockey for 40 seasons and the GLI has been around for 50, this is the first time the Bulldogs have ever participated in the tournament, which is a staple of college hockey in their home state. Ferris has won 10 of its last 13 matchups against Michigan State, but the teams split their nonconference series earlier this year in East Lansing, Mich. The Bulldogs won 1-0 Friday, Oct. 31, before falling 4-1 in the Saturday game on Nov. 1.
No one can accuse Michigan State's offense of avoiding hard work. The Spartans have outshot opponents in 11 of 16 games this season, averaging 30.5 shots on goal per game. The added pressure in front of opponents' nets has resulted in an increase in average goals scored per game. At the end of last season, the Spartans averaged 2.19; they averaged 2.38 per game in the first half of this season.
Social snippet
Christmas practice for the huskies. #HolidayHuskies pic.twitter.com/znNyKIxY38

— Michigan Tech Hockey (@mtuhky) December 26, 2014