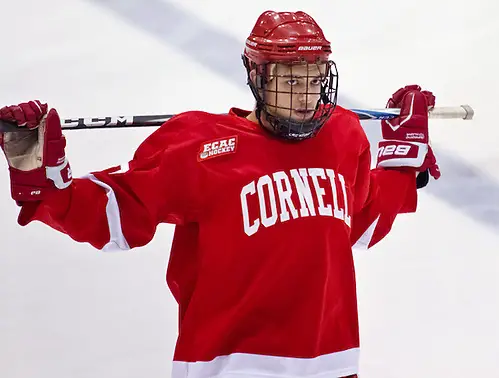 Here's some info on the 15th annual Florida College Hockey Classic:
The details
Where: Germain Arena, Estero, Fla.
Sunday's schedule: No. 6 Miami (11-5) vs. Notre Dame (8-8-2), 4 p.m. EST; Lake Superior State (3-17) vs. Cornell (5-5-1), 7:30 p.m.
Monday's schedule: Third-place game, 4 p.m. EST; championship game, 7:30 p.m.
Notes to know
Miami experienced a largely disastrous first NCHC regular season, but the RedHawks are a much different team this time around. Miami went into its holiday break leading the NCHC, just ahead of second-place Minnesota-Duluth — and Miami has won six of its last eight games.
Notre Dame closed out the first half on a high note by picking up its first road sweep in Hockey East play since joining the conference. The two victories, 7-5 and 4-0, came at the expense of Massachusetts. The wins vaulted the Irish into fifth place in Hockey East, where they hold at least two games in hand over the teams immediately above them.
Lake Superior State will make its Florida College Hockey Classic debut while in the midst of a six-game losing streak. The Lakers are 3-17 overall and have lost to Minnesota State, North Dakota and Ferris State. Their last victory was a 3-2 overtime decision against Alaska in Fairbanks. Sunday's game against Cornell will be 24 years to the date of the teams' first-ever meeting (Dec. 28, 1990), in Syracuse, N.Y., at the Syracuse Invitational. LSSU won that game 3-2 and also won the other meeting between the teams — March 22, 1966 in the NCAA East Regional in Albany, N.Y.
Cornell has won the Florida tournament four times in 14 seasons and will be the only team to appear in all 15 editions after former co-host Maine dropped out. The Big Red won last season's tournament by beating Maine in a shootout after the championship game.
Social snippet
Looking to repeat in FL Tourney, @CUBigRedHockey emerges from break – http://t.co/l0vNbScO7b pic.twitter.com/IZByQcSJIv

— ECAC HOCKEY (@ECACHOCKEYMWD1) December 22, 2014