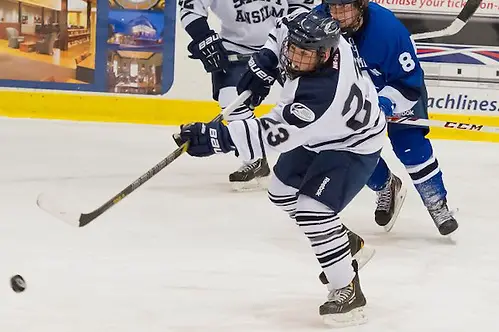 Editor's note: Billy Sullivan played at Franklin Pierce from 2008 to 2012 and recently was named an assistant coach for the Chatham women's program.
Imagine it's early October, and you are taking a look at your program's schedule for the upcoming season. You see some of the Division III powerhouses on the schedule — Nichols, Geneseo, Norwich, Babson, Amherst, Suffolk, Middlebury.
You naturally get excited at the opportunity to see how your program matches up against the best in the country.
A handful of months later, your regular season comes to a close; maybe you fared well against those teams, and maybe you didn't. It doesn't matter whether you went undefeated or winless — your season is going to come to a drastic halt.
That is what happens every year to the six Division II programs that compete against an intense Division III schedule every season. The roughly 180 student-athletes that compete in men's hockey in the Northeast-10 Conference are unable to compete past the two-game league playoffs.
Since the late 1990s, when many existing Division II teams moved up to play Division I hockey, the NCAA has not offered a Division II national championship.
The seven teams mentioned above all are among the nation's top Division III squads, and three are ranked in the USCHO.com Division III Men's Poll. All of those teams were on one or more of the schedules of Division II programs this season.
Assumption, Franklin Pierce, St. Anselm, St. Michael's, Southern New Hampshire and Stonehill are the Division II schools that play mostly against Division III opponents.
They play their conference games every year, just as the Division III schools do, and then they also have a very strong nonconference schedule competing against the best that Division III has to offer.
While St. Anselm and St. Michael's also compete in the ECAC East, they can not compete in their D-III conference playoffs.
You also won't find any of the Division II players' statistics anywhere affiliated with the Division III national stats; you will only come across them in Northeast-10 Conference sections, despite the starts largely being accumulated against D-III opponents.
Division III programs that schedule D-II opponents also are at a disadvantage. Those games don't count toward regional selection criteria for the NCAA tournament.
"I would love to play [teams like] St. Michael's every year, but since they are not in the league it is like a glorified scrimmage," Plattsburgh coach Bob Emery said.
Norwich coach Mike McShane and Middlebury coach Bill Beaney, who have combined for 11 NCAA Division III national championships, both said they would like their games against D-II programs to count toward the NCAA rankings. The same goes for Neumann coach Dominick Dawes, who has a national title on his coaching resume as well.
The NCAA has very clear rules about programs not being allowed to "move down" to a lower level of NCAA competition. The majority of NCAA sports' setup is clear that Division I programs offer better competition than Division II programs, and Division II programs offer better competition that Division III programs.
Allowing programs to only "move up" is on the books for just about every NCAA sport so no program with more support and resources can obtain an unfair competitive advantage.
Hockey, however, is in a whole different ballpark. It's debatable whether Division II programs have an unfair competitive advantage over Division III programs, and it might actually be the other way around.
Division II student-athletes have to register with, and pass, the NCAA Eligibility Center (Clearinghouse). Players in Division III programs do not.
Division III programs have the opportunity to play for a national championship and Division II programs do not, which undoubtedly has implications when it comes to recruiting.
And Division II programs can give athletic scholarships but the hockey programs choose not to so they can continue to play Division III competition.
"Both D-II men's and women's follow all D-III NCAA rules and have no unfair advantage with athletic complexes or budgets and, most important, the offering of any athletic scholarship aid," said Southern New Hampshire coach Ken Hutchins, a big advocate of finding common ground between D-II and D-III hockey programs.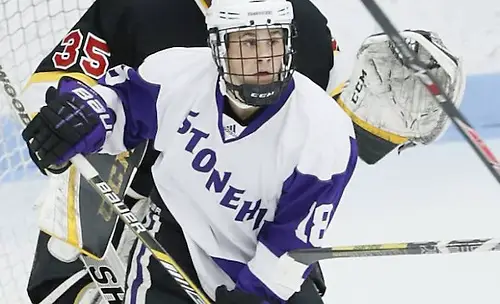 Following the 2009 season, at the men's D-II/D-III coaches' breakout meeting at the American Hockey Coaches Association annual convention, all of the D-II and D-III coaches present agreed that the Division II teams have no competitive on-ice, off-ice or recruiting advantages over D-III schools and are playing with equal facilities, Hutchins said.
When asked about the feedback he receives from the various D-III programs on the topic of Division II hockey and its situation, Hutchins said it's "always positive from [about] 90 percent of Eastern hockey coaches and the past experienced NCAA hockey championship committee, but again [there is] a failure in the communication process to find a solution."
Both Hutchins and Franklin Pierce coach Jaymie Harrington have ideas on what can be done to improve this situation. The idea of synergizing the D-II programs into the D-III regional Northeast conferences is the primary solution brought up.
St. Michael's and St. Anselm of the Northeast-10 play in the Division III ECAC East as well. In past years, Franklin Pierce, Stonehill, Southern New Hampshire and Assumption played in the ECAC Northeast conference as well as the NE-10.
Joining these D-III conferences would allow for regional rivalries to continue. Rivalries between Southern New Hampshire and Plymouth State, who scheduled games every year since the late 1970s until this season, or between Franklin Pierce and Nichols, who used to battle two times a season while FPU was still a part of the ECAC Northeast, could flourish.
The idea of allowing the Division II programs to blend in with the Division III programs is not a new one. The D-III national championship that is fought for tooth and nail every season used to be linked together with Division II. D-II also used to have its own national championship, but there was not enough Division II conferences that had programs competing for it to continue.
Players like Hubie McDonough had the opportunity to develop when the divisions were together. McDonough, who won the small college Hobey Baker Award in 1985 and was a finalist for the overall Hobey Baker Award the same year, attended Division II St. Anselm during a time in which the divisions saw no separation.
He enjoyed a long playing career in the NHL and IHL and works for his hometown Manchester Monarchs of the AHL as the director of hockey operations.
Allowing these Division II programs to combine with and play a normal Division III schedule seemingly would benefit all parties. The D-III programs wouldn't have to worry about their "scrimmages" against D-II sides because the games would be just as important as every other one. The D-II programs would finally find a legitimate home in NCAA hockey and again have the opportunity to battle in meaningful games and go as far as possible.
The primary obstacles of programs not being allowed to "drop down" and Division II programs technically being allowed to give scholarships can be overcome. If D-II programs continue to not give scholarships to their student-athletes for hockey, the only road block left would appear to be the strict rule of NCAA programs not being allowed to move down a division.
This can be discussed and deliberated over again and again. But the outcome of allowing Division II hockey programs to combine with Division III seems to be an obvious one. It would allow for the college hockey world to be black and white, instead of having lamentable shades of gray. There would be Division I conferences and champions and there would be Division II/III conferences and champions.
The Division II/III NCAA men's hockey championship would potentially increase the marketing exposure for the NCAA and its hockey programs, as adding any team to any league most likely would do. The addition of six Division II programs could add an extra bid to the national tournament and restore to all teams the goal of making it to the national tournament.
The NCAA Division III men's ice hockey committee has appeared to be on the same page with the Division II programs in the past on this matter. However, the next step in making this a reality never seems to be taken.
While it's almost certain that a number of the Western programs — and Eastern programs, for that matter — are more than content with the current situation in their own conferences, allowing these Division II teams to combine wouldn't seemingly bring many negative aspects to any Division III program. So why not give these six programs a chance at what every other team in the country already has: the opportunity to play meaningful hockey come March?
This topic may come up again between all of the D-II/III coaches and the NCAA again one day. Now, the phrase around the water cooler seems to be, "why not?"