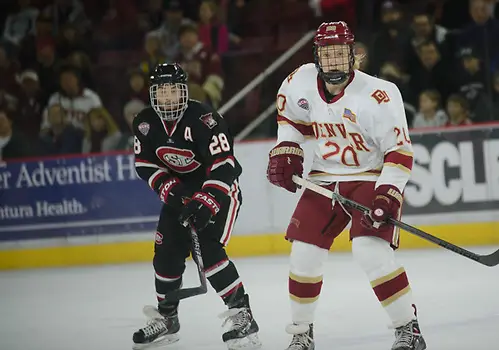 Three weeks ago, No. 10 Denver may have had a critical moment in its season when it was swept in Omaha. The Pioneers lost two very different games, one a 5-4 offensive shootout and the other a 1-0 defensive battle.
After that weekend, Denver dropped to sixth in the NCHC standings but has since rebounded by sweeping St. Cloud State and splitting with Miami. Denver is in fifth in the NCHC, three points ahead of Western Michigan and three points behind Miami.
For Denver coach Jim Montgomery, that low point after Omaha was a turnaround moment for his team.
"I think we used that the sweep at Omaha as motivation to get better in certain areas that didn't allow us to have success there," said Montgomery. "I think that we've done that and have become a harder team to play against."
One change has been in net. Evan Cowley started in Omaha in the 5-4 series-opening loss. Cowley played the next weekend for one period against St. Cloud State but was yanked after giving up the first goal. Since then, freshman Tanner Jaillet has played all the minutes for Denver. However, Montgomery believes both goalies have room to improve.
"Tanner has played well; he's given us an opportunity to have success every time he has been in the net," said Montgomery. "I wouldn't declare him our No. 1. He's playing the best right now, and if you'd asked me before Christmas, I'd have said Evan Cowley was playing the best. Both goalies need to continue to get better to give us the goaltending we'll need down the stretch."
Interestingly enough, a freshman has paced the Pioneers offensively as well. Danton Heinen, a fourth-round pick of the Boston Bruins, leads the team in scoring while playing on the top line with senior Daniel Doremus and sophomore Trevor Moore.
Heinen is the only Denver player averaging over a point a game, at 26 points in 23 games. He is third nationally among freshmen in scoring behind Boston University's Jack Eichel and Michigan's Dylan Larkin.
"I don't think anyone outside of Denver thought that he would be one of the premier freshmen in the country, but he is one of the premier freshmen in the country," said Montgomery. "He's a go-to guy for us, and his stick and his mind are elite."
One of Denver's strengths this year is special teams play. The power-play unit is sixth nationally at 21-of-93, good for 22.58 percent, and the penalty kill is 13th nationally at 73-of-84 for an 86.9 percent success rate. Several players have helped with that, including seniors Joey LaLeggia and Doremus.
"No question on the power play you have to give a lot of credit to those guys," said Montgomery. "Obviously, Joey is our quarterback. Will Butcher and Nolan Zajac really give us three quarterback defensemen that a lot of other schools would be jealous to have.
"On our penalty kill, I give a lot of credit to our seniors again. That's more Josiah Didier, who is really our anchor back there, and then you have Doremus, [Matt] Tabrum and Grant Arnold providing great leadership who consistently go out and outwork people."
Last season, Denver went on the road in the first round of the NCHC playoffs, beating Omaha in the first round two games to one and then winning the NCHC Frozen Faceoff to qualify for the NCAA tournament. Asked if home ice is a goal, Montgomery said the team is aiming higher.
"Our goal is to try and win the NCHC and unfortunately we haven't gotten the desired results," he said. "We'd like to be better than one game above .500. We do think that we have the potential to not only get home ice, but to move up to first place. We need to score big goals in big moments of games better than we have, and we need to be able to not have periods off.
"I would say in our last three weekends, we've had one bad period every weekend, and in the NCHC you can't afford to do that. You have one bad period against Omaha and they score three goals against you. You have one bad period against Miami and they get two odd-man rushes against you and go up 3-1."
This weekend, Denver faces third-place Minnesota-Duluth, which it trails by four points. The two squads split a series in Duluth in October. Montgomery is expecting another fierce series.
"I'm expecting the same thing we saw in October: a team that's relentless, that comes at you in wave after wave, and we're going to have to come back at them and make sure they have to defend more than we have to defend," he said.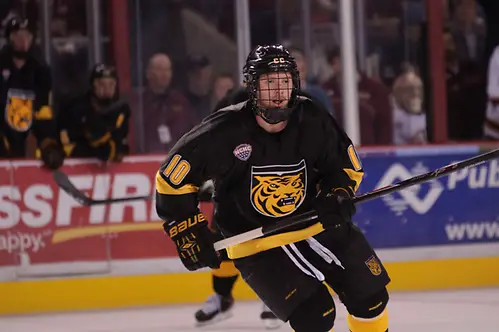 Tigers clawing back
It's been a tough season for the Colorado College Tigers. The team stands at 5-16-1, and until Jan. 16 hadn't won a game in conference. A stretch of 13 games out of 14 on the road saw the team finally win its last one of those 13 while suffering several overtime defeats after blowing leads in the third period.
Perhaps the worst part of the season came on Nov. 14, when the Tigers traveled to Denver intent on establishing a lead in the Gold Pan series, only to get blown out by archrival Denver 8-1.
According to CC coach Mike Haviland, that game was a turning point, and his team is starting to see some positives finally result.
"I think if you look at that loss, we've been pretty good since that loss," Haviland said. "I know the one game we'd like to take out is the second game in Duluth after losing in overtime; it was pretty close until the final 10 minutes and they took over and got some goals when we were really pressing.
"Since that Denver game, which I think turned our season around and certainly should have, the way we got beat up there, I think our focus, our preparation in practice and in games has gone to a different level, and it's been in the back of everybody's minds."
Last weekend, the Tigers traveled to Grand Forks and gave North Dakota all it could handle. Now CC settles in at home for a stretch of six consecutive home games. Eight of its last 11 will be in the friendly confines of World Arena, where the Olympic-sized ice sheet and the elevation (above 6,000 feet) makes it a difficult place to play.
"I think when you are in those battles — in Omaha, in Providence, in North Dakota, in Western Michigan — you are learning what it takes to compete for 60 minutes," said Haviland. "We've come up short on some of them in overtime, but I think you learn what it takes for those 60 minutes to compete and how hard it is to win. It's such a fine line.
"We've made a progression, and I think it will help us. I see us getting better each and every day. When you have to go on the road and you have to battle, especially on the road, you take those lessons and apply them at home, and we are at home a lot of the rest of the season."
One bright spot for CC has been the power play, which is clicking at a nearly 20 percent success rate and is ranked 20th in the country. While the PK has struggled at times, Haviland also sees improvement there.
"I am happy on both sides of it; I think the last 10 games we are running about 90 percent on our PK too, so special teams have really improved," he said. "I'm very proud of our units and what they've done. The adjustments they make game in and game out, watching film and making sure we know what we have to execute going into the power play, it's been a major reason why we've been in games and are winning games now."
Asked if it was hard for his team when it was on losing streaks of seven and five games, respectively, sandwiched around a lone win over Wisconsin, Haviland acknowledged it was.
"I think early on we felt sorry for ourselves, and it was easy to do, and now we don't and we understand that if a team scores, we have to go back and play," he said. "There's still 10 or 20 minutes left in the game and we still have a chance to win the game. It's a long way from the beginning of the year to now and now it's not even a question."
This weekend, the Tigers take on St. Cloud State, a series in which Haviland expects to see "playoff hockey" from "two desperate hockey teams." The following Friday, CC will take on Denver for the first time since the crushing loss. The Tigers then take on Denver again in a home-and-home series two weeks later.
The Tigers aren't looking too far ahead, but they do know the Denver games loom, and are excited for another crack at their archrival.
"We don't look past any weekend, any opponent," Haviland said. "We should never do that, but I know that everybody is excited to get to those games, and you don't forget very easily what went on up there."
Players of the week
Offensive player of the week — Cody Murphy, Miami: Murphy notched four points on the weekend in Miami's split with No. 11 Denver. On Friday, he had only one shot on goal, but on Saturday, he had a hand in all four Miami goals. Murphy assisted on Miami's first goal in the first period and scored the game-winner in the second period. He scored another in the third to put Miami up 3-1, and assisted on an empty-net goal that sealed the win. He finished plus-4 Saturday. His four points in one game was a career high.
Defensive player of the week — Keaton Thompson, North Dakota: He helped UND kill both Colorado College power plays in Friday's 2-1 win. On Saturday, he assisted on the game-winning goal in the second period and earned a career-best plus-3 rating in North Dakota's 5-3 win.
Rookie of the week — Patrick Russell, St. Cloud State: Russell notched four points in St. Cloud's split with Western Michigan on two goals and two assists. In Friday's 7-0 win, he posted a career-high three points, scoring a power-play goal in the second period to put St. Cloud up 4-0 and assisting on St. Cloud's final two goals. In Saturday's 3-2 loss, he scored the second goal that put St. Cloud up 2-0. He finished the weekend plus-2.
Goaltender of the week — Charlie Lindgren, St. Cloud State: In a key split with Western Michigan, Lindgren posted a .936 save percentage and a 1.52 GAA. In the first game, he earned his first shutout of the season, stopping 23 shots. On Saturday, he had two more shutout periods and made a save in the second period that was later featured on ESPN's Top 10 plays of the day. He finished with 21 saves Saturday and 44 saves on 47 shots in the series.