In the Big Ten, a two-game series between teams is generally played on consecutive days, with the rare exception of a series that features a day off in between games.
When Michigan and Michigan State step onto the outdoor ice that has been constructed at Chicago's Soldier Field on Saturday evening, they will have had eight days to think about the series' opening game.
Michigan State took that first game, which took place last Friday at Detroit's Joe Louis Arena, and held the nation's hottest offense to one goal. The Spartans won 2-1 behind a 29-save performance from goaltender Jake Hildebrand.
"On that particular night it seemed like things went well for us and our goalie made the key saves that he needed," Michigan State coach Tom Anastos said. "We talk about winning some key moments and it seemed like that night we did."
The Spartans are 2-1-1 in 2015, but Anastos said going back a little farther, to when Minnesota pounded his team 5-0 at home on Dec. 5, provides a look at a turning point in the season. The Spartans tied the Gophers the next night, won the shootout for the extra conference point and went 1-1 at the Great Lakes Invitational the next weekend.
"We had a real poor game at home against Minnesota the last Friday night and we had to regroup," Anastos said. "We made a couple changes and I think the biggest change we made was just in our mental approach, from a team perspective.
"Since that time, it seems like our team keeps growing together. We've found some balance in our line combinations and defense pairings. Even in our special teams we've been able to, generally speaking, leave those combinations alone for the most part which has allowed us a bit of time to kind of grow up together."
The win against Michigan came after Michigan State's first sweep of the season. The Spartans had five splits with opponents before they swept Ohio State.
"We were able to find a way to put together the efforts to get results," Anastos said. "We've had a number of times where I thought we've had some good efforts back to back, but we didn't necessarily get good results. This was the case where we put together two games that got positive results, two wins, and again that's a good confidence boost and is certainly something to build on."
Obviously, the two conference wins helped Michigan State in the standings, too. With the way the season started for Michigan State, an at-large bid to the NCAA tournament is more than likely out of the question. That means that the Spartans' seed in the Big Ten tournament will be a key factor in how long their postseason lasts.
"I think it was a growth opportunity," Anastos said. "I think it was important from our team's perspective to understand what it takes to try to get two wins on a weekend. We hadn't done it, and you need to do it if you want to move up not only in your standings but in the PairWise to get into the mix. You have to put some back-to-back wins together, and that's a tough thing to do in college hockey."
The Big Ten's postseason tournament will be held at Joe Louis Arena this year, a building that the Spartans have already played three games at this season and have gone 2-1.
"We play there a couple times every year with the GLI and games against Michigan," Anastos said. "We're used to playing there, our players love to play there and given that we had a chance to play in the championship game in the GLI and play in a big, sellout environment last weekend, I think those are good experiences for our team as we try to grow and get better and learn what it takes to win in a championship environment."
Michigan State and Michigan will finish their series at a stadium, rather than an arena, on Saturday. As of now, the forecast for Chicago on Saturday calls for temperatures in the low to mid 30s and a slight chance of precipitation. Though the game time means that the sun won't be a factor, Anastos said that the elements playing a role in the game is a given.
"The cold, the wind and the snow, you know that you can't really prepare for other than the mentality of knowing that you have to expect whatever comes," he said. "I think trying to keep the game as simple as possible is really important. We'll be the second game of the day and we'll be the second game after all four teams skate earlier in the day, so you don't know how the ice will be holding up, either. So we think simplicity is a very good approach to most games, but in particular these outdoor games."
For the Spartans to knock off the Wolverines again, they'll need another solid performance out of Hildebrand. Although the junior has a pedestrian win/loss record (10-11-2, 4-3-2 in Big Ten play), his other statistics have been solid this year.
He's second to Michigan's Zach Nagelvoort in GAA (2.30) and save percentage (.928) among Big Ten goalies in league play.
"In my opinion he's one of the best goalies in college hockey and he's playing that way right now," Anastos said. "He's really hitting his stride from a confidence perspective. It makes you feel pretty comfortable knowing that on a consistent basis you can really get a high performance from him. Every team wants to have good, strong goaltending, and we're fortunate enough to be one of those teams that has it."
Badgers' McGuire gets one-game suspension
For the second time this season, a series between Minnesota and Wisconsin resulted in a player getting suspended.
Wisconsin's Corbin McGuire has been suspended for one game for the knee-on-knee hit he delivered to Minnesota's Connor Reilly. The hit, which occurred at the 2:59 mark of the second period during Saturday's game, resulted in a five-minute major for McGuire.
Reilly, who has 11 goals and five assists this season for Minnesota, will be out for an indefinite amount of time.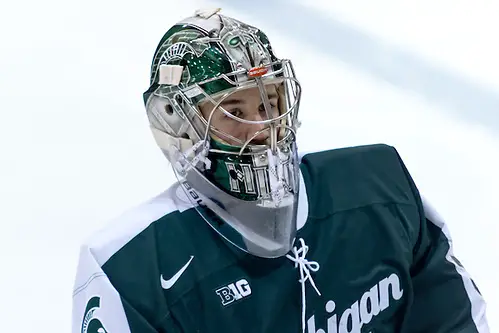 Three stars
First star — Michigan State junior goaltender Jake Hildebrand: Hildebrand made 29 saves during the Spartans' 2-1 victory over Michigan last Friday. He stopped all 25 shots that were thrown at him during the second and third periods. This is Hildebrand's seventh career Big Ten weekly award and third of the season.
Second star — Minnesota senior forward Seth Ambroz: Ambroz had four goals in the Gophers' series at Wisconsin last weekend. Minnesota took four of six conference points from the Badgers for the second time this season. Ambroz scored two goals in the Gophers' 7-5 victory on Friday and added two more in their 4-4 shootout loss. His second goal on Saturday was scored with two seconds left in the third period and sent the game to overtime. This is Ambroz's second career Big Ten weekly award and first of the season.
Third star — Penn State sophomore defenseman David Thompson: Thompson scored the game-winning goal in the Nittany Lions' 4-2 victory over Vermont on Saturday. His first collegiate goal came with a little more than three minutes left in the third period. This is his first career Big Ten weekly award.
B1G in the poll
No. 14 Michigan remains the Big Ten's lone representative in this week's USCHO.com Division I Men's Poll. Penn State and Minnesota received votes.
My ballot
1. Minnesota State
2. North Dakota
3. Boston University
4. Omaha
5. Harvard
6. Michigan Tech
7. Minnesota-Duluth
8. Bowling Green
9. Miami
10. Denver
11. Massachusetts-Lowell
12. Boston College
13. Michigan
14. Providence
15. Yale
16. Vermont
17. Robert Morris
18. Penn State
19. Quinnipiac
20. Bemidji State
This week's matchups
Wisconsin at Penn State (Friday and Saturday, Pegula Ice Arena)
Ohio State at Minnesota (Friday and Saturday, Mariucci Arena)
Michigan at Michigan State (Saturday, Soldier Field, Chicago)