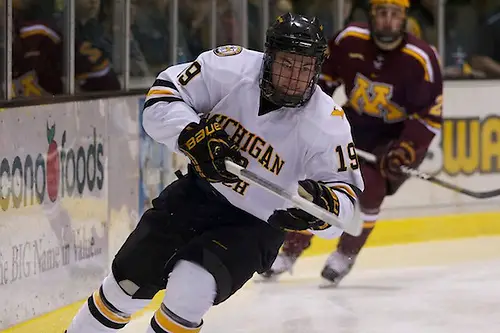 As uncommon as it is for a college hockey team to have two players with 100 career points on its roster, fewer still have had two players reach said milestone in the same game.
It's likely that Michigan Tech's Blake Pietila and Tanner Kero are on an even shorter list — teammates who have reached the century mark for their careers in the same period of the same game.
Pietila and Kero, both seniors, each reached triple digits for their careers in the third period of the Huskies' 11-1 rout of Alabama-Huntsville last Saturday night. Pietila's came on an assist on Joel L'Esperance's power-play goal at the 12-minute mark of the third, while Kero's was an assist on Brent Baltus' goal with 48 seconds to play.
Tech coach Mel Pearson said it's a credit to the two players to reach the milestone — especially considering where the program was when they started.
"They came here amid a lot of turmoil, with a new coaching staff and a program that was struggling," Pearson said. "But they found their way here, committed and worked hard. It's been a good ride for both of them."
Kero, an area native (he's from nearby Hancock, Mich.), has played 140 games in his career and this season leads the Huskies' offense with 35 points (13-22–35).
Pietila has played 141 games for Tech and has 24 points this season (11-13–24).
"Especially this day and age in college hockey, with all the video coaching and defensive play, it's hard to reach that milestone now," Pearson said. "Kids leave school early all the time. But for us to have two kids to do that, it's really special. They stayed and have had a good career on and off the ice.
"It was a fun locker room after the game, and that really added something to it. Everyone — players, coaches, support staff, arena workers — was so happy for them. It was great."
Tech finished 4-30-4 in 2010-11 the year before Kero and Pietila arrived in Houghton — the worst season in school history. Pearson took over the next season.
Now, Kero and Pietila — along with their entire senior class, which was also Pearson's first — are helping Tech make some history in the other direction.
Saturday's win over UAH completed the WCHA sweep and ensured the Huskies (20-7-1, 15-4-1 WCHA) their first 20-win season since 1987-88.
"One of the ways seniors can measure their time here is if they've left the program in better shape than they found it," Pearson said. "They're setting the bar high for next year's team.
"Regardless of what happens the rest of the way, this group can be proud of that."
Aside from Kero and Pietila, the Huskies have two more players who could hit the century mark this season.
Senior David Johnstone has 92 points in 116 games for Tech, while Alex Petan — only a junior — already has 96 points through 104 games.
Forward Blake Hietala and defenseman Riley Sweeney round out Tech's senior class, which, in addition to helping the team reach the 20-win plateau for the first time since the '80s, also helped Tech achieve its first No. 1 ranking since 1976.
"Hopefully that [20-win] benchmark won't take another 30 years to achieve," Pearson said. "It's been long overdue. I'm thrilled for our fans, our alumni but mostly our players.
"It's all the players who have done what they've done to help us get here. They're setting a good example for us."
The Huskies head into their Winter Carnival weekend as the No. 5 team in the country and are four points behind first-place Minnesota State in the WCHA standings (31 points to MSU's 35).
As red-hot Bemidji State comes into town for what should be one of the best series in college hockey this weekend, Pearson said his team leaders have made sure Huskies still have their eyes set forward.
"I like that this team still isn't satisfied," Pearson said. "They know there's a lot to be done before this season ends."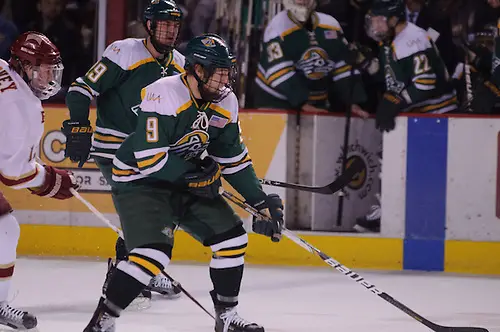 Tough sleddin' for the Seawolves
Getting out of the WCHA cellar is the goal for Alaska-Anchorage, but the Seawolves' schedule doesn't make that an easy task.
Anchorage wraps up a two-weekend stay in the Lower 48 against Minnesota State this weekend. That follows last weekend's series at Northern Michigan, where it fell 5-3 and 3-2 in overtime. The second game was a crusher, with the Seawolves tying the game with 19 seconds left in regulation but the Wildcats getting the game-winner with 11 seconds to go in OT.
Now they have to play the nation's No. 1 team.
"We have to be at the top of our game, no exception," coach Matt Thomas said following a practice at Mankato's Verizon Wireless Center on Wednesday.
The Seawolves spent most of the week in Mankato instead of flying back to Anchorage between series.
"It saves us money … but that's not why we do it," Thomas said. "The reason why is the time-zone travel. We want to be at our best when we're on the road."
The Seawolves, who have not won outside the state of Alaska this season, return home to play No. 5 Michigan Tech then go back to Minnesota to take on red-hot Bemidji State before returning home to face No. 8 Bowling Green. They wrap up the regular season at home against rival Alaska.
"You know what? That's good," Thomas said. "If we can't come out of it, it's only going to make us stronger."
The Seawolves may be in 10th place, but they are two points out of playoff position. They have two games in hand on the teams directly in front of them, eighth-place Alabama-Huntsville and Lake Superior State, who still have to play each other this month. The Alaska Nanooks' postseason ban means the WCHA's ninth-place team gets into the tournament.
"Obviously, we've got to find a way to get back some points," Thomas said.
Ice chips
• Minnesota State and Michigan Tech clinched WCHA playoff spots with their sweeps last week, which means the league's current top two teams cannot finish in last place.
• Despite their sweep at the hands of Michigan Tech last weekend, the Chargers are 7-18-3 this season and 6-14 in WCHA play. UAH's seven wins equal the total amount of wins — combined — the Chargers had the past three seasons; they were 2-35-1 last season. They're one of three teams in the NCAA to improve by five wins since the 2013-14 campaign.
• Alaska will try to snap a four-game losing streak and six-game winless streak when it hosts Lake Superior State this weekend. The Nanooks, who are 7-5 at home, were idle last week.
• Bemidji State, arguably one of the hottest teams in the country right now, is 3-0-1 in its last four games — all against top-10 teams. It's the first time the Beavers have done that since their jump to Division I in 1999-2000. Overall, Bemidji State is 4-8-1 against nationally ranked teams this season.
• Bowling Green and Ferris State are about to embark on a stretch of four consecutive games with each other, starting this weekend at Bowling Green. The Bulldogs are 4-1-1 in the last six games of the series and have won six in a row at Bowling Green since 2009.
• Ferris State has lost four games in a row — all to Minnesota State — and scored four goals in those games. Sophomore forward Kyle Schempp scored all of those goals, one in each game, including a short-handed goal on Saturday.
• Lake Superior State was off last weekend, following a split with Bowling Green last week and sweep against Bemidji State two weekends ago. They'll travel to Fairbanks to take on Alaska this weekend. The Lakers are 32-19-6 all-time against the Nanooks but 7-10-5 in Alaska.
• Minnesota State senior forward Matt Leitner had two assists on Saturday to give him 150 career points. That ranks second on the program's Division I-era scoring list. He has 46 goals and 104 assists.
• Northern Michigan travels to Minnesota-Duluth this weekend for a nonconference series with the Bulldogs. The teams have played 71 times in their history — most of them coming when they were WCHA members together from 1984 to 1997. All-time, the teams are even 33-33-4, with the last meeting coming in 2010. However, NMU is also 8-22-2 all-time in Duluth.
• This week's WCHA players of the week are Michigan Tech senior forwards Tanner Kero and Blake Pietila (offensive), Minnesota State defenseman Zach Palmquist (defensive) and Bemidji State freshman goalie Michael Bitzer (rookie).