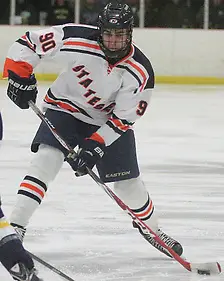 It was written so famously of Hall of Fame slugger Ted Williams that, alas, "he just learned to say 'hello' when it was time to say 'goodbye.'"
Better than half a century later, the same could be said of Hobart winger Sean Rudy, the reigning ECAC West player of the week.
Rudy is a senior from Long Sault, Ont., and he'shaving a strong season, scoring at nearly a point per game clip (5-8-13 in 15 games) for the Statesmen, who are clutching a share of first place (with Nazareth) in the ECAC West.
But in real time terms, Rudy has the career playing time of a freshman.
Prior to this season, you could count the number of NCAA games Rudy had played in on the fingers of one hand, with the thumb left over.
Two games as a seldom-used freshman at Bemidji State, two games as a Hobart sophomore transfer.
And none at all last year as he spent the entire season on dry land.
Such was the cost of a pair of serious knee injuries.
"It's [all] pretty complex, actually," said Rudy.
The tale began to take a drastic downward twist during his first game with Hobart, when he blew out his right knee.
After a couple months worth of rehab following the Christmas break, Rudy was ready to go again, but three shifts into his first game back, he tore his MPFL ligament in his left knee, ending his season for good.
Rudy sought to be granted a redshirt year, but because he had played in two separate semesters, his plea was denied.
"I basically lost the year," he said, "because of one game and three shifts."
One year of rehab turned into two, as Rudy walked the arduous path to recovery.
"That was the hardest part," he said. "I went to the rink every day for practice. I did the rehab, and just seeing them on the ice every day for practice for almost two years in a row was really grueling.
"The guys, the coaches, the training staff, they were all behind me. I never lost my focus. I knew I could come back."
And he has.
With a vengeance.
"I'm finally getting back to my form," Rudy said. "I'm on the top line and playing hockey the way I used to play."
The points came slowly at first, an assist in Game 2 against Nazareth, his first-ever goal the next week against Utica.
Lately, however, Rudy has been making up for all that lost time with frequent appearances on the scoresheet garnering 11 points (four goals, seven assists) in his last seven games, racking up points in all but one of those.
Last week, Rudy came up with his best effort yet, a five-point outburst in two wins against Neumann, with a hand in all of Hobart's scoring with his first two-goal offering in a 3-2 triumph.
"The past two weeks are the best I've ever played," he said. "I know I'm only going to get better from here because my legs haven't caught up to my hands. I'm still getting to where I can be."
All this comes in the nick of time, as Rudy locks in on what could be the final month of his college career.
His lost junior campaign earned him one additional redshirt year, but needing just one academic semester (beyond the current one) to get his teaching degree, he may never get to use it.
If not, Rudy will be content to go out on a high note.
"I want our team to win," he said. "We have one goal. That's winning our next game. And then winning the game after that. I'm looking forward to the next month of hockey with the guys and winning games as a team. I'm not concerned about my [own] career at all."
Weeknight action
While the gaze of the college hockey world was fixed on Beanpot action, a pair of under-the-radar D-III tilts dotted the early season sked.
Behind senior goalie Colby Drost's 25-save whitewash, UNE squeezed past Southern Maine, 1-0. A second period goal by freshman Christian Rosseti gave Drost all the goal support he needed.
It was Drost's fourth shutout of the season (fifth for his career), and second over USM this season.
Meanwhile, Framingham State pumped home four unanswered goals in the third period against host Fitchburg State to take a 5-2 triumph. The Rams got scoring from five separate sources.
And Monday's scheduled clash between WNEC and Nichols was postponed due to the massive snowzilla that hammered the East Coast. A makeup date has yet to be announced.
More commitments for D-III schools
Commitment announcements continue to pour in, as schools look to restock their cupboardsful of recruits.
Three teammates on the OJHL's top of the heap Trenton Golden Hawks will head to separate D-III destinations.
Defenseman Matthew Pizzo is ticketed for Hobart, forward Bobby Polachek to Fredonia, and team captain and forward Tyler Donaldson to Potsdam.
Committed to Middlebury is forward Kamil Tkachuk (Oakville, OJHL). while Geneseo nabs goalie Devin McDonald (Camrose, AJHL).
Large size Texas-born defenseman Joshua Victor (Connecticut, USPHL) will attend Fitchburg State, while committed to Colby for 2016-17 is Rivers School forward Pat Daley.