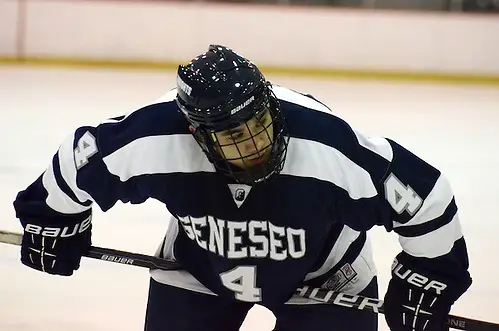 What went down last weekend in Division III circles?
Read on.
ECAC EAST – Norwich went into the weekend with the Nation's No. 1 ranking and strengthened its position with wins over wins over Castleton (3-0) and Skidmore (6-3). The Cadets allowed Castleton just seven shots, Friday, with goalie Ty Reichenbach recording one of the quietest shutouts on record … Massachusetts-Boston (28 points) stayed within four points of Norwich by thumping Southern Maine (4-0) and UNE (7-3). Goalie Billy Faust recorded the 23-save shutout at USM.
ECAC NORTHEAST – Nichols (15 points) continues to hold a one point lead over Salve Regina, after winning its only weekend start, 3-2, at Suffolk. The Bison did all its scoring in the second period, getting goals from Paul Prescott, Sean Fleming and Frank Butler … Salve kept pace with Nichols with a 3-0 blanking of Curry. Goalie Alexander Devine picked up the 20-save shutout in contest that featured a donnybrook in the final three seconds.
ECAC WEST – The weekend's action saw Hobart slip into sole possession of first place, one point ahead of Nazareth, after the Statesmen swept Utica, 3-2 (in overtime) and 4-2. Jon Neal cinched Friday's win for Hobart with his goal at 2:39 of the extra session. Brad Robbins scored twice in that tilt, then once more the following night … Nazareth salvaged a 5-5 tie at Manhattanville Friday after erasing a two goal third period decifit with goals from David Seward and Dominik Gabaj. On Saturday, the Golden Flyers got more third period scoring, getting tallies from Oliver Janzen and Julius Tamasy to take a 4-2 win from the Valiants.
MASCAC – Plymouth State took an impressive 6-2 win at Fitchburg State on Saturday and now holds an eight-point stranglehold (over both Salem State and Westfield State) on the MASCAC lead. Mike Freitag and Mike Economos both scored twice in the win, while Andrew Wigg, the league's top scorer, added a goal and an assist … Salem and Westfield struggled to a 3-3 overtime tie Saturday. Maxime Richard notched the game-tying goal for the Owls with 2:06 left in regulation.
MIAC – St. Thomas is no longer tied for first place in the MIAC standings. The Tommies swept their weekend series against Bethel, while Concordia (Minn.) tied in one game against St. Olaf and won the other one. The 15th-ranked Tommies are two points ahead of the Cobbers and sit at 14-4-3 overall and 8-2-2 in the league. They have 27 points on the season. Drew Fielding made 24 saves in the 4-0 win on Saturday, while Jordan Lovick, Cory Kapelier, Michael Dockry and Alex Altnebernd all scored goals for the Tommies. Fielding improved to 11-4-3. The Tommies scored three of their four goals in the third period. On Friday, the Tommies and Royals combined for 10 goals and 23 penalties. Thomas Williams and Joakim Broberg each scored twice for St. Thomas. Tony Larson came through with two goals for the Royals, who come out of the weekend still looking for their first league win. They are 2-17-2 overall and 0-11-1 in the MIAC … Concordia remained in second in the league after edging St. Olaf 4-3 on Saturday. Jon Grebosky scored the winning goal in the final three minutes of play on an assist from Jordan Christianson. It was one of two goals Grebosky scored as the Cobbers improved to 12-7-4 overall and 7-4-4 in the MIAC. Andrew Deters racked up two assists and Jordyn Kaufman racked up 29 saves. Both teams gave up power-play goals in Friday's 1-1 overtime tie. The Cobbers got their lone goal from Tucker Coborn, who tied the game at 1-1 in the second period. Justin Plate scored St. Olaf's lone goal. The Oles had lost their last two games and is 6-13-3 overall and 4-7-2 in the league. Kaufer made 20 saves and is 7-3-3 on the year. His goals against average of 1.90 in league games ranks second in the MIAC. The Cobbers are three points up on third-place Saint Mary's and four points ahead of Augsburg and Saint John's in a tight MIAC race.
NCHA – No. 12 Lake Forest is assured of home ice in the opening round of the Harris Cup playoffs after blanking the Milwaukee School of Engineering 2-0 on Saturday. The Foresters are in second place in the standings with a week remaining in the regular season, sitting at 14-4-5 overall and 12-3-1 in the NCHA. Goalie Leo Podolsky helped propel Lake Forest to the win. He made 23 saves and improved to 14-3-3. He has the second-best save percentage (.951) and seventh-best goals-against average (1.61) in the nation. Jordan Bruce and Jack Lewis both scored goals for the Foresters, who have lost only one game since Nov. 21. That loss was on Friday night when the Raiders skated to a 2-1 win in Milwaukee, ending the Foresters' 15-game unbeaten streak. Jimmy Cusan scored the only goal for Lake Forest, his fifth of the season, while Jerad Tafoya and Cody Ganchar scored for the Raiders. The victory stretched their win streak to four games and marked their second win over a ranked team this season … St. Norbert ended a rare four-game losing streak Saturday with a 4-3 win over St. Scholastica. It was the seventh-ranked Green Knights' longest losing streak since a five-game slide during the 1996-97 season. Erik Cooper delivered the game-winner with 2:39 left in regulation of an assist from George Malliaras. It was Cooper's second goal of the game. St. Norbert let a 3-1 lead slip away as Justin Kraben and Dave Williams both scored for the Saints to tie the score. Cooper finished his day with three points and the Green Knights improved to 15-5-2 overall and 11-4-1 in the conference. The reigning national champions are in third place in the standings. St. Scholastica opened the weekend with a 3-1 win. The Saints came into the game dealing with adversity as head coach Mark Wick took an indefinite leave of absence earlier in the week for medical reasons. Ben Gordon is in as the interim coach. Tyler Bruggeman helped make Gordon's debut a good one, stopping 42 shots. Keegan Bruce and Matt Malenstyn scored to give the Saints a 2-1 lead and Kyle Beaulieu finished off the scoring for his first goal at St. Scholastica. The Saints are in fourth in the standings at 11-9-3 overall and 8-6-2 in the NCHA.
NESCAC – The big news of the week came out of Middlebury on Saturday when the Panthers blanked Wesleyan, 3-0, to give veteran coach Bill Beaney his 600th career win. Beaney is the 12th NCAA coach to reach that plateau and is Division III's all time wins leader. Among those wins are eight Division-III championships … His team nearly gave him the milestone win the previous night, but the Panthers fell 2-1 in overtime to league-leading Trinity (25 points). The Bantams got the game-winner from Jackson Brewer at the 47-second mark of the extra session. The following night, Trinity took a 3-1 win at Williams, which slipped a point behind second place Amherst (20 points). The Lord Jeffs split their two-game swing through Maine, winning at Colby (2-1) then falling to Bowdoin (4-3).
SUNYAC – Life at the top is good for league-leaders Plattsburgh, following routs at Buffalo State (6-0) and Fredonia (9-0). Freshman Cardinal goaltender Brady Rouleau racked up both shutouts, giving him four for the season, while another freshman, defenseman Chris Taff, amassed seven points during the weekend, all of them assists … Meanwhile, Oswego (21) points, remained three points behind with two games in hand after sweeping Morrisville, 6-2 and 5-1. Sophomore Shawn Hulshof, the league's leading point-getter (with 26) piled up nine more with three goals and six assists.
WIAC – Third-ranked Wisconsin-Stevens Point was on the ropes headed into the third period against Wisconsin-Stout on Saturday, but the Pointers found a way to rally for a crucial 3-2 overtime win and a weekend sweep of the Blue Devils. Stevens Points remains in first place in the WIAC. It is 17-4 overall and 8-1 in the conference. Lawrence Cornellier scored the game-winner 47 seconds into the OT as the Pointers nailed down their fifth consecutive win. It was the seventh goal of the year for Cornellier. Stout took a 2-0 lead on goals by Jordan Stejskal and Jake Useldinger. Kevin Gibson and Kyle Sharkey both tallied assists on the play. Joe Kalisz and Elliot Grauer scored in the third to tie the game at 2-2. Kalisz has eight points in the last four games and a team-best 15 goals. Brandon Jaeger won his 17th game of the season in goal. Jaeger picked up a shutout win on Friday as Stevens Point won 6-0. It was his fourth of the season. Garrett Ladd and Kyle Sharkey scored two goals apiece. Sharkey's second goal marked the 50th point of his career. Stevens Point was 3-of-4 on the power-play and is 12-of-29 in the last six games. The Blue Devils lost all three games to Stevens Point this season and are 8-12-1 overall and 3-5 in the WIAC … Wisconsin-Eau Claire picked up two wins against Wisconsin-Superior and is in second place in the standings. The 13th-ranked Blugolds topped the Yellowjackets 5-3 both nights. Eau Claire trailed 2-0 early on Saturday, but rallied to stretch its unbeaten streak against Superior to 14 games. Eau Claire is 12-0 when scoring four or more goals in a game. Ross Andersen scored twice to pace the Blugolds, who are 14-5-2 overall and 6-2 in the league. Brandon Wahlin came through with one goal and two assists. Tyler Green improved to 9-3-1 in goal this season as he made 25 saves. Jordan Neduzak tallied two saves for Superior, which is 7-16 overall and 0-10 in the WIAC. Eau Claire and Superior were tied at 3-3 with 18 minutes left in the third on Friday night before Adam Knochenmus scored the game-winner on the power-play. Ross Andersen and Patrick Moore each finished with four points, tallying one goal and three assists apiece. Anton Svensson racked up two goals for the Yellowjackets, who haven't beaten Eau Claire in Superior since a 3-0 win in November of 2009.