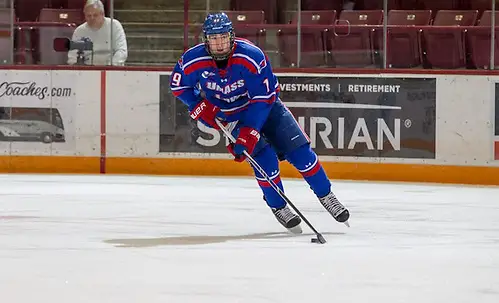 Each week during the season we look at the big events and big games around Division I men's college hockey in Tuesday Morning Quarterback.
Matthew: Not a lot of movement atop the USCHO.com Division I Men's Poll this week, Jim. Minnesota State, North Dakota and Boston University all held firm as the top three teams in the poll that was released on Monday.
Not sure what you think about it, but it doesn't look like we've strayed away yet from the 1A, 1B, 1C scenario that we were talking about in this space a week ago.
Jim: I agree wholeheartedly. I saw Boston University play both of its games last week, and the Terriers were clicking on all cylinders. Same goes for Minnesota State while North Dakota was idle.
In fact, the biggest story this week might not be about the teams at the top as much as the teams quickly moving down the poll. Both Harvard and UMass-Lowell have hit the skids, the Crimson having lost all three games they played last week and the River Hawks losing their two contests and seven of their last nine.
A part of me wonders if these teams aren't as good as we thought when each was rolling in the first half, or whether this is more a matter of each team losing some confidence.
Matthew: Well, and don't forget that we thought the same thing about Providence earlier this season. Everyone thought the Friars were really going to make waves this season in Hockey East and nationally before they fell off, although they've picked things up again lately.
Like you said, Lowell and Harvard have done the same here recently, and I'm curious what you think might be the worst-case scenario here for those two teams. Surely, neither of them will lose out the rest of the way, but can you see either team's current situation becoming chronic?
Jim: I think for either of these teams to lose out on first-round byes in their conference playoffs is the tip of he danger zone. For Harvard, a team that hasn't been to the national tournament since 2006, missing out would be considered somewhat disastrous.
Preseason expectations for both clubs were relatively low but both proved to have plenty of potential early on, and with that, expectations rise.
Matthew: Harvard in particular reminds me a lot of Omaha in terms of what we made of the teams at the start of the season. Expectations for UNO weren't exactly through the floor — we all thought the Mavericks would be somewhere in the middle of the NCHC pack — but despite starting the season with 11 freshmen (now 10 after one recent defection), Omaha is enjoying what for that program are dizzying heights.
Looking at it from somewhat afar, do you get the sense something's going on there that other schools in similar situations — and, again, I'm looking at teams like Harvard in particular here — could model themselves on?
Jim: I think it is difficult to model a hockey program as there are variables in terms of budgets, academic standards, scholarship limits, etc. Although if a new program like Arizona State wants to take a look at how to have success, it wouldn't be a bad idea to watch everything that Penn State is doing.
The Nittany Lions are just two points behind first-place Michigan in the Big Ten and sport a 15-7-4 overall mark. They are still on the outside of the PairWise Rankings bubble but a few more wins could push them into the NCAA field. This is their second year in the Big Ten and playing a full Division I schedule, making this a mind-blowing start for the program.
Matthew: How much of that is down to the Penn State and Big Ten names, though? I suspect that Arizona State might enjoy its share of fairly quick success, too, for similar reasons. In speaking to NCHC commissioner Josh Fenton last week for the NCHC column, he mentioned that he knows that the Sun Devils are working on their own internal affairs — where they'll play long-term, for instance, could really be key — but I can see ASU getting good quickly if the school really gets behind the team like Penn State has with its.
That's Arizona State and Penn State, however. It would be more difficult to do that with, say, a Rhode Island or any relatively smaller school considering joining the NCAA Division I party.
Jim: You make a good point. Large-budget athletic programs can help a program become competitive quickly. But that won't mean a program like Rhode Island wouldn't be competitive if it added hockey. We've seen that program size is a relatively moot point after Union won the national title last season. But all this makes for interesting conversation when the next team adds hockey.
Thumbs up
To Boston University's Evan Rodrigues, who reached the 100-point plateau for his collegiate career last Friday night. What makes his 100 points interesting is that exactly one week earlier, Rodrigues hadn't reached 90 points. But a six-assist effort against Massachusetts, his play to set up the winning goal in double overtime against Harvard in the Beanpot and a hat trick with an assist on Friday at Lowell gave him a quick 11 points and the milestone.
Thumbs down
To Mother Nature. Again. For the second consecutive week, a round of Beanpot games — the third-place and championship games this time — had to be pushed back due to inclement weather. The games will take place on Feb. 23.
Coming up
It's a fairly light week for games between ranked teams, but there's still plenty of opportunities for PairWise movement.
No. 13 Quinnipiac, 6-2-1 in its last nine games, hosts No. 20 St. Lawrence and its seven-game winning streak on Friday.
No. 10 Boston College hosts No. 17 Vermont in a Hockey East series, and No. 2 North Dakota hosts No. 9 Denver in the NCHC.