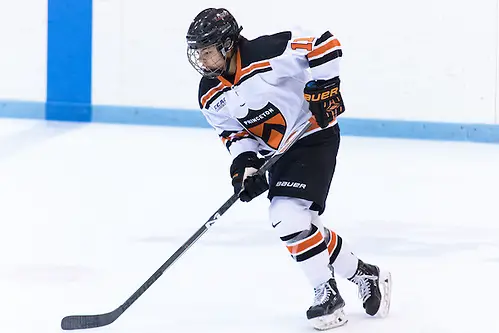 Candace: There were definitely some strange things going on this past week. I feel like I'm still processing it all. We usually start out east, so let's start out west this week. North Dakota has certainly come on like gangbusters in the last month. I think we both thought that UND might give Minnesota some trouble, but I don't think either of us expected UND to blank the Gophers. That 3-0 win on Friday was very impressive. Minnesota came back the next night, but I think the WCHA tournament is going to be a bloodbath.
Right now, three WCHA teams are in the tournament by PairWise rankings; what's crazy is that I don't even know if it's the three best WCHA teams at the moment. Minnesota is second, Wisconsin is third, and Minnesota-Duluth is seventh. North Dakota is currently on the outside looking in at ninth.
Can you see any way that four WCHA teams would make it into the NCAA tournament? Both Minnesota-Duluth and North Dakota would need to move up for that to happen, since the CHA has an auto-bid this year and Merychurst is the highest CHA team in the PairWise at 13.
Whether it happens or not, I almost think the NCAA Selection Committee wouldn't mind it; if there are going to be three, might as well be four, because then they'd stick them all on one side of the bracket and get cheaper airfare. I'd imagine from the Selection Committee's standpoint, it'd be best if Duluth went to Minneapolis, because that's a bus ride.
Arlan: I'd say it is far more likely that the WCHA only gets two teams into the field than it is that the league will get four. I don't know how well the math would support four, because that means that either four WCHA teams wind up in the top seven in the PairWise, or three are in the top six and someone else takes the automatic bid. The fourth-best WCHA team winning the tournament would be new territory. Maybe North Dakota could leverage home ice in the WCHA Final Face-Off to winning the event, but I don't know that UMD would still hold in the top six. We'll know more about the likelihood of that after this weekend when UMD travels to Minneapolis for its final road series. Unless UMD can sweep the Gophers, I'm convinced that North Dakota will be the third seed for the conference tournament. After last weekend, it is definitely possible.
No matter how one wanted to break down Friday's game in Grand Forks, North Dakota was a little better. Pregame shows in sports like to analyze matchups by awarding check marks in certain categories: goaltending, blue line, special teams, seniors, coaching, fan support. You name the criteria, and UND was a little better across the board. The game was still scoreless late in the second period when Minnesota went on the game's first power play, but turned the puck over at its offensive blue line. Amy Menke jumped on it and went in alone and roofed a shot. Josefine Jakobsen shredded the defense a minute and a half later, and apart from a Hannah Brandt breakaway that Shelby Amsley-Benzie stoned in the third period, the Gophers weren't able to generate much against the improved North Dakota defense.
Saturday started off even better for UND. Jakobsen was able to weave around the Minnesota defense again like it was so many pylons and score just a minute in. The Gophers were definitely on the ropes for the next several minutes. Shannon Kaiser had a shot that hit the inside of the post and caromed just wide of the far pipe, or the lead would have doubled and UND would have been well on its way to a sweep.
What changed as Saturday's game went along was Amanda Leveille started to save UND's high-quality scoring chances. The goals scored against her weren't her fault, but for Minnesota to win in the postseason, she's going to have to commit a robbery or two, and she did on Saturday. Over the final 40 minutes, the Gophers gradually took control, and North Dakota didn't get much in the way of opportunities by the third period.
The concern for the Gophers would be not that they lost on Friday, but that they looked so vulnerable early on Saturday. It's one thing if the kids on the end of the bench are shaky in a game you have to win. It's another thing entirely if your leaders are trying to play defense without moving their feet and turning the puck over like it's a grenade, and there was some of that. Once they survived that, the key play was likely Kate Schipper winning a one-on-one battle behind the North Dakota net and getting the puck to Brandt in the slot for the winning goal.
North Dakota saw its seven-game unbeaten streak end, and the lessons it can take away are that it needs to convert on the prime chances it gets, no matter how early in the game they present themselves, and it must stay out of the box. The short-handed goal turned Friday's game in its favor, but that is an unlikely recipe for success, as the two power-play goals for Minnesota showed.
Meanwhile, UMD lost ground to North Dakota when it could earn only one point in Madison. What did you think of the teams playing to a scoreless draw on Friday and the Bulldogs being shut out for the weekend?
Candace: Minnesota-Duluth has certainly looked a little vulnerable of late, getting only a tie in each of their last two series with WCHA elite teams in North Dakota and Wisconsin. The Bulldogs had closed the first half on a torrid run, at one point winning nine in a row and going 12-1-1 and moving into the USCHO.com Women's D-I Poll and the PairWise. The Bulldogs opened the second half with a split with Bemidji and then swept St. Cloud and Minnesota State. However, there's a saying that there are lies, damn lies, and statistics, and analyzing the Bulldogs' schedule during that impressive run shows that maybe things weren't as rosy as they seemed.
That 12-1-1 run started with a win over North Dakota in the second game of a two-game set. The Bulldogs then swept Lindenwood, St. Cloud, and Minnesota State, all teams they should beat. The two wins over Cornell are probably one reason that UMD is in the PairWise spot it is, but that Big Red team had really just taken the ice about three weeks before, and wasn't really skating the way they are now. Even with that, the Big Red aren't the powerhouse they have been in past seasons. After Cornell, UMD split with Bemidji State and got a tie and win against Ohio State.
To start the second half, the Bulldogs split with Bemidji again and then swept St. Cloud and Minnesota State. It seems to me that UMD has beaten the teams it should, but hasn't really been able to establish itself against the other five best teams in the WCHA. They've lost two of four to North Dakota, three of four to Wisconsin, one of two to Minnesota, and two of four to Bemidji State. Then they got a tie and win with Ohio State. Looking at the big three of the WCHA, Minnesota-Duluth is 1-6-3, and has one shootout win against Minnesota and shootout losses to North Dakota and Wisconsin.
Ultimately, for all of Shannon Miller's bluster about how UMD was in the midst of a resurgence when it was announced that her contract would not be renewed, it still seems like Minnesota-Duluth is in a tier behind the top teams.
I mentioned Cornell earlier, and the Big Red put a third conference loss on Quinnipiac with a come-from-behind 4-3 overtime win on Friday. That win allowed Harvard to move into first in the ECAC. Ironically, just as in the previous week, Quinnipiac's conqueror then fell to Princeton the next night, with Cornell losing 3-2. The Big Red are a puzzle, with some results that leave you scratching your head, such as almost losing to Colgate.
I'm not sure what to make of the ECAC right now. Princeton has certainly posted some good results. Just as I expected, Quinnipiac has seemed to wilt a little under expectations. St. Lawrence had looked to be hitting its stride, and has faltered in recent weeks while its rival Clarkson has gotten a bounce. Can you give me your thoughts on the top six of the ECAC?
Arlan: The ECAC is similar to the WCHA in that a pretty clear top six has emerged, but it took longer to do so. For a time, it appeared that Dartmouth would be included in that group, but the Big Green have fallen back to Yale and are now three and a half games back with little hope of improving their lot. The top six that has stratified is pretty closely bunched, with only six points between Harvard in first and Princeton in sixth, and no more than a game separating any of the places along the way.
The Tigers just finished a stretch of four straight home games going 3-0-1, including wins over ranked teams Harvard and Cornell. Even the tie was a comeback from two goals down against Dartmouth. Their only loss in their last seven games was 4-2 at BC, and teams have fared a lot worse than that in Conte Forum.
Sophomore Kelsey Koelzer is someone that we haven't talked about much. She started her Princeton career as a forward, but was moved to the blue line this year and has blossomed. Her 25 points are second on the team to only the 26 of Molly Contini, and she tends to show up at big moments in games. There are obviously scores of plays that factor into a one-goal win, but Koezler's effort at the end of the 3-2 win over Cornell on Saturday stood out. With Princeton on a power play, she broke up a two-on-one rush in front of her own net, carried the puck up the ice and through the Big Red defense, got the last defender to commit, drew the goalie over to the short side, and then dished to Hilary Lloyd all alone on the weak side. It was as good of a time capsule hockey moment as I've seen all year. That and 39 saves from Kimberly Newell added up a big win on Senior Night and a sweep of the season series from the Big Red. Koelzer was in the middle of the only goal in the upset of Harvard a week earlier. She made a quick decision to join a rush, kicked a drop pass from Lloyd from her skate to her stick and made a one-touch redirection up to Contini, who finished the play.
I don't think that the four games that remain will afford the Tigers enough time to move up to a home-ice spot for the playoffs, and they likely don't have enough depth to run the table in the ECAC tournament. However, if I was to look at a team that could come from off the radar and present a threat for a host, it would be Princeton.
Meanwhile, I don't know that it's fair to say that Quinnipiac wilted. Had it been able to get stalemates in those overtime losses on consecutive Fridays to Harvard and Cornell, the Bobcats would still hold a one-game lead atop the conference. Had Quinnipiac been able to win either, then it would be in command. Those narrow defeats put a severe crimp in its hopes for both an ECAC title and home ice for a possible NCAA quarterfinal. There is still time and Harvard has tough opponents left at Cornell and hosting the Clarkson and St. Lawrence duo, but control of the ECAC has slipped away. Another hurdle for Quinnipiac is that it is dealing with some key injuries. Taylor Cianfarano was hurt against Cornell, and Nicole Kosta left the Colgate game, and they are the team's two leading scorers. They'll need contributions from some other sources, such as Raquel Pennoyer, who came through with her first goal and assist against the Big Red to extend that game.
St. Lawrence was another team that had a damaging week, following the home loss to Clarkson by not getting the full four points from its visit to Union and Rensselaer because of a 1-1 tie with the Dutchwomen. With the schedule the Saints have left, it will be a challenge to move back into a top-four spot. Cornell figures to get about six points the rest of the way, and that should be enough to hold off SLU. If the Saints are getting on a bus, they can think back to losing three points to the bottom duo in the league.
Do you think Harvard will be able to remain in first this time? It still has to travel to Cornell, and gets its closest pursuer, Clarkson, at home.
Candace: I'm not sure. Every time I think the Crimson are ready to take another step forward, they've faltered. They took a big step by beating Boston College in the Beanpot final last night. This weekend, they are in Ithaca to play Cornell, and then they close the season at home against St. Lawrence and Clarkson. I think if Harvard can beat Cornell this weekend, then yes, they've got a good shot. Quinnipiac gets to play the Clarkson/St. Lawrence pair this weekend on the road, and the bad news is the Clarkson game is the second of the two, so the Bobcats might be tired after a long road trip and then playing St. Lawrence the night before. Harvard gets Cornell in the first game this Friday.
Then again, Harvard had the rematch with Boston College last night, so who knows where their legs will be at. I think this weekend tells the tale. If Harvard sweeps, even if Quinnipiac does the same, I think Harvard will win the division.
Quinnipiac is also currently tied with Clarkson for second in the ECAC, but has the lead thanks to the 1-0 win back in November over the Golden Knights. The Bobcats also defeated Clarkson 3-1 in the Nutmeg Classic, but I think the Golden Knights are playing better right now, so this weekend's game could be a really tough out for the Bobcats. Plus, you have to think St. Lawrence will be extra motivated after this weekend's disappointing results. The last time the Saints and Bobcats squared off, it ended in a 2-2 tie. Given that St. Lawrence is at home and has Carmen MacDonald in net, and Cianfarano and Kosta are hurt, and that Quinnipiac isn't exactly an offensive power even with those two on the ice, getting points this weekend is going to be a huge fight.
Before we turn to Hockey East, let's talk about the CHA. Mercyhurst took a huge step forward to winning the regular season crown by sweeping RIT this past weekend. I had thought Robert Morris might be ready to move up, but the Colonials were swept by Syracuse. Penn State had a disappointing split with Lindenwood, so to win the CHA, I think the Nittany Lions need to sweep the Lakers this weekend. They did that back in December, but they were home. I don't think Mercyhurst will take Penn State lightly this time, and the Lakers are at home. The real CHA battle might be between Robert Morris and Lindenwood for the final home ice spot in the first round. Of course, even if Robert Morris is home, the Colonials have been so inconsistent, it wouldn't surprise me if Lindenwood instead took the first round series.
Can you make any more sense of the CHA than me?
Arlan: The CHA is kind of like the top six in the two leagues we just discussed in that it is a group of six teams where the head-to-head results tend to be erratic. Mercyhurst is starting to pull away a bit, but that is due in large part to being 6-0 against the bottom two teams in the league, RIT and Lindenwood. The Lakers are just 5-4-1 against the other three.
My column this week will look at the teams that currently sit third through sixth in the CHA; if the season were to end today, they would be the four to compete in the league quarterfinals while Mercyhurst and Penn State would have a bye. Maybe that will change over the final two weeks; a team like Syracuse could move up. Some of these teams have had to deal with major injury problems this year. Either they will overcome them, or they will fall out in the quarters. By the time the Lakers enter the fray, the teams that it has been sweeping to move into first may be gone. If so, then the CHA semis and final could be a wide-open affair.
It will be interesting to see how Mercyhurst responds. For the first time in a long time, it isn't in a comfortable place in the at-large picture as the season winds down. Yes, the league tourney champ now gets an NCAA berth, but each of the teams must have it; there is no Plan B. As ragged as the Lakers have looked at times, they can still wrap up the league and the right to host the tournament with three points this weekend. I fully expect them to get it, but maybe I'm focusing too heavily on the name on the front of the jersey and totally discounting the names on the back. Junior Julia DiTondo won both games against the Tigers, allowing only one goal in six periods, but those were her only two starts of the season. Will she be able to repeat that against PSU? Will she even be in net? I guess we'll find out.
Mercyhurst has the second-best penalty kill in the country. It's only allowed nine goals all season, but two came at Penn State, and they proved costly. Mercyhurst is also tied for second in penalty minutes. Great PK or not, it would be wise not to tempt fate and give too many opportunities to the Nittany Lions' power play, which is a surprising seventh, ahead of the PP of ranked teams like BC, UMD, BU, North Dakota, Wisconsin, and Quinnipiac.
Outside of that, the offense of both teams drops off quickly after its top line. The Lakers have a little more pop in that matchup, but if it is DiTondo in their net, then Penn State has more experience with Celine Whitlinger.
Let's face it — a little over four months ago, we'd have never thought we'd be analyzing this series as the most pivotal in the CHA season. In that respect, the Nittany Lions are playing with house money and all of the pressure is on Mercyhurst. Mike Sisti's teams have handled the pressure well over the years.
I don't know how sensible that CHA analysis is, but it's the best I can do.
Do you want to try to figure out the bottom half of Hockey East? Three points spans the gap from fifth to eighth, so that part of the deck can get completely shuffled in one weekend. After it's overtime win at Maine, Vermont is still last, but looks positioned to escape. How high do you think the Catamounts can rise?
Candace: Vermont has been perhaps the most maddeningly inconsistent team of any women's D-I squad. The Catamounts have been beaten North Dakota, played Boston College extremely tough in all three games, have given Boston University fits, and yet have tied Rensselaer, lost twice to Connecticut, gotten crushed by Dartmouth, lost twice to Maine, and lost all three games to Northeastern. Outside of Hockey East, Vermont is 9-3-1, with the only losses coming to Bemidji, Dartmouth, and RIT. In fact, Vermont has a better overall record than anybody in Hockey East except for Boston College and Boston University. Yet inside the conference, the Catamounts are a paltry 4-13.
Having said that, yes Vermont can escape the Hockey East cellar. New Hampshire and Providence are in the 5-6 position with 11 points, and Connecticut has 10. Vermont has two games with New Hampshire this weekend, then closes with two against Providence. Connecticut plays Northeastern in a pair this weekend and closes with two in Maine. If Vermont can sweep the Wildcats this weekend, it is in good shape, because New Hampshire closes with two against Northeastern and then Vermont would just need to split with Providence.
Of course, New Hampshire beat Vermont pretty thoroughly back in November, so a sweep this weekend is hardly a done deal. Vermont can certainly climb as high as fifth, but can equally stay in last. If I had to hazard a guess, I'd say Vermont will finish seventh, because the Catamounts have no room for error. If they split the last two series, they would still be behind New Hampshire and Providence, and could finish ahead of Connecticut with a little help from Maine and Northeastern.
In some ways, I can't help but wonder if Boston College hopes Vermont wins out its last four games and climbs to fifth. For all the high-flying offense the Eagles possess, they've never been able to flaunt it against Vermont, and I don't know if a first-round matchup against perhaps the toughest team in the bottom four is something the Eagles would relish as a reward for their excellent season so far. Then again, the test could prove useful for what I imagine BC's ultimate goal is: an NCAA Championship.
Speaking of the Terriers, where do you think they fit into all this? I suppose it's still possible for BU to not make the NCAA tournament, even if it finishes strong, depending on what happens in the conference tournaments. I think a lot is up in the air right now. With the good play of the teams that are 8-10 in the PairWise in Clarkson, North Dakota, and Cornell, it's possible that three conference tournaments, counting the CHA, could be won by teams not high enough in the PairWise to qualify as an at-large team. Then only the top five are safe. Do you think the final month before the NCAA tournament might make everything even more chaotic?
Arlan: Regarding BC being concerned about the possibility of playing Vermont in the first round, I doubt it. Unlike the rest of the postseason rounds to follow, that one will be best of three. If the Eagles were worried about advancing past a last-place team on home ice in a three-game series, then they never would have reached the lofty heights that they occupy today.
What often seems to happen with the teams that are just outside the top eight when the postseason begins is that in the process of getting hot and winning the conference tournament and auto-bid, it also rises in the PairWise to a place that would have gained NCAA entry in any case. Thus, I doubt we'll see three teams outside the top eight win tournaments. Also, I guess you're saying that there is no chance of that in Hockey East? Anything is possible.
Here is a sample scenario. Suppose Vermont does get up to fifth in the standings and meets Northeastern in the first round. I think it is within the realm of possibility that either the Catamounts or Huskies could defeat BC in a one-shot format. If it is Maine and BU on the other side of the bracket, well I don't need to get too creative to see the Terriers losing to just about anyone. The resulting championship game would feature two teams that would not be in the top eight.
I agree with you that BU is the most likely team to knock off BC in Hockey East, but that's primarily based on past year's results. This is not the same kennel of Terriers. Consider these numbers: As of Monday, BU ranks 19th in scoring defense, 26th in penalty kill, and its goaltenders rank 35th and 40th in save percentage. It ranks eighth in penalty minutes per game, but that's not a good thing. Those numbers are not a recipe for postseason success, unless the plan is to win one of those 8-7 type games that it played against Cornell three years ago.
You mentioned Boston University finishing strong. Two regular season games remain versus BC, and another game against No. 1 could come in the tourney. If the Terriers lost all three, would that still be finishing strong?
That's where BU fits in as far as I can see. It came into the year with questions on the defensive side, and it's still searching for some of the answers, as the drubbing by Harvard demonstrates. The Terriers could hang a first loss on BC and we wouldn't be all that surprised, or they could fade out of the picture down the stretch, and we wouldn't be shocked by that either. I think BU is even more inconsistent than Vermont.
Candace: I'd agree with that, and it can sometimes even happen within one game. Yesterday night against Northeastern, BU looked super solid for most of the first period, taking a 2-0 lead, with Kayla Tutino making it 2-0 at 19:39 of the second. To start the second, Hayley Masters scored for Northeastern just 16 seconds in, taking away any momentum BU might have had, and for much of the second period kept the Terriers on their heels, outworking them and outskating them. The announcers on the ESPN broadcast even commented on it at one point, about how much Northeastern was taking it to the Terriers.
Only a goal by Marie-Philip Poulin with 50 seconds left in the game gave the Terriers security. In some ways, what is most amazing is that BU struggled against a Northeastern team missing its best player in Kendall Coyne, who was hurt, and also missing its starting goaltender in Chloe Desjardins. If Coyne and Desjardins were in the game, it might have been a different story.
Regardless, I don't think that the way BU has played over the last month is going to get it done against Boston College, and if BU does in fact lose both regular season contests, things could get interesting for the Terriers in the PairWise. Frankly, I could see a team like Maine or Northeastern beating BU in the Hockey East tournament, and if that happens, the Terriers may fall out of contention, particularly with seven teams only in contention to start with, and possibly even fewer if there is an upset in the WCHA tournament, ECAC tournament, or Hockey East tournament.
Speaking of BC, what do you make of tonight's Beanpot final? Someone finally defeated the Eagles.
Arlan: Just like these teams' game back in November, the score got to 2-2 in the second period by BC scoring and Harvard answering. Other than the fact that the Eagles' forecheck had Harvard rattled early, that's where the similarities to the first game ended.
BC pressure turned the puck over early and Andie Anastos converted. At that point I worried a little that we were going to see another case of Emerance Maschmeyer struggling against the Eagles. It wasn't an awful goal, but with her pedigree, you expect more. Harvard got it tied up by intermission on Mary Parker's rebound goal. Haley Skarupa capitalized on a bad Harvard turnover in its own end to go back in front, and then BC yielded a goal that I thought was kind of a product of the fact that they dominate so many of their games by possessing the puck most of the time. The Crimson had the puck low in their offensive zone, and three Eagles pursued it down below the goal line. The weak-side forward has to collapse and protect the house on that play, but she got caught standing above the circles and watching while Karly Heffernan walked in alone and scored.
Then we had the controversial five-minute checking penalty on Alex Carpenter. I'm not used to seeing that called a major, so I can understand the frustration for Katie King Crowley and her charges. The only good news from the standpoint of not wanting to see a call decide a game was that Miye D'Oench scored the winning goal in the first minute of the power play, and it was no question that it was a penalty on Carpenter, it just should have been only two minutes in my opinion.
Down the stretch, there was plenty of passion, if not always an optimal amount of poise by both teams. And one more bad call in the final seconds when the Eagles were whistled for icing while they were skating short-handed to deny any chance for a miracle goal. Maschmeyer got revenge on BC by being named the MVP of the Beanpot, as Harvard took the trophy with its 3-2 win, its 14th Beanpot title, and some redemption for the 10-2 drubbing.
I'm sure it stings for BC, both losing the Beanpot and the undefeated season at the same time. I expect that there are helpful lessons that the Eagles can take away from that game. For one, they'll want better execution on the power play going forward, and also more fundamental defensive-zone coverage during those rare moments when they are actually called upon to defend. Katie Burt held up very well in her most high-pressure situation in the college game to date; you can't fault her on either second-period goal by Harvard. I guess that's to be expected from somebody who won a world championship a month ago.
For the final match between teams from different conferences before the NCAA tournament, this one delivered.