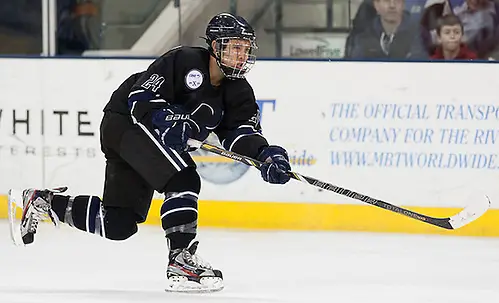 For the second time in two weeks, two pistol-hot Atlantic Hockey teams will battle when Sacred Heart travels to Bentley for a one-game series on Friday night.
It'll match the AHC's second- and third-longest active unbeaten streaks, with the Pioneers going 3-0-3 in their last six games and the host Falcons undefeated and untied in their last four.
It also will be a crossroads for the emerging conference playoff picture. Fresh off its sweep of Holy Cross last week, Bentley is in second place. Sacred Heart, meanwhile, took four points from Air Force to pull into a tie with the service academy for seventh place.
"It's a single-game series so all of our emphasis this week is going to be on Friday night," said Bentley coach Ryan Soderquist. "We need to keep improving, and we need to be able to take care of our game. It's very important that we be able to go out and play our style of hockey."
At first glance, it would be easy to assume the style of hockey focuses on the eye-popping offensive statistics dotting the Bentley roster. With an assist on Friday, senior Steve Weinstein scored his 100th career point. Three other teammates — seniors Alex Grieve and Brett Switzer and junior Andrew Gladiuk — are already in the club, with Switzer and Gladiuk making it this season.
If Gladiuk or Max French (both with 30-plus points already) can break the 40-point mark, it'll be the fourth straight season someone breaks through that level.
But the Falcons are a team built on depth and versatility, and they've earned their record (15-11-3 overall, 13-7-3 in conference play) despite a rash of injuries that just won't seem to go away. Earlier this year, Bentley lost time from Gladiuk, French and Grieve. Freshmen Ryan McMurphy and Andrew McDonald missed time. Goalie Jayson Argue started the year on the injured list.
While those players all returned to the lineup, the injury bug simply continues to bite. The latest to fall included two defensemen, Matt Blomquist and Charlie Donners, before the Holy Cross series. Complicating things further, Michael Reardon, a right winger, was injured during Saturday's game.
Despite this, Bentley rallied against longtime rival Holy Cross to pick up a crucial four points and rise to second place in Atlantic Hockey. On Friday, Bentley trailed 2-0 and 3-1 against the Crusaders before coming back to win 4-3. On Saturday, Holy Cross gained a 1-0 lead before Bentley scored the next four goals, winning 5-2.
"We've had our fair share of injuries," said Soderquist, "and the hits keep coming. But we believe our depth is better than ever. [This season's] taken all of our guys to put in all of their effort, and so far they've been taking care of business."
The Falcons are able to keep chugging along thanks to a recruiting strategy that allows them to slot skaters in a number of different spots. Defenseman Matt Maher saw time this season at forward. Forward Derek Bacon, normally a third- and fourth-line center, spent some time on the second line.
Reardon played some time on the second line and saw plenty of two-way minutes on the penalty kill. Mike Berry has played anywhere from the third defensive pairing up to the first with a range of different teammates. Kyle O'Brien, also a defenseman, played in just his third and fourth games of the season last weekend, netting an assist on Friday and the game-winning goal on Saturday.
"We have really focused on a player's versatility in our recruiting strategy, especially over the last two years," said Soderquist. "We want all of our guys to be able to play anywhere and play physical. We model our recruiting by looking at depth rather than finding guys who play a particular slot. We absolutely want everyone to be able to play anywhere."
Bentley and Sacred Heart play at 7 p.m. EST Friday.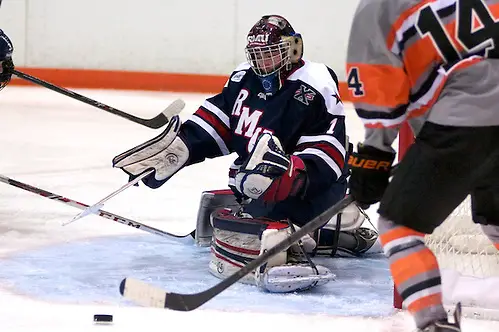 Defenders of fortune
Atlantic Hockey has always been the home of great goaltending, and once again, a number of brick walls find themselves topping the national marks.
Robert Morris' Terry Shafer ranks 15th in the nation in GAA (2.02), with Bentley's Jayson Argue hot on his heels at 17th (2.03). The duo are flipped in save percentage, with Argue ranking sixth nationally with a .934 save percentage and Shafer eighth with a .933 mark. Argue is also the second-highest ranked freshman in save percentage, behind only Kyle Hayton of St. Lawrence (.940).
Rochester Institute of Technology's Jordan Ruby may have a 2.29 GAA on the whole season, but he's been lights out in conference play. The senior has a 2.04 GAA and a .925 save percentage in Atlantic Hockey games and is a big reason why RIT is in fifth place with the inside track to a second-round home series.
The only thing better than having one goalie ranked high among his peers is having two, and Canisius fits that bill easily. Keegan Asmundson is 30th in the nation with a 2.29 GAA, while Reilly Turner is 38th with a 2.40 mark. The duo are practical doppelgangers with save percentages of .920 and .918.
Holy Cross' Matt Ginn, meanwhile, returned to the Crusaders lineup last weekend after missing three weeks with an injury, and he didn't miss a beat despite his team losing both ends of a series with Bentley. He came within one save on Friday of back-to-back 30-save performances. On Friday, he made what might've been the save of the year facing the Bentley power play when he robbed Andrew Gladiuk's wide-open look on an empty goalmouth. Ginn slid over and made a glove save that was one in a million.
So happy together
American International and Mercyhurst combined for 12 penalty minutes over two nights last weekend, with the Lakers avoiding the box altogether on Saturday.
Compare that to the rest of the league: RIT and Niagara combined for 42 penalty minutes across two nights, with the Robert Morris-Canisius series slightly farther ahead at 49 minutes. The Air Force-Sacred Heart series turned in only slightly more still, registering 52 minutes thanks in part to a misconduct penalty in the second period of Saturday's 3-2 Pioneers victory.
Holy Cross and Bentley won the weekend in the box with 69 minutes, including eight different calls (including one five-minute major and one game misconduct) over a 12-minute span in the third period.
Players of the week
Player of the week — RIT's Josh Mitchell: Mitchell tallied a pair of assists on Friday in RIT's first win over Niagara at Dwyer Arena since evolution started. On Saturday, he scored the game-tying goal with 30 seconds left and the RIT net empty. On the weekend, he finished with five points.
Goalie of the week — Mercyhurst's Brandon Wildung: Wildung earned a victory in Friday's 3-1 win over American International, then stepped in for Jimmy Sarjeant on Saturday to record a 5-2 victory. Overall, he saved 44 of 45 shots faced on the weekend.
Rookie of the week — Bentley's Andrew McDonald: McDonald scored twice as Bentley rallied from down two goals twice against Holy Cross on Friday, then added a short-handed goal on Saturday to give Bentley the lead for good.
Defensive player of the week — Robert Morris' Tyson Wilson: Wilson was plus-1 and blocked six shots for Robert Morris in its three-point weekend against Canisius. Robert Morris is within a point of clinching the regular season championship.