We're halfway through the Big Ten conference schedule. What have we learned?
Defense wins games … sometimes
One week after losing to Michigan State 2-1 in Detroit's Joe Louis Arena, Michigan defeated the Spartans 4-1 in Chicago's Soldier Field. The game-winning goal came from freshman defenseman Cutler Martin, who has four goals — three of them game-winners — in 19 games.
Sophomore defenseman Michael Downing opened the scoring for the Wolverines early in the first period, his fifth goal of the season. Downing had two goals in 34 games last year.
"I didn't think Cutler Martin would have three or four goals when we recruited him," said Michigan coach Red Berenson, "but nevertheless, he has a quick shot, he gets it through, and we get lucky on those. We put traffic in front."
The nation's top-scoring offense is getting plenty of goal scoring from its blue line this season, partly because of that traffic down front and partly because of this team's overwhelming confidence in its ability to score goals. Averaging 4.21 goals per game, the Wolverines had put up 7.5 goals per game in the four contests leading up to their 2-1 loss to the Spartans on Jan. 30.
Berenson's team is one that will fire from anywhere on the ice. When it comes to throwing the puck at an opponent's net, the Wolverines are fearless.
"Downing pounded one in from the point," said Berenson. "Good for him. Every game needs good support from the D, and we're getting more this year than we did — way more than we did last year."
Sixteen of Michigan's 101 overall goals have been scored by defensemen so far this season, nearly 16 percent of the Wolverines' overall goal production. In 2013-14, the Michigan blue line netted four total goals.
Goal scoring is moot when you can't keep the puck out of the net, though. While Michigan's offense tops the nation, the Wolverines' defense is 40th overall, allowing 2.88 goals per game on average. That is an area that may be improving.
Michigan's revolving door in net has paused temporarily in favor of sophomore Zach Nagelvoort, who has allowed three goals over his last three starts. Berenson, who conceded that the decision of whether to go with Nagelvoort or junior Steve Racine has "been a big debate just about every week," said things seem to be going Nagelvoort's way.
"His last three games are a 6-0 shutout in Wisconsin, a 2-1 loss at Joe Louis and then a 4-1 victory here," said Berenson. "That's pretty good in the goals-against side, because we were giving up four goals against. I like both of them. Right now, Zach's in a good spot."
The team with the top defense in the Big Ten is the team that sits in fourth place with a .500 record, thanks to that loss to the Wolverines in Chicago. Michigan State allows 2.46 goals per game on average overall and, at No. 24 in the nation, that's still the best in the Big Ten.
"We've been real good defensively," said Michigan State coach Tom Anastos. "Our numbers our good."
"Good" is a relative term here. What's good enough for Big Ten play may not be good enough for anything in the NCAA tournament. But that's another column altogether.
"We've got the lowest goals-against in the league," said Anastos. "I think we've been real consistent in that regard.
"We've got to find scoring. We knew coming into the season that was going to be a challenge and it's been every bit of that. And so somehow, some way, we've got to find some scoring to emerge. If we do that, I think we can get over that hump and turn the corner. I really do."
Anastos and the Spartans are still in the hunt. There are eight points separating first-place Michigan from fourth-place Michigan State, and in a league where every game is worth three points and with half a conference season to go, little is settled.
"We're going to have to really step up to the challenge to kind of put ourselves back in the race," said Anastos. "We dropped a spot in the standings giving up those three points on Saturday, and when you're playing teams ahead of you — so we've got two with Penn State, we've got two left with Michigan, we've got two with Minnesota left [and] all three of those teams are ahead of us right now — that makes those games that much more important for us."
Offense doesn't hurt
Scoring is Michigan State's big issue, with the Spartans averaging 2.25 goals per game for 46th-best in the country, but three Big Ten teams are among the top 10 teams nationally in scoring. The Wolverines are first, Penn State is fifth (3.58 goals per game) and Minnesota is sixth (3.54).
The Nittany Lions are unbeaten (6-0-2) in their last eight games, averaging 4.25 goals per contest in that stretch. For Penn State, the line of Casey Bailey, Taylor Holstrom and David Goodwin is clicking. The trio is responsible for 37 of PSU's 93 overall goals, nearly 40 percent of Penn State's overall scoring.
The Golden Gophers are unbeaten (3-0-1) in their last four, averaging 5.25 in their streak. Minnesota in particular has benefited from an outstanding power play that converts at 29.1 percent, the best in the nation. In a two-game home sweep of Ohio State last weekend, the Gophers outscored the Buckeyes 10-4 overall and half of Minnesota's goals came on the power play.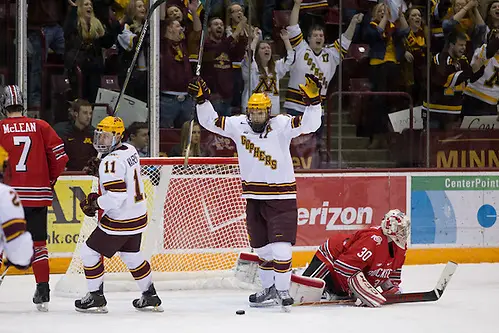 There's a lot to like, and no one's afraid to say so
Among the Big Ten coaches, there is a healthy respect for everyone else in the league. On the record, coaches are saying all the right things about their opponents — and there's a sense that it's more than just because anyone can win the postseason playoffs, with all six teams automatically in the tournament.
After rebounding from a 2-1 loss to Michigan State on Jan. 30 in Detroit with a 4-1 win over the Spartans in Chicago, Michigan coach Red Berenson said that while his team played better in the victory than it had the week before, Michigan State was — and is — no pushover.
"I thought our forecheck was better, I thought our D-zone was better, our neutral zone was better and I thought our second effort was better," said Berenson. "We had more second effort, more physicality, and we were more invested in the game than we were last week, and I'm not taking anything away from State because they played well last week and there were parts of the game [Saturday] when they were on the verge of turning the tables. I thought we were more invested emotionally and physically in the game tonight."
The Spartans, meanwhile, take on the Nittany Lions at home Valentine's Day weekend, and coach Tom Anastos knows exactly what Michigan State is up against.
"They're playing really well," said Anastos. "They have a lot of things going right now. I'm sure their confidence is sky high. Offensively, they're putting up big numbers. Their power play has been very consistent and good. They have a pretty darned good penalty-killing unit that really forces you to beat them. They've tried different goalies and the most recent has been playing real well for them. And certainly they have one of the most effective lines in the country right now."
The Nittany Lions travel to East Lansing after earning their first Big Ten home sweep, defeating Wisconsin in two games last weekend. Even though the Badgers have been struggling, don't think that Penn State coach Guy Gadowsky doesn't know Wisconsin's worth.
"They're a lot more talented than their record shows right now, but they're very, very young and I think everybody knows that," said Gadowsky. "Trust me, they're going to be Wisconsin soon but they're young, and it sort of goes to show how tough this league is."
After Minnesota swept Ohio State last weekend, coach Don Lucia told Fox Sports North that the Wolverines, this week's opponents, will be challenging.
"The speed limit's going to go up next weekend," said Lucia. "We play a team that's, as far as I'm concerned, the best group of forwards we've seen this year. We'll find out the progress we've made next weekend."
Players of the week
One forward and two goalies this week, and one player earns his first Big Ten award.
First star — Minnesota senior forward Travis Boyd: Boyd recorded his first collegiate hat trick in Saturday's 6-2 win over Ohio State and had four goals in the two-game sweep of the Buckeyes, including the game-winning goals both nights. Boyd has 10 goals and 10 assists in his last 14 games; he had nine goals and 23 assists in 41 games last season, and his 13 goals on the year is equal the total number of goals he netted in his first three seasons with Minnesota. This is Boyd's fifth career Big Ten weekly award, his third of the season.
Second star — Michigan sophomore goaltender Zach Nagelvoort: Nagelvoort stopped 31 shots in the Wolverines' 4-1 win over Michigan State in the Hockey City Classic on Saturday, posting a .969 save percentage in the game. Nagelvoort leads all Big Ten goaltenders (.938 save percentage, 1.74 GAA) in conference play. This is his sixth career Big Ten weekly award, his second of the season.
Third star — Penn State senior goaltender PJ Musico: Musico was the goalie of record in the Nittany Lions' first-ever home sweep of a Big Ten opponent, with a .954 save percentage in two wins over Wisconsin. In his last five games, Musico is 4-0-1 with a .947 save percentage and 1.68 GAA in those contests. This is his first career Big Ten weekly award.
My ballot
1. Minnesota State
2. Boston University
3. North Dakota
4. Omaha
5. Michigan Tech
6. Minnesota-Duluth
7. Miami
8. Denver
9. Bowling Green
10. Michigan
11. Boston College
12. Providence
13. Vermont
14. Penn State
15. Quinnipiac
16. Yale
17. Harvard
18. Colgate
19. UMass-Lowell
20. Robert Morris