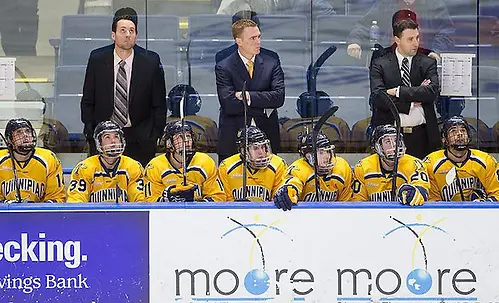 There may not be a word that elicits such passionately ambivalent reactions from the college hockey community than this:
Realignment.
We've seen it a number of times over the years, most recently with the dissolution of the CCHA and the rise of the Big Ten and (grandiosely titled) National Collegiate Hockey Conference last season.
Obviously, new leagues don't just spring up from nothing. Amid the tumult, Hockey East gained Notre Dame and (this year, at Atlantic Hockey's expense,) Connecticut. With all apologies, the WCHA was essentially rebuilt from the NCHC's rejected scraps. Every league had its membership affected but one.
Is ECAC Hockey's number due?
Arizona State's impending plunge into the 59-team Division I pool made waves; the amplitude of those effects has increased in recent days as rumors swirl regarding Notre Dame's status in Hockey East. It would appear that an article in the independent, student-run Notre Dame/St. Mary's College newspaper The Observer is the source of the accelerating rumor mill, though it should go without saying in this day and age that minor outlets are no less legitimate than major publications.
To wit, The Observer's Alex Carson reported on a number of perceived undesirable conditions facing the Irish vis-à-vis their membership in Hockey East, geography not being the least of those factors. Beyond the article, however, it also wouldn't make sense that in the new 60-team Division I there would be multiple leagues with an odd number of programs. Scheduling is inherently easier with an even number of teams, as nobody would have to sit out a night or weekend by default.
ECAC Hockey has 12 teams, which — for you liberal arts majors — is already an even number. So why presume that this round of realignment would affect the league any more than the last? See the last paragraph.
The only league with an odd number of members today is Atlantic Hockey (11). For obvious reasons, it is highly doubtful that Arizona State will join Atlantic Hockey … so right there, we'd end up with two conferences with an unnecessarily odd number of members. It doesn't take a great leap of the imagination to foresee at least one more program switching allegiances for the sake of both school and conference interests.
While it would theoretically make more sense for the AHC (nee AHA) to drop to 10 teams, adding a partner for ASU's new league (NCHC? WCHA? Big Ten even?), this doesn't make a lot of logistical sense. It is more probable that more dominos will fall, commencing a new game of conference musical chairs.
Notre Dame seems as likely a candidate as any to set the music playing.
Should the Irish leave Hockey East — which is far from a foregone conclusion, it must be said — HEA would be in the hunt for a new member. Atlantic Hockey and ECAC Hockey are the only other leagues in the region, and recent results aside, Hockey East is still top dog east of Columbus. So who would be likely to jump?
Two major candidates emerge: Holy Cross and Quinnipiac. Once again, all of this is purely speculative, but Holy Cross may seek access to the soon-to-be-empty DCU Center in Worcester, Mass. This would give the Crusaders a large home arena geographically located right in between Boston and Amherst. There is certainly some appeal in the school name as well; a Holy Cross diploma is nothing to sneeze at.
Quinnipiac would be the southernmost team in HEA, falling outside its current geographical footprint, but it has a relatively new facility, considerable recent success and a wildly ambitious pace of growth as both an athletic department and as a university in general.
Certainly, other institutions would weigh their options and run some cost-benefit analyses, but Holy Cross and Quinnipiac seem to float to the top of these conversations over and over again for these reasons.
And then what? Looking down the line, ECAC Hockey may look to regain its even dozen members by courting the likes of Rochester Institute of Technology (new rink!) or Holy Cross, should Quinnipiac realign. Perhaps the Ivy League will finally separate itself and earn its own automatic NCAA tournament bid, as would be its right under current NCAA policy as a six-team league.
Who knows what will happen? Nobody, we can be almost entirely assured. There is no Illuminati pulling the strings of the college hockey world; even the commissioners can do little more than shrug.
"From my perspective, having Arizona State elevate its program to varsity status is great," ECAC Hockey commissioner Steve Hagwell said. "As far as what impact it may have on the landscape in terms of conference alignment — it's all speculation. I can speculate just like anyone else, but frankly, I'm not going to do that.
"I don't know; we'll have to wait and see. But I do think having them elevate their program is tremendous."
Hagwell said he has no knowledge of other potential D-I programs-to-be. "Those [would be] internal discussions on campus," he said. "Maybe they've had discussions with outside folks and that's great, but until they step forward and announce something, it's all speculation."
As far as ECAC Hockey's interests, Hagwell acknowledges that while things are good now, there is no vaccine against change.
"We've discussed expansion over the years, and certainly in the latest round when the landscape did change we discussed it and at the end of the day, we have 12," he said. "Our people are comfortable with 12, and with six of our schools — the Ivies — limited in their number of games, there's only a certain number we can go to without restructuring our entire scheduling philosophy.
"Now, that's not the end-all, be-all: Could the scheduling philosophy change? Sure. Could we break into divisions within our league? Sure … but at the end of the day, I think 12 — and the current makeup of our institutions right now — our people are comfortable with this.
"You never know what may come down the road, and depending on the institutions and what the scenario is, who's to say? Right now, our folks are happy with 12."
When Vermont left the league for Hockey East at the start of the 2005-06 season, the last time there was a membership change in the ECAC, "we were at 11 [teams]: 11 was on the table. Thirteen was on the table. Twelve was on the table. We explored all those options," Hagwell said. "Things have changed since then, so if we had that discussion today, could we come to a different result? It's possible; I can't speak for everybody. Is 11 catastrophic? It's been a while since I've looked at an 11-team schedule, but I'd say no, it's not catastrophic."
Hagwell said that there is no contingency plan in place for programs leaving, as the league likely would request at least one season's notice in advance of the departure, as it did with Vermont. The league has not formally discussed realignment in any context since the massive nationwide reshuffling that took place two years ago with the establishment of the Big Ten and NCHC.
While the commissioner would prefer not to play with theoreticals and hypotheticals when it comes to league matters, he is not afraid to admit that he toys with such ideas on a personal level.
"I'm human," he said. "In my role, do I think of things like that? Admittedly, yes. Do I think the landscape could change in college hockey personally, from my perspective? Sure I do. Do I think it will? I'm not so sure; I don't know. I have those plans go through in my head, but we don't have that as policy or written down as text because it's all speculative. It's all my speculations."