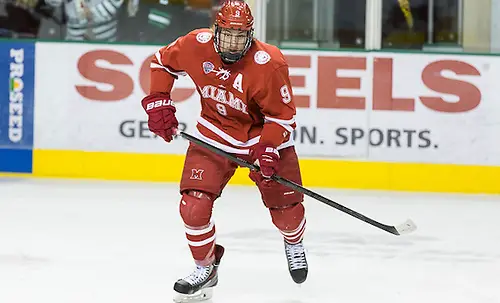 For Miami RedHawks players, last Saturday's game against Western Michigan will be remembered for a long time.
The RedHawks faced Western Michigan at Chicago's Soldier Field in the Hockey City Classic. Warm temperatures and questionable ice conditions delayed the start of the game for almost two hours. In the end, Miami won a close decision, staving off a late Broncos comeback and holding on for a 4-3 win.
"I think obviously we had some issues with waiting around, but for the most part I thought it was a positive experience," said Miami coach Enrico Blasi. "It's something you aren't going to get every day. For the families to be on the ice with them during our practice day and some of our alums, it was a pretty special moment for them."
Miami is third in the tightly bunched NCHC standings, two points behind North Dakota and three behind Omaha. Blasi said he thinks that the NCHC is developing into a rival league.
"Quickly, our league is becoming all rivalries," laughed Blasi. "It's really important, and everybody is fighting for points, and everybody is playing well. Our nonconference games were very good. Our conference games, we keep beating each other up, but it makes for an exciting finish for sure."
A big reason for Miami's success this year has been the play of junior goaltender Jay Williams, who leads the NCHC in GAA with a 1.73, is second in wins with 14 and is fifth in save percentage with a .923. Nationally, Williams is fifth in GAA and third in shutouts with four.
"It's nothing new for us; we've seen it before," said Blasi. "I think that both he and Ryan [McKay] had an off year last year, as did the team. Jay played extremely well his freshman year, won a lot of games. This year when Ryan got hurt, he was called upon to carry the mail a little bit, and he's done a nice job. He gained confidence and the team has played well in front of him."
Senior Austin Czarnik paces the offense with 27 points. The RedHawks have enviable offensive depth, with Riley Barber, Blake Coleman, Sean Kuraly and Anthony Louis all posting good numbers, but Czarnik is their leader in more ways than one.
"He's been our captain for two years, so it's something he's accustomed to," said Blasi. "The guys look up to him and see him leading the way, and everyone else follows. It's part of the job of being a captain."
This weekend, the RedHawks travel to Colorado Springs to take on Colorado College. The RedHawks swept CC in November, winning 3-0 and 5-1, but Blasi knows the Tigers are dangerous.
"Without a doubt they are extremely talented and you have to be ready to play," said Blasi. "We have so much respect for everybody in our league. You have to show up and play your best, and that's just going to give you an opportunity to be in the game, and obviously you have to make plays and execute to give yourself a chance."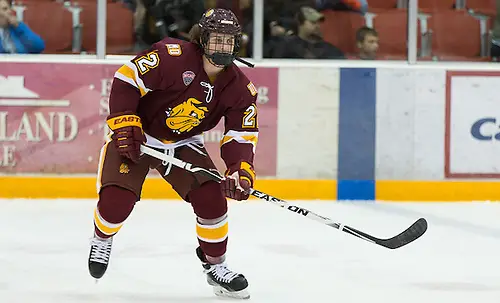 Minnesota-Duluth responds to speed bump
Minnesota-Duluth coach Scott Sandelin said he likes the way his team has responded to what he termed a "speed bump," a stretch in late January that saw the Bulldogs lose their momentum and go 0-3-1, including losses to unranked Western Michigan and Bemidji State.
Since then, Minnesota-Duluth has gone 4-1, including last weekend's sweep of Northern Michigan.
"I think anybody in our league can beat anybody," said Sandelin. "Bemidji obviously played great that weekend; they won the whole tournament. They beat us and then beat the No. 1 team in the country. That's college hockey. If you're not prepared to play your best hockey, you're going to get beat.
"Hopefully, we've learned our lesson. I don't want to take anything away from the teams that beat us. They played well, and it's a good lesson. In our league, it's so tight every weekend that it's a fine line between winning and losing."
In the sweep over Northern Michigan, freshman Jared Thomas played a key role, and in the second game, Sandelin moved him to the top line.
"He's been on our fourth line for much of the year, but we moved him up Saturday," said Sandelin. I think his last three or four games he's played a lot better, competing harder, which is something we need. We need him to make plays and do some things offensively. Not just Saturday but I thought he had a strong game Friday and played pretty well in Denver, too."
A rookie has been pacing the Bulldogs defensively, too. Kasimir Kaskisuo has played the lion's share of minutes in net, posting a 2.29 GAA and .912 save percentage. Junior Matt McNeely has played recently, too, including the key game against Minnesota that started the turnaround from the 0-3-1 speed bump.
"His play is like our team a little bit," Sandelin said of Kaskisuo. "It was off for a little while, but he's starting to find that groove again, and we've been able to get Matt in there for a couple of games. So I feel pretty good about where we are at with 'Kas' and Matt getting some games and winning some games."
One area the Bulldogs could improve on down the stretch is the penalty kill, which is ranked 43rd nationally and succeeds at a 79.6 percent rate. Given that the Bulldogs are 16th nationally in penalty minutes, averaging 13.43, the penalty kill could hurt them.
"I think early in the year we were taking a lot more penalties; we've certainly cut back on that," said Sandelin. "I think it's something you are always working on, both power play and penalty kill. They are very important in any weekend. It's always a work in process and we're trying to get better."
Minnesota-Duluth is fourth in the NCHC with 28 points, one behind Miami, three behind North Dakota, and four behind Omaha. This weekend, the Bulldogs host St. Cloud State. This stretch run includes series against two of the teams ahead of them in the standings in Miami and Omaha. Miami hosts the Bulldogs and then Omaha travels to Duluth the following week.
"I think you get in trouble if you look too far ahead," said Sandelin. "Our league is strong. We've got four extremely difficult weekends coming up. Some teams, if you look at it on paper, might have an easier path, but it's no different than our schedule has been all year. We've played a pretty tough schedule. We've played a lot of good teams, and it's no different here coming down the last month with what we have. We just have to worry about each game and win each game."
Players of the week
Offensive player of the week — Adam Krause, Minnesota-Duluth: Krause led the Bulldogs to a sweep of Northern Michigan with a goal and three assists while posting a plus-5 rating. He was pointless on Friday, but on Saturday, he notched a career-high four points, scoring Duluth's third goal on a breakaway and assisting on Duluth's first and fifth goals, the latter a short-handed tally. He also assisted on the final goal.
Defensive player of the week — Joey LaLeggia, Denver: LaLeggia helped Denver earn an important win over archrival Colorado College, notching two assists while helping kill CC's only power-play opportunity. LaLeggia dished the primary assist on Denver's first goal and also assisted on the empty-net goal that sealed the win. He finished with a plus-2 rating. LaLeggia earned defensive player of the week honors for the third time this season.
Rookie of the week — Jared Thomas, Minnesota-Duluth: Thomas helped key the Bulldogs' sweep of Northern Michigan with three points on two goals and an assist. On Friday, he scored the game-winner in the third period to put Duluth up 2-1. On Saturday, Thomas was moved to the top line and assisted on Duluth's third goal and scored a goal in the third period to increase Duluth's lead to 6-2. He was plus-3 on Saturday, and won 14 of 20 faceoffs on the weekend.
Goaltender of the week — Tanner Jaillet, Denver: Jaillet earned his first collegiate shutout on Friday, Denver's only game of the week, against archrival Colorado College. He stopped 30 shots, tying his career high for saves, including double-digit saves in each of the last two periods. Jaillet lowered his season GAA to 1.97 and increased his save percentage to .927. This is Jaillet's second goaltender of the week nod.